Watching Shuichi Kotani in action is like observing an athlete in his prime. His movements are precise, meticulously timed, and perfectly in tune with the dough he transforms.
Kotani brings the same discipline to soba noodle making as he did to kendo, free climbing, boxing, and track—including the 100-meter sprint at Japan's Youth Olympics.
He remarks on the parallels between his soba making present and athletic past: "High concentration. In 10 seconds—shift up to top gear, shift down."
Too much force—and things fall apart.
In making soba, as in boxing, he has to gauge action and reaction, and make split-second strategic decisions.
Kotani pauses. "Everything was for soba. I think so."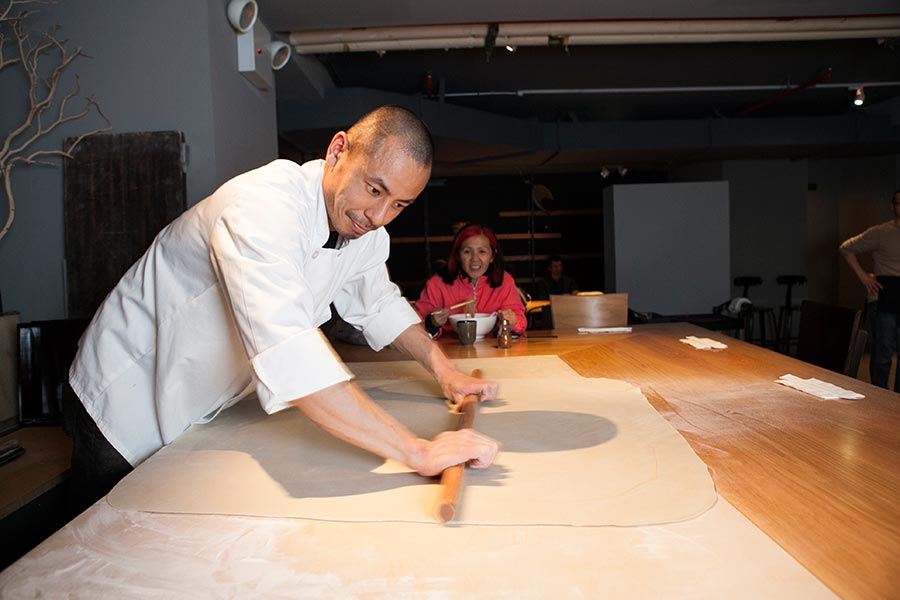 The nature of soba dough, made mostly with buckwheat, is extremely finicky.
He has to evaluate not only how the dough feels, but also temperature and humidity, and even the traffic of diners into the restaurant, bringing minute changes to the air with each opening and closing of the door.
Kotani is master of noodles and a member of the Japanese Culinary Academy. He is often called in to consult for new ramen restaurants, and he supplies restaurants with soba noodles.
"Ramen is very easy, but soba is my baby," he said. In the past, he's made soba noodles for chef Joël Robuchon and taught a crowd of 1,000 at the Culinary Institute of America.
Kotani is a man driven by a mission to bring soba noodles to the world. His dreams are big: a buckwheat farm, alongside a stone mill and a noodle factory, right here in the United States.
The Ramen Love Affair
Consider the noodle du jour, ramen. After World War II in Japan, the impoverished nation turned to ramen. Compared to soba, it's cheap to make, easy to produce, and incredibly popular.
But from a health perspective, it's dangerous, Kotani said. "Like McDonald's." He likes ramen himself, but rarely eats it.
He points at the pale, yellow color of ramen noodles. "Not eggs," he said. He preps the ingredients: a bowl full of wheat flour, water, and a heaping teaspoon of a specific type of salt—a fine powder that is way saltier than table salt, so salty it has a tinge of bitterness.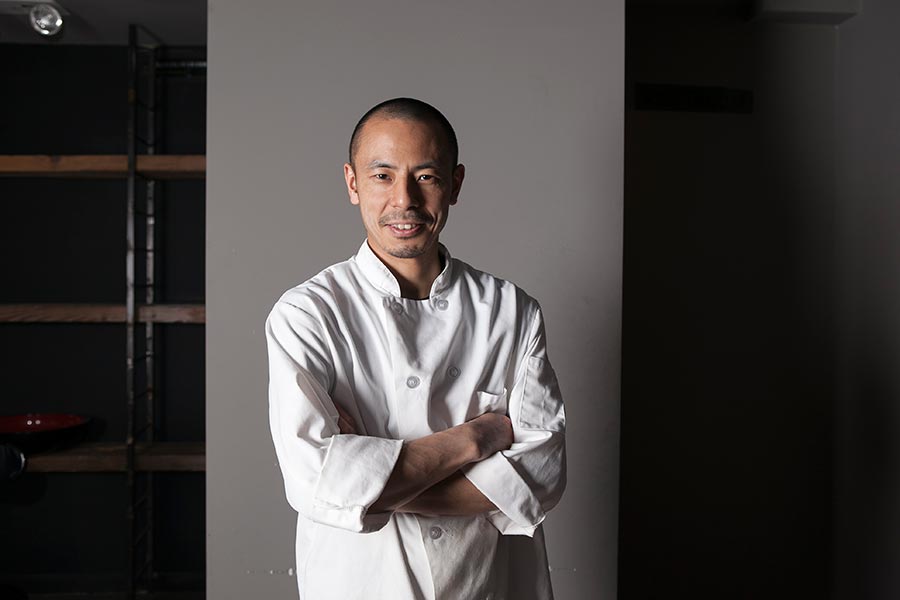 The salt, he points out as he starts mixing, is what gives the ramen dough its yellow color. Factor in the salt and fat of the ramen soup, and it becomes fit for an occasional dish rather than daily fare.
A friend of his who works at a ramen shop sought him out for his soba noodles. He was suffering from weakness in his limbs and blurred vision. "What are you eating?" asked Kotani. "Ramen," his friend answered—every day.
Kotani replaced his friend's daily ramen diet with soba noodles. After three days, his symptoms disappeared.
"Ramen is an easy way to make money—everybody knows," Kotani said. Startup costs are low, noodles are cheap, and you don't need a highly trained chef to make them.
He said ramen joints have quickly expanded. Not only that—copycat outfits are less scrupulous about quality.
The Soba Difference
Among the Japanese, soba's health benefits are no secret. In Tokyo, where Kotani learned to make soba when he was 19, some eat it three times a day.
Soba's health benefits are wide-ranging, from lowering blood pressure to preventing diabetes. High in protein, and full of vitamin B1, B2, B3, B5, and B6, soba is also abundant in the antioxidant rutin, which slows aging and contains cancer-preventing properties.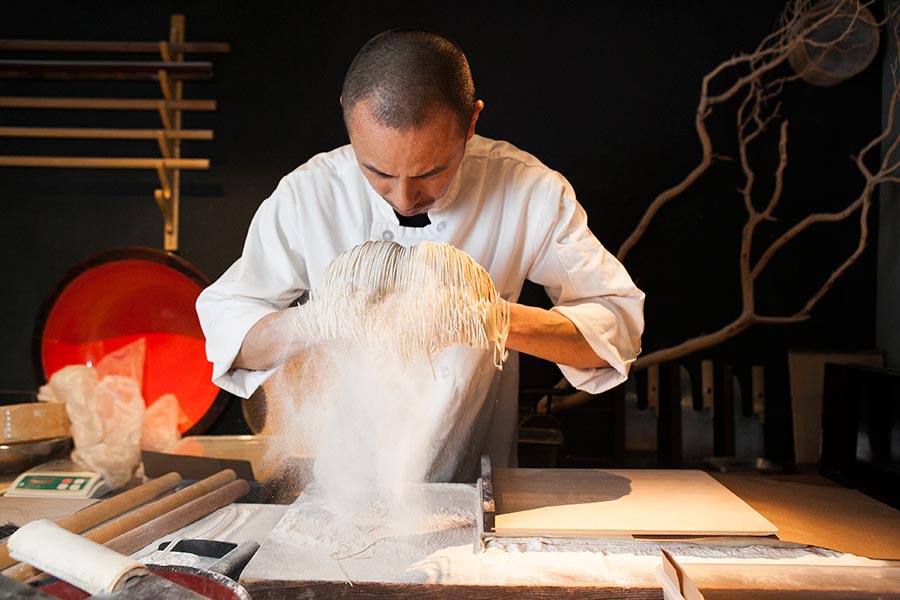 It's known to help the liver detox, which is why the Japanese will have soba noodles with their drinks. There's no tastier way to get back up on your feet again.
Kotani mentioned the Yi tribe in China, who enjoy legendary good health and whose staple diet consists of buckwheat mush.
Buckwheat
Being gluten-free, buckwheat is not easy to turn into noodles. When I pick up one of the strands that Kotani has cut, it breaks apart instantly.
It was finally the Japanese who perfected soba noodles. Although Kotani does and can make soba noodles out of 100 percent buckwheat, the flour he uses most commonly, a mix of 80 percent buckwheat and 20 percent wheat, gives a texture that is much more satisfying.
In stores, dry soba noodles have a content of about 30 percent buckwheat flour, he said, and 50 percent in a few cases.
Eating Soba
Soba is most commonly eaten chilled, served with a dipping sauce.
It takes 20 seconds to cook Kotani's soba noodles. When they arrive at the table, it's clear we have to stop our conversation and dig in. They're best eaten in a minute or two, before they start drying out.
The combination of soba noodles dipped in a sauce of soy sauce, mirin, vinegar, bonito, scallion, and wasabi, is refreshing and delicious. After finishing the noodles, a server pours the hot water that was used for boiling the soba into the cup that contained the dipping sauce—there's no nutrient to be lost.
Soba is also eaten with warm broth poured over it.
A State of Mind
For Kotani, making soba requires 100 percent focus, 100 percent heart. On this particular day, he felt he was about at about 80 percent—"lots of meetings," he sighs.
When he's not fully engaged, he not only feels it, he said he can taste the difference in his noodles.
I can't tell. But what I do know is that among the many meals I've had out, none has made me feel as good when I leave. If that was Kotani at 80 percent, I can't wait to see him at 100 percent.
SOBA STEP-BY-STEP
1. SIFT

2. MIX

3. SHAPE

4. ROLL

5. CUT

Shuichi Kotani makes soba noodles by hand for Daruma-ya in Tribeca and Dassara in Brooklyn. He also consults for Jin Ramen in Harlem, Nikai in Midtown, as well as chefs Candice Kumai and Takashi Yagihashi. He also offers soba-making classes.