A teacher at a state school in Montevideo, the capital city of Uruguay, decided to try a unique meditation practice at her school, where many children live amidst violence and poverty. Many people were surprised at the results.
Yennyfer Quartino teaches children between the ages of 11 and 14 in one section of the sixth grade level. For years, the students have had serious problems with violent behavior, fatigue, and lack of concentration, making it difficult for them to progress in their studies.
"The school day is long," she said, according to Minghui.org.
"Many students were tired, had no energy, and couldn't focus on their classwork."
In 2016, Quartino learned Falun Dafa, or Falun Gong, a spiritual meditation discipline. It teaches the principles of truthfulness, compassion, and forbearance, as well as five meditative exercises to improve both the body and the mind. Originally from China, it is currently practiced in more than 100 countries.

Quartino has been in charge of the same group of students since their fifth grade year. She had tried several different disciplines and kinesthetic activities with them in the past. They began to show some improvement.
"This year, we decided to try something different, which is Falun Dafa, and the results have been wonderful," said Quartino.
Quartino's students started doing the exercises every day in the school courtyard after lunch, right before the afternoon classes. After a few weeks, the other students wanted to join in. Now almost the entire school does the exercises daily in the courtyard.
"These kids had serious concentration problems and were violent in the classroom. The changes they've made are soul-stirring," said the school inspector.
Other people also noticed the effects on the children.
"They benefited not only physically, but spiritually. They breathe and relax and come to the classroom focused and with a good attitude," said the headmistress.

The children themselves even noticed a difference.
"I feel relaxed. I like it, and afterward when we go to the classroom, I feel as if all the stress I had before practicing Falun Dafa is gone," said Josefina, a sixth-grade student who is especially enthusiastic about the practice.
"I feel more relaxed and free," said a third-grade girl.
"I feel a lot of energy," said a fourth-grade boy.
Two third-grade girls, Nicole and Belén, said in unison that the practice gives them, "Strength!"
Quartino also designed a project for her class that focuses on human rights as part of the school's overall project to establish a culture of peace. The children learn about different military conflicts and human rights abuses that have occurred and are still happening all over the world, and they work together to come up with some ideas for peaceful resolutions of those conflicts.
Once case that they study is the persecution of Falun Dafa in China, which began in 1999.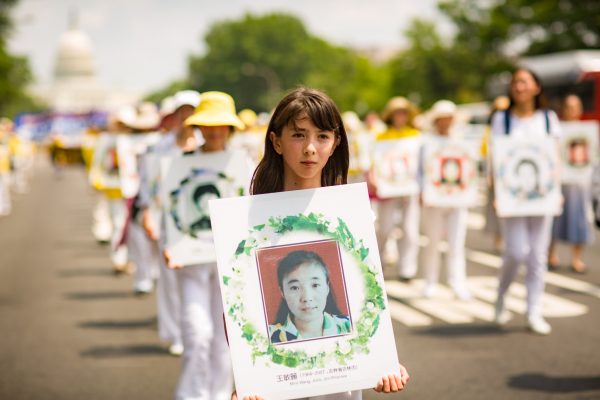 "Peace in society cannot exist where there is violence, and the place to start a transformation is within us," wrote Quartino for the project.
The program aims to develop peaceful coexistence "where respect, communication, listening, and fair treatment can be achieved."
The students say they now settle conflicts by talking and discussing, because "they understand each other better, and no one gets hurt anymore."
"Before, everyone was bad-tempered, but now we are calmer," said Joaquín, a sixth-grader.
"If he misbehaves, I must tolerate it," said Leandro, another student.
The new focus has helped the students' learning and development, as well as opened a door for the children to experience peace, self-control, and confidence.