Every year the fourth grade students at Academy for Global Citizenship in Chicago, Illinois, go on a camping trip.
Like every class before them, this year's group was really looking forward to the journey. But there was one student, Maggie Vazquez, who needed to use a walker or wheelchair and stood the chance of not being able to participate.
Luckily, the girl had a determined teacher who wasn't going to let the rugged terrain of a nature preserve ruin Maggie's field trip in search of deer prints and beaver dams, as well as some identifying of birds.
Maggie has cerebral palsy and has attended the charter school since kindergarten.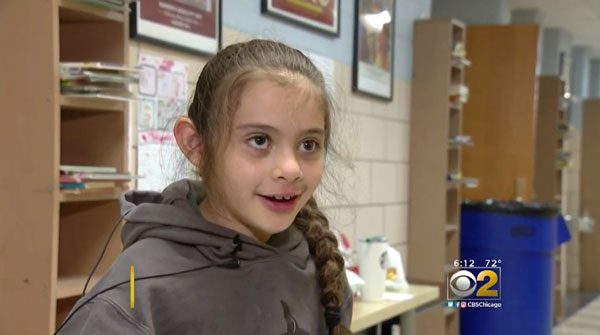 Helma Wardenaar, a special education teacher and director of student services at Academy for Global Citizenship, was set on finding a way for the 10-year-old to go on the trip with her classmates.
"As a school, it was very important to include her," Wardenaar said to ABC 7 "We thought it was super important for her to be there and able to do everything the other students were doing."
The girl is included in everything at school, but rough terrain almost left her out of a field trip.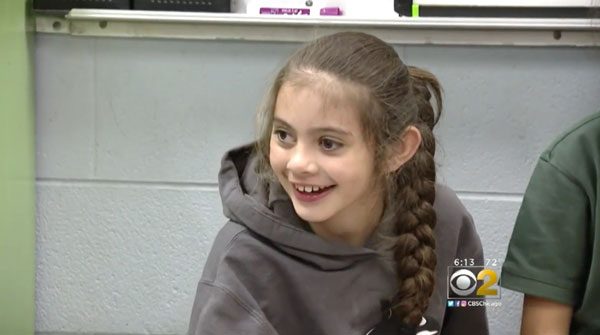 To get around, Maggie uses either a wheelchair or a walker—Wardenaar knew that neither would be able to handle a particular path the students were scheduled to hike during their trip.
"I looked into renting a pony, but those aren't allowed on the pedestrian path," she told Good Morning America. "I considered accepting a fine if we would be caught, but figured that it would set a bad example."
Wardenaar searched for other options before finding a backpack that allowed her to carry Maggie.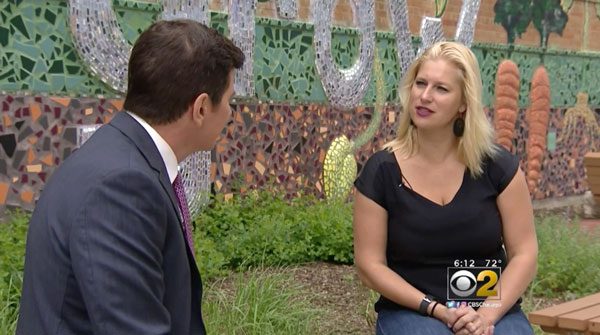 Intent on finding a solution, Wardenaar contacted several companies in hopes they could lead her in the right direction. She got in touch with Greg Coleman, an employee from REI, and they looked at some possibilities, but nothing was stable enough to hold a 62-pound child.
With only two weeks before the annual camping trip, Coleman reached out to Wardenaar with good news. He had found a backpack that would suit her needs.
The backpack cost $300 and wasn't the most comfortable, but it worked.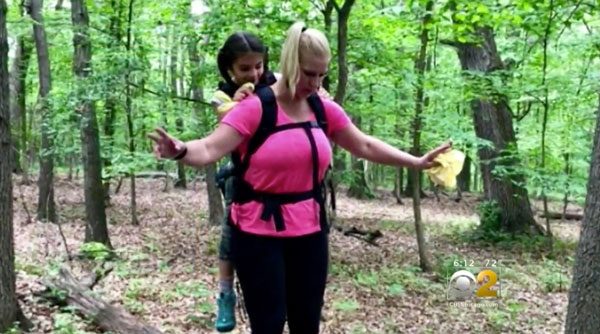 "I believe that everybody should have the chance to join on the field trip; and just because there is a physical challenge there, that shouldn't matter," Wardenaar told CBS Chicago.
Wardenaar used her own money and purchased the special backpack. Maggie was now able to participate alongside her classmates.
Wardenaar used the backpack to carry Maggie during her class' hike.
Although the backpack was a bit uncomfortable for Wardenaar, she shared with Love What Matters that she always had someone right behind her encouraging her whenever she was struggling.
"Maggie was a great teammate on the hike," she wrote. "She was encouraging me! Giving me little neck massages when she saw I was struggling. She made up songs for us to sing. She sang a song when I was really sweating. She kept saying: 'Come on Ms. Helma! You can do it!'"
Thanks to her teacher, Maggie was able to attend the annual camping trip.
Maggie, who rated the field trip a "10,"and her family are extremely thankful for Wardenaar.
"It's been amazing, right off the bat, she met Maggie and got involved," Michelle Vazquez, Maggie's mother, told CBS Chicago. "She has always been advocating for her. It's not just with the camping trip, that's just one little piece. There's a lot of things she does."