NEW YORK—The presentation was dramatic. Fresh honey slowly dripped from a raw piece of honeycomb and was then dolloped onto plates as the finishing touch to a shiny, dome-shaped chocolate mousse, filled with layers of peach marmalade and pecan financier—an homage to the flavors of the South, and surprisingly light and sunny.
Pastry chef James Gallo of the Hyatt Regency Atlanta wanted to highlight local ingredients in a creative way. The shape of the mousse mimics the hotel's dome structure, and the honey comes from beehives kept on the hotel's rooftop.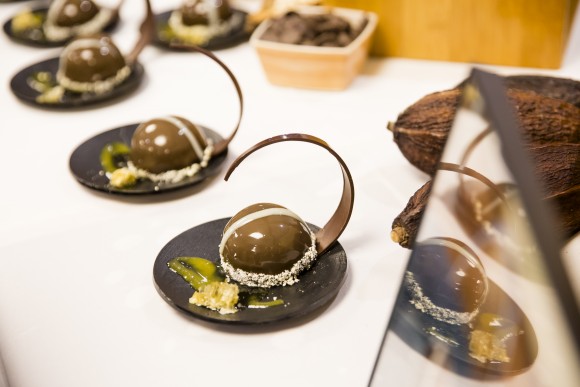 He was among a group of 10 pastry chefs who were named the best in America by Dessert Professional magazine this year. The annual search for the country's finest sweet makers was marked with a ceremony and tasting held on June 5 at the Institute for Culinary Education (ICE) in downtown Manhattan. Former White House pastry chef Bill Yosses, now of New York pastry company Perfect Pie, was inducted into the Hall of Fame.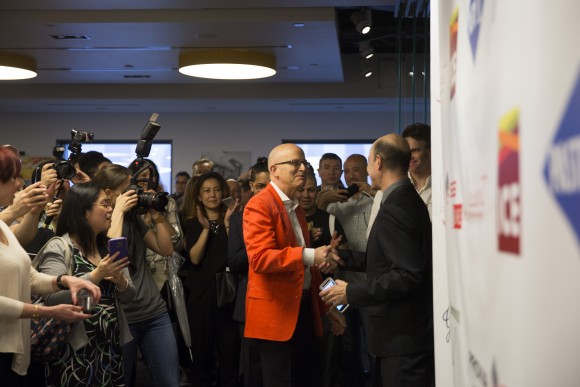 Unexpected ingredients were a common theme. Chef Kathryn Gordon, a pastry instructor at ICE, sprinkled nepitella, a refreshing Italian herb belonging to the mint family, on top of a cornmeal biscuit with apricot, while Chicago chef Meg Galus of restaurants Boka and Swift & Sons, created a tangy, well-balanced treat out of chocolate, sudachi (a Japanese citrus fruit), and dried lime.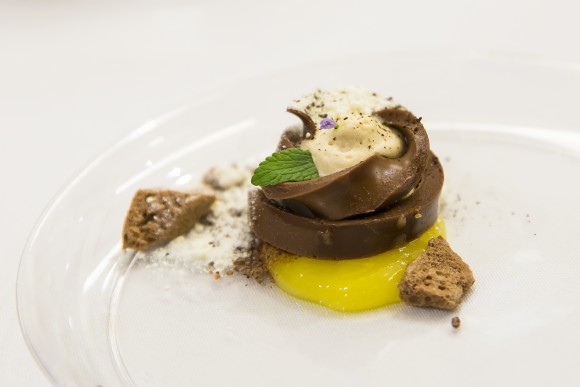 Other chefs put their own twists on classic desserts. Rory Macdonald of New York's Chanson patisserie presented a vanilla panna cotta with strawberry, rhubarb, flecks of red pepper, and Champagne foam.
"My philosophy of food is, 'if it's not broken, don't fix it.' There's nothing wrong with doing a classic dessert as long as you do it right. Knowing those classics allows you to tweak it a little bit and still respect it without going too crazy," he said.
At his pastry shop, Macdonald infuses a buttery kouign amann, a specialty from Brittany, France, with black sesame to create a more savory version, suitable for breakfast.
The tasting attendees were enthralled by the sugary event. "It's the sugar high of the year," said Francine Segan, a food historian based in New York City. "What was most impressive was the range of flavors. You have pastry chefs that use everything from rosemary, lavender, and hot chili peppers, to classic sweet things."
Robert Bowden, chocolatier and founder of Viveré Chocolates in Hackettstown, N.J., found the many layers of flavors intriguing. "When you eat them all, whether in stages or all at once, it just captivates your taste buds," he said.
Here is Dessert Professional's list of the top 10 pastry chefs in America:
James Gallo
Hyatt Regency, Atlanta, Georgia
 
Meg Galus
Boka and Swift & Sons, Chicago, Illinois
 
Kathryn Gordon
Institute of Culinary Education, New York City
 
Kriss Harvey
The Bazaar at SLS Hotel, Los Angeles, California
 
Rory Macdonald
Chanson, New York City
 
François Mellet
Chefs Warehouse, San Francisco, California
 
Michael Mignano
Perrine, The Pierre Hotel, New York City
 
Charles Niedermyer
Pennsylvania College of Technology, Williamsport, Pennsylvania
 
Stefan Riemer
Walt Disney Parks and Resorts, Orlando, Florida
 
Olivier Saintemarie
Chefs de France, Orlando, Florida
 
2017 Hall of Fame Inductee
Bill Yosses