Kristin Sherman was shopping with her two tired kids on New Year's Eve, and it was only in retrospect that she realized what a ridiculous scenario she had found herself. Her family had hosted a teeny-tiny party with the two now very tired boys, and they were cranky and ready to sleep.
The trio had needed to go buy some milk under pressure, and Sherman had just "made it through the store barely escaping a meltdown from the youngest."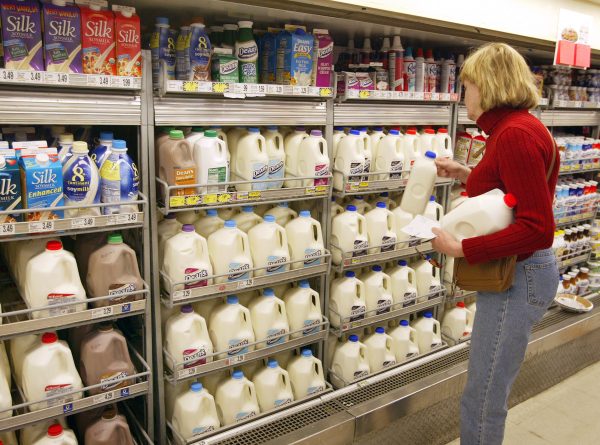 But after she buckled the boys up, as she was putting the food in the car, the gallon of milk slipped out of the car and smashed on the ground. All spilled.
One of her boys was crying and now she was on the verge of tears as well. It might not seem like a huge deal, but in the pressure-cooker situation she was in, it really was.
But little did she know, the car parked across from her was watching. Sherman dejectedly returned her cart, and then as she got back to her car she saw a woman get out of the opposite car and approach.
"I'm so sorry you spilled your milk. I'm a grandma, I know how that is. Please let me go in and get you another one."

Sherman said it was okay — she couldn't possibly make this woman do all that for her. The woman insisted, and ultimately Sherman agreed. The boys would need their milk tonight. So she waited as the woman told her she would be right back.
"I offered to pay her. She wouldn't accept it. I begged her to take some money. She wouldn't. She said happy New Years. I thanked her, gave her a hug and got into the car," Sherman shared on Facebook.
Not only did the woman replace her gallon of milk, but she got her a second gallon and a store gift card. Because no one should ever need to cry over spilled milk.
This pushed Sherman over the edge.
"She has no idea what her act of kindness did for me. I was feeling exhausted and defeated for the most part this week and this stranger's random act of kindness made me cry like a baby," she wrote.
"Thank you to the parking lot grandma. In 2017 I hope we can all be a little more like her. I'm hoping the lady that helped me out last night will see this. Please feel free to share. Less hate, more love is my hope for 2017."
Sherman posted the story on social media at the turn of the new year, and thousands shared the touching moment in hopes of inspiring a kinder 2017.
One commenter offered some wisdom as well: "Us Grandma's have walked in your shoes….when we offer help please accept."
In 1892, he helped a struggling college student. 27 years later—what goes around comes around.