Normally, people go to Las Vegas to gamble and have fun, but naturally, there's often an element of romance in there as well.
Kevin and Alyssa from New Jersey had been dating for three and a half years, so Kevin decided that a trip to Las Vegas would be a good opportunity to do something he'd been harangued about by his friends for a long time.
He was going to propose to Alyssa.
To do that, he enlisted the help of Rob the magician, who works for This Magic Moment—a Vegas-based company that specializes in setting up marriage proposals. This whole plan was unknown to Kevin's long-time girlfriend.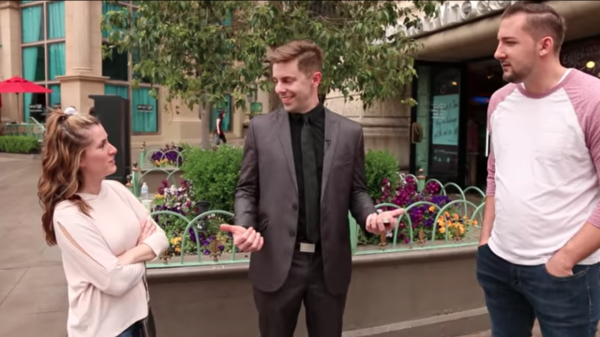 Rob started his street performance by giving a small pouch to Alyssa, and asking her to put it in her back pocket. He then performed a few card tricks for the couple.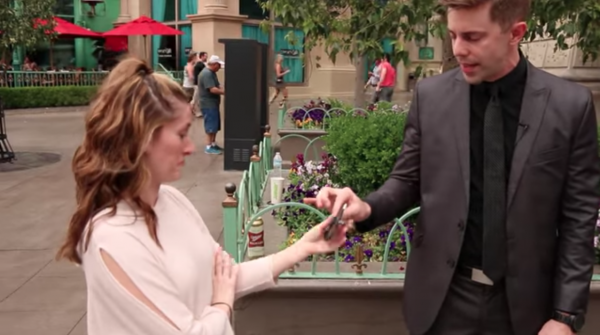 For one trick, he had the couple pick between two cards—one with a heart or one with a diamond, both Alyssa and Kevin chose the queen of hearts.
Rob pointed out that by choosing the queen of hearts, they chose, "love over money," in a way, showing how strong their relationship is.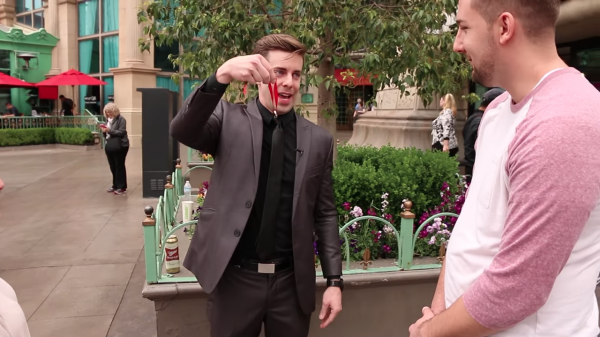 For his last trick, Rob took out a ring that was hanging on a ribbon, which he dangled in front of the couple. He then asked if they were dating or married. Alyssa replied that they were dating.
"If you'd like it then you better put a ring on it!" Rob told Kevin, much to Alyssa's amusement.
"I hear it all the time," Kevin replied with a smile on his face. Rob made the ring disappear shortly after.
He then asked Alyssa to retrieve the pouch from her back pocket that he had given to her at the beginning. Once he opened the pouch, a different ring came out attached to a string.
"That's not my ring though," the magician said.
He said that this is a ring that Kevin would need for something he was about to do.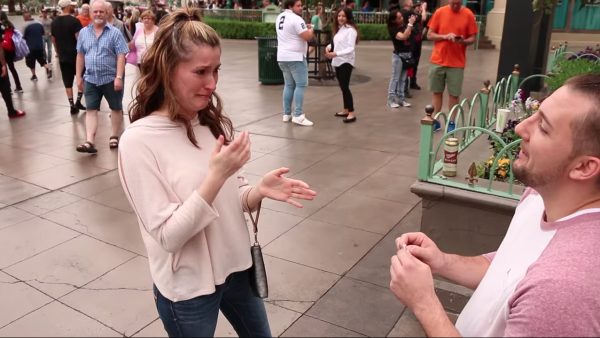 Kevin took the ring, got down on one knee, and proposed to Alyssa. She started tearing up almost immediately, as she was completely surprised.
As soon as he asked her to marry him, she said yes. Success!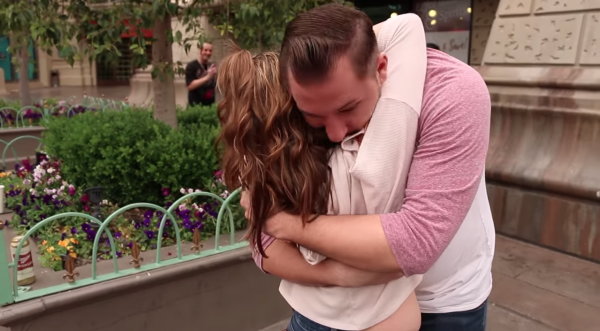 Rob did a fantastic job playing the part of the catalyst for the proposal. Even if he is a real magician, it does take skill to pull off something quite like this.
As with many things in Las Vegas, Kevin took a gamble on this one, and he ended up winning.
Watch the full video here: