Being out in the world, you get to meet a lot of people. Some of these people become your best friends, and another could be your soulmate. You network with people that have connections, and you could meet your next business partner. It is said everyone comes into your life for a reason. These people are either here to teach you a lesson, or to be with you for a lifetime. Some people are guardian angles, and come into your life and shield you from danger.
Danielle Howe was introduced to a hero one morning at 5 a.m. The mother of two explained that she woke up one morning because there was someone banging on the door. She was in the house with her husband, Curtis and their two children, Caden and Lily. Because her husband is a hard sleeper, she was the only one who heard someone banging on their door.  Anyone hearing banging on their door that early in the morning would be nervous to find out who it is.
"I woke up to someone banging on our door, just saying, 'open. open the door,'" Danielle told CBS 4. The nervous mother did not want to find out what was going on, but luckily she asked the person why she should open the door, and Nicholas David informed her that her garage was on fire.
The fire was close to reaching her home, so it was perfect that Danielle answered when she did. "It just kept getting bigger and bigger," Danielle said describing the fire.
The forceful fire did not scare away the good Samaritans.
Along with Nicholas, two nurses from a nearby nursing home, Michelle Blundell and Heather Harp saw the fire spreading and decided to help. "We've seen them around, seen the kids outside," said Blundell. "I knew they had babies. We were getting in the house one way or the other," she told WTHR.
When David pulled up to the family's house to warn them, the nurses were also on their way to the rescue. "We all met at the door at the same time," said Blundell. "We're banging on the door and the windows and you could see that nobody was up. He kicked in the door and we just ran in and started screaming to get out of bed, your house is on fire."
As you could imagine, it is 5 a.m and people are banging on your door. You would be quite confused as to what was going on. Blundell explained that the family did not know what was going on.  "One of them said, 'I thought someone was trying to break into our house.'"
Luckily, the family and their home were safe.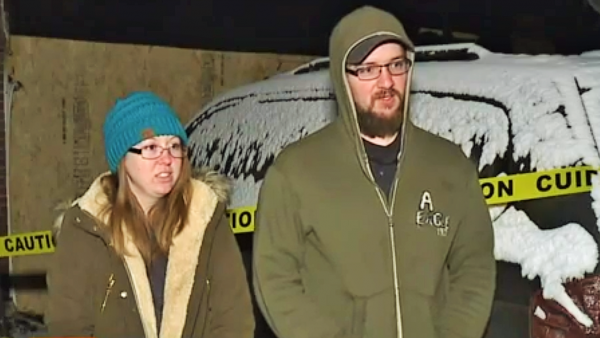 The fire department came before it spread to their home and the family of four and their dog were saved from any harm. After a crazy night of fires and getting rescued, the family never got a chance to thank their hero.
WTHR reconnected the family with David, and Danielle got to properly thank David for his heroic act. She apologized for not opening the door at first, but David was just happy the family was safe.
She told him over the phone that, "If you hadn't come when you came, then we would have been asleep in the smoke and everything and never woken up, so thank you so much."
"I appreciate that. I'm glad you guys were ok. I'm glad that I was in the right place at the right time," David responded.