Dry January can be a real challenge for those who want to cut out drinking entirely. For some fun alternatives to help stave off the craving, here's a selection of flavorful nonalcoholic drinks that can be enjoyed during any occasion.
Unlikely Ingredients
Cannonborough Beverage Company, based in Charleston, South Carolina, excels at throwing unexpected ingredients together to create delicious, well-balanced drinks. The Citrumelo and Hops possesses a refined tartness, combining a crossbred citrus fruit (a Duncan grapefruit and a Chinese bitter orange) with Citra hops. Meanwhile, the Grapefruit and Elderflower blends the subtle bitterness of the former with the elegant sweetness of the latter.
Sorghum and Thyme soothes with a caramel-like flavor. The mix of sorghum syrup (sourced from an award-winning mill), lemon juice, and thyme gives off a delicate herbaceousness, like a sophisticated version of Coke. For a refreshing soda, the floral-scented Raspberry and Mint does the trick, with a touch of tartness from lime juice.
$10 per 750-milliliter bottle, or $25 for three. CannonBevCo.com
Fizzy Drinking Vinegars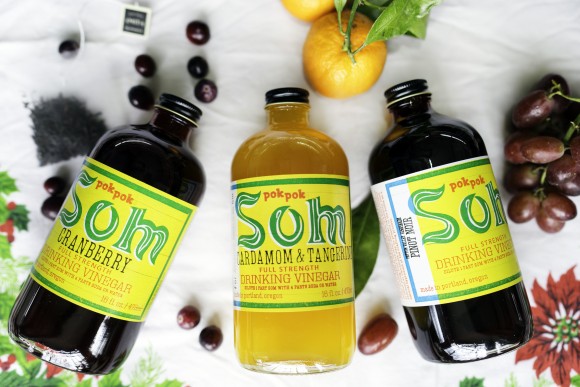 The team behind the popular Thai restaurant Pok Pok also makes a line of drinking vinegars, called Pok Pok Som, that are great to sip on. After mixing with water or club soda, the Cardamom & Tangerine is a refreshing combination, lightly citrusy and fizzy, while Smith Tea & Cranberry is tangy with floral notes, thanks to honeybush tea.
$15 per 16-ounce bottle. PokPokSom.com
Fun Bubbly
Pittsburgh-based Natrona Bottling Co. produces a wide range of unique sodas, including a faux champagne called the Bauser Champayno. It resembles a very dry ginger ale, with tiny bubbles that make for easy drinking. All of Natrona's sodas are carbonated by melting dry ice to produce carbon dioxide, and hence lighter bubbles.
Those looking to rekindle memories of childhood should try the Red Ribbon Almond Cream Soda, a smooth, very sweet drink that tastes like a marzipan pastry. And if you need to clear your sinuses, or enjoy spicy stuff, the Jamaica's Finest Ginger Beer will shock your taste buds (and nose, in a way similar to wasabi), due to the inclusion of ginger root oil.
$42 for a 12-pack. NatronaBottlingCompany.com
Hot and Spicy
Hot Ruby's cranberry-based cider is made from a 45-year-old family recipe. Cinnamon, cloves, pineapple, and lemon juice are fused together for a warm, spicy drink that transports you to a cozy spot in front of the fireplace. Best served hot.
$44 for two 32-ounce bottles. DrinkHotRuby.com