Every so often hospitals make their staff go through training exercises. On a Friday night before Thanksgiving the emergency room nurses at Alliance Health in Midwest City, Oklahoma were told they would be taking part in a training exercise.
Little did Tammy Smith, one of the ER nurses, know that the training exercise was actually a surprise reunion between her and her son.
For nearly two years, Tammy Smith's son Brandon Smith, served in Germany. Although Tammy put on a brave face and even offered advice to a fellow co-worker whose sons were scheduled to be deployed, she was heartbroken when she learned her son wouldn't be able to come home for Thanksgiving.
According to KFOR he still had a few more months left to serve overseas. Tammy and Brandon made plans to Skype during Thanksgiving, but those plans would not be kept.
It started out as any training exercise, until it came time for the patient's name.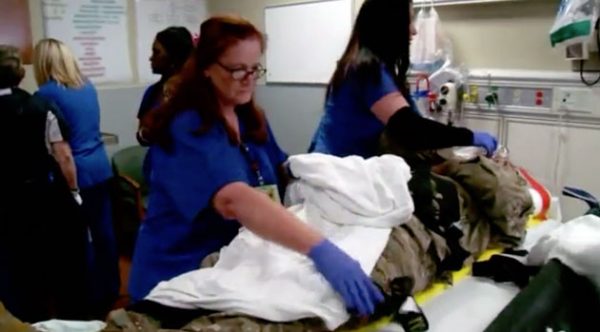 Tammy's co-workers knew the training exercise was just a cover for the big surprise, as Brandon was wheeled from an ambulance into the emergency room. Once inside, all of the nurses began taking down his information as if he was a new patient.
Tammy, who was stationed at a computer, asked Brandon his name and birthdate. Her co-workers asked him to verify his name and birthdate several times.
When Tammy heard the patient's name and birthdate she thought it was a coincidence.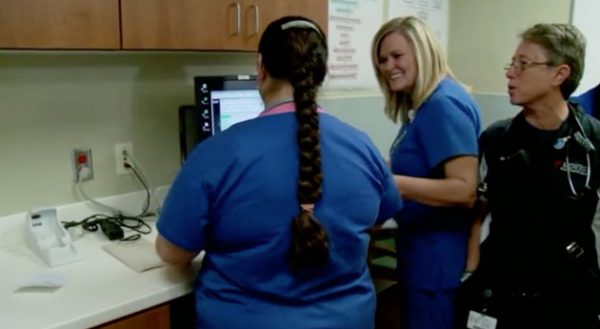 After the patient assured the nurses that his legal name was Brandon Joseph Smith and that his birthdate was December 30, 1995, he got up off the table and walked right up to Tammy.
She turned around and gasped. The patient she was "treating" was her son.
Brandon surprised his mom in the best possible way!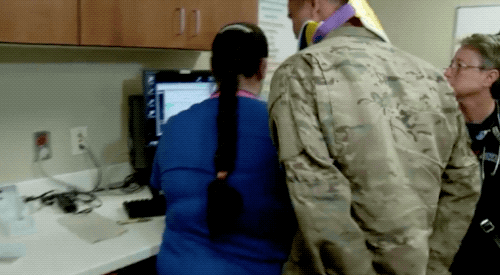 Once the emergency nurse realized it had been her son all along, she couldn't hold back her tears of joy.
After serving overseas for nearly two years Brandon was able to return home for 17 days during Thanksgiving.
Watch the touching reunion in the video below (and try not to cry).