Barbecuing outdoors is practically America's favorite pastime during the dog days of summer. But for the moments when you're craving loads of meat with a pint without the hassle of preparing it yourself, Jake's Handcrafted in Park Slope, Brooklyn, offers surprising takes on a familiar barbecue staple: sausages.
 
The owner and chef, Jake Klein, makes them from scratch, blending meats with unexpected ingredients, then smoking them barbecue-style—low and slow—inside a barrel smoker.
 
Take, for example, the Cubano sausage, which combines the components of a Cubano sandwich into a single tube of meat ($9). Pernil-seasoned pork and bits of ham melt into the same bite as Swiss cheese and pickles. To have all those flavors in your mouth at once is jarring and exhilarating at the same time.
Further afield is the satay sausage, reminiscent of Southeast Asian curry ($9). It's embedded with peanut sauce, cucumbers, and shallots—a pungent combination.
 
Klein, who was inspired to open a sausage and beer spot after he started learning to make charcuterie during his time cooking at Gramercy Tavern, said pork butt (that's pork shoulder) is the best cut of meat for making sausage. It has the right amount of connective tissue to allow the meat to stick together, while giving it succulence, he explained.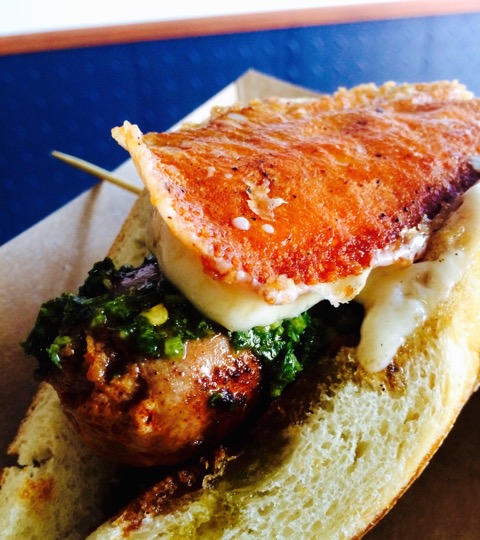 The great thing about these sausages is that they are juicy without being greasy, because Klein has figured out the ideal lean-to fatty meat ratio (it's 80 to 20 percent). Hence, when you cut into the classic Bratwurst, you can taste the meat in all its porky essence, enlivened with mace and pepper ($9).
 
For a beef alternative, the 2x Smoked Brisket is a genius invention: Brisket is smoked the traditional Texan way with oak wood for about 14 hours, then stuffed into a casing and smoked again for another four to six hours ($9). The burnt ends are in there too, creating a smoky sausage with bite and heft.
 
The sides are a wonderful accompaniment, with housemade kimchi, pickles, and a surprisingly piquant potato salad providing a refreshingly tangy (all $4). The Wood-Roasted Carrots, meanwhile, offer crunch and char ($5).
 
Wash all this down with a diverse selection of beer on draft and in bottles and cans, ranging from hoppy to fruity.
 
During warm weather days, you can dine outside in the restaurant's backyard and feel like you're at a barbecue party in the middle of the city.
 
Jake's Handcrafted
​559 Fifth Ave. (between 15th & 16th streets)
Park Slope, Brooklyn
718-788-0789
JakesHandcrafted.com
Hours:
Monday–Friday 5 p.m.–2 a.m.
Saturday 3 p.m.–2 a.m.
Sunday noon–2 a.m.