In the history of the world, there are countries that will be remembered for their armies and empires. And then there's Ireland, with its exports of hospitality, Guinness, and Irish whiskey, that have quietly reached the far corners of the earth—through the Irish pub.
Heading to Mount Everest? Kathmandu in Nepal has three Irish pubs. There's one in La Paz, Bolivia, that claims to be the world's highest-altitude Irish pub, and it gets a little competition from one in Cusco, Peru, near Machu Picchu, which claims to be the highest-altitude, Irish-owned Irish pub.
Why are there Irish pubs all over the world? That question fascinated Irish-born and -raised Tim Herlily, the U.S. brand ambassador for Irish whiskey Tullamore D.E.W. So last year, he embarked on an epic Irish pub tour across America, visiting 50 states in 30 days looking for the best Irish pubs in the country.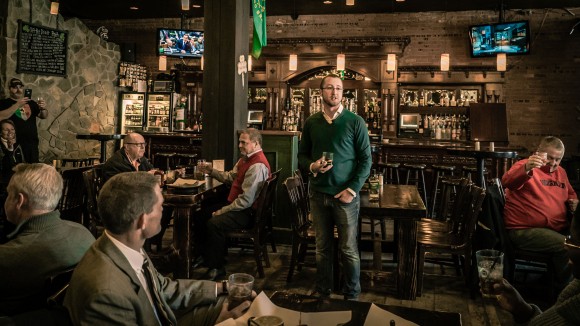 "I get that there's only 5 million people on the island of Ireland," he said. "We're not a big population. There's 40 million people that claim Irish ancestry in the U.S. and 80 million worldwide."
"We're kind of a nation of publicans in a way," he said. "If you go to a town or village [in Ireland], the amount of pubs is incredible." What pubs are today really started off as hospitality in somebody's living room, he suggests. "We have that hospitable nature. It's in our DNA."
When the Irish emigrated, they took not only that hospitable nature, but also their brewing and distilling skills.
There's Irish whiskey, for example. Its first recorded mention predates that of Scotch by 500 years. "So the joke is that with 500 years more practice, you're going to be better," Herlily said.
Irish whiskey, Herlily explained, is triple distilled, accounting for its smooth and approachable nature. Three styles are made in Ireland: malt whiskey, where germinated barley creates a citrus flavor; delicate, sweet grain whiskey; and pot still whiskey—particular to Ireland—with a mash of malted and unmalted barley that gives it a creamy texture and spiciness. As for Tullamore D.E.W., it's a blend of all three styles.
"As a stereotype, Irish [whiskey] would sit between bourbon and Scotch," Herlily added, "so a lot of people will describe Irish [whiskey] and bourbon as being the gateway" to drinking Scotch and single malts.
What Makes a Great Irish Pub
"There's no pretentiousness to an Irish pub," Herlily said. You can just as well come in for a casual drink with friends one day, then a business meeting the next.
Herlily and I were speaking at Cooper's Craft & Kitchen in Chelsea, at the back bar. The place feels cozy and welcoming, with tables in different configurations and wooden barrels here and there. "If you dig deeper, it is an Irish pub," Herlily said. It doesn't bill itself as such, but it is Irish-owned.
And then there's the element of narrowness. "Probably you get this in New York by accident, but the nice thing about it is, it's narrow so you can get an atmosphere—there could be five people up front and it still feels cozy," Herlily pointed out.
The Irish pub is all about conversation. So that means there's no television or music playing in the background. "A lot of pubs in Ireland don't have music. Your soundtrack is the sound and noise of conversation. It's the noise of organic atmosphere," he said.
One of Herlily's favorite Irish pubs in New York City is Swift Hibernian Lounge in NoHo. "It really works for conversation, but for dates as well," he said. There are no sports games or commercials playing on screen to potentially distract you from your date. He also loves The Dead Rabbit, which, despite occupying three stories of a building in the Financial District, maintains that element of coziness. And it doesn't hurt that it has the biggest Irish whiskey collection in all of the United States and was named the best cocktail bar in the world from 2014 to 2016. Both of these bars' live music nights add to the lively social atmosphere.
From Sea to Shining Sea
Over the course of a month last year, while Herlily looked for the best Irish pubs through all 50 states, he met pub owners, did tastings, and learned about the history and traditions of the pubs.
"For the first four days, I didn't sleep in a bed," he said. "Horizontal sleeping is incredibly underrated."
One of his favorites includes The Field, in San Diego's Gaslamp Quarter. "It's got that coziness, and there are pictures, paintings, knickknacks—[the owner] has a story behind every one of them."
A surprise find was Reilly's, an Irish pub log cabin in Anchorage, Alaska, that made one of the best Irish coffees he'd ever had. He walked in and recognized the bartender from a talk he gave at the annual Tales of the Cocktail festival in New Orleans about how Irish pubs are taking over the world.
In Savannah, Georgia, he visited Kevin Barry's, where a set of eight musicians have been playing live music every night for the past 35 years. "They do Irish fare amazingly well. It was big square footage, but they were still able to have nooks and crannies and atmosphere to it," Herlily said.
There is one pub whose aesthetics remind him of his hometown pub: Four Green Fields in Tampa, Florida, which has a thatched roof—but also palm trees out in front.
From Herlily's estimation, Irish pubs are Irish-owned half the time, "if not skewing more toward American ownership." And then there are a few other exceptions, one being a Scottish fellow in Portland, Oregon, who originally opened a pub as a Scottish bar, and then changed it to a Celtic bar, then finally modified it to an Irish pub because it appealed to more people.
Herlily paused for a moment, contemplating the fellow's lot. "You have this Scottish owner who wanted nothing more than having a Scottish pub, and he was like, 'No, it's going to have to be Irish.'"
"There's a friendliness to Irish people that's translated, whether into whiskey or pubs. That hospitality makes it the world's favorite bar," he said.
As for the world's biggest group of pubs—58 in total—it's in Russia, owned by two Russians who visited a friend in Dublin and brought the concept back home.
Irish Coffee
Irish coffee sure looks like Guinness, but it comes in a tiny glass. Herlily likes it best in a 6-ounce glass, for the balance between all the ingredients.
This past January, he was enlisted to help make the world's biggest Irish coffee, at Irish pub Fado in Chicago. It was made in an enormous Irish coffee glass with a spigot at the bottom, crafted by a company that manufactures aquarium tanks. A structural engineer was called in to make sure the floor could hold its weight. It couldn't, so the giant glass was placed near a structural wall with added reinforcements—"so it wouldn't land in the basement," Herlily said.
Four kitchens and 14 burners (and much anxiety) later, there were 234 gallons, or 3,700 cups, of Irish coffee made.
Although the story of the cocktail's creation often goes back to The Buena Vista Cafe in San Francisco, Herlily recounts an even earlier origin.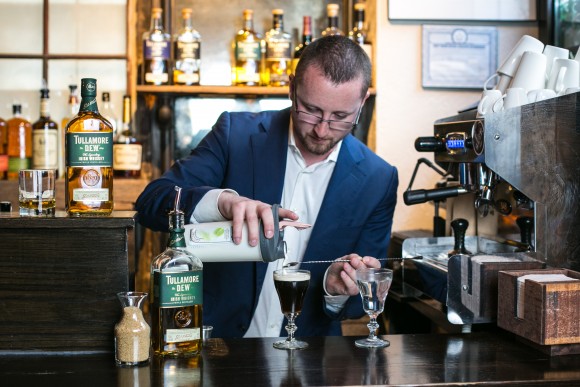 According to Herlily, it started at Foynes Airport in Ireland—now Shannon Airport—where, in the old days, every transatlantic flight to America had to stop and refuel. One Pan Am flight had to be turned back due to a storm, and the chef at the new airport restaurant, Joe Sheridan, was told to make them something warm for the cold, upset passengers. He called it Gaelic coffee and it soon became famous. "This was the drink of the airport and all the glitterati of the day would see this Irish coffee," Herlily said. Finally, it was a travel journalist from the San Francisco Chronicle who featured Sheridan and his coffee, and brought the recipe to the owner of The Buena Vista.
"I always say to people, Irish coffee was made in Ireland, but made famous in San Francisco," Herlily said.
Below, Herlily offers his recipe for making a perfect Irish coffee. Make sure to use cold heavy cream—no store-bought whipped cream, please. And here's a tip: You can shake the cream up in a protein blender bottle.
The Perfect Irish Coffee


Ingredients
1/2 parts demerara sugar 
1 1/2 parts strong brewed coffee (any premium dark roast)
1 1/2 parts Tullamore D.E.W. Original whiskey
Lightly whipped heavy cream
Cinnamon or nutmeg, to taste
Directions
Fill a clear-stemmed glass with very hot water to preheat. Empty the glass.
Add the sugar and brewed coffee, and stir well.
Once the sugar has melted, stir in the whiskey.
Gently whip the heavy cream by shaking it in a protein shaker with a blender ball–you want a still somewhat loose, not stiff consistency.
Pour the cream over the back of a hot teaspoon to top the drink (and prevent the cream from penetrating the top of the drink).
Finally, garnish with grated nutmeg or cinnamon for a spicy finish.
Recipe courtesy of Tim Herlihy