The National Eating Disorders Association claims that over 20 million women will have an eating disorder in their lifetime. Girls as young as age 12 have been proven to suffer from at least one disorder.
It's extremely difficult to get out of that mindset once you're in it. And Emelle Lewis of England felt this way for a long time.

For most of her life, Lewis felt like everyone else was skinnier than her, no matter what her weight was.
Going into her teenage years, she felt increasingly more insecure as other girls around her were starting to develop.
"It got to that age where you care more about what you look like," Lewis said.
To combat her self-consciousness, she started going to the gym to lose weight. But when she wasn't seeing any progress, Lewis felt worse.
She then started starving herself, immensely.

It eventually turned in anorexia, but she was content with the way she was living.
"All I saw was a flat stomach," she told ITV News.
That's all that mattered to her; she acknowledges she was thin at the time, but was fine with how skinny she was. The pleas from her parents to eat were continually pushed to the side.
For six years, she struggled with her condition. At her worst, she weighed 70 pounds.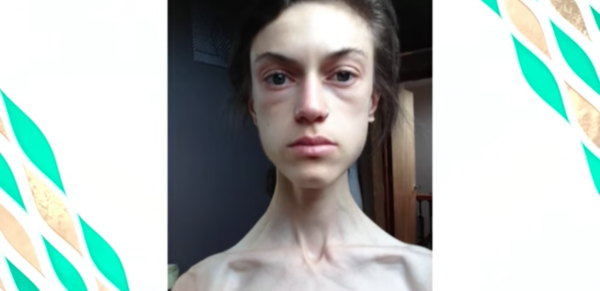 Her relapses became worse over time. In one instance, her heart stopped, and Lewis was rushed to the hospital where doctors had to use adrenaline to start her heart again.
On the day of her 21st birthday, doctors told her parents that she wouldn't live much longer unless something was done.
This was her breaking point. When she thought she was going to die, the woman felt like she hadn't lived her life to the fullest extent.
"This is not my story," she thought at the time.
One day while she was on social media, she came across the accounts of girls who also had anorexia, and this made her feel like she wasn't alone in her struggle.
Then, she saw accounts of anorexic people that were using weight training to recuperate from their condition. And the results were incredible.
Knowing that it was now or never, she decided to take up weight training in order to improve her condition.
This time, instead of the gym making her feel bad about herself, it became her best friend. She thought that after her 21st birthday, she was on her last chance to recover, so she wasn't going to give up easily this time.
Through her Facebook and Instagram, Lewis posted her progress, and it shows how far she's come. She was also eating more to go along with the exercise, and healthily at that too.
More than a year later, she looks like a completely different person.

She was asked on This Morning about what would've happened if she didn't change her mindset, and her answer was blunt.
"I probably wouldn't be here, to be honest," she said.

"Anyone can recover from it," Lewis said. "But it has to come from you."
She wants her story to inspire others who are on the same path she was on, but at the same time, stresses that you can't do anything for someone who doesn't want to be helped. For years, she had people forcing aid upon her, to no avail.
It was only when she wanted to change her lifestyle that she started seeing improvement in her health. Now, Lewis is looking better than ever, and is studying to become a personal trainer as a career.
Judging by how far she came, this woman is an example of how it's never too late to change your life for the better.