For many, the years spent at a university are some of the most formative times of their lives. While colleges exist as educational institutions, they teach so much more than the subjects students major in.
Students can learn independence, communal living, and important social skills.
Between writing extensive essays, working a campus job, extracurricular activities, Greek life, and trying to maintain an active social life, college can be truly exhausting.
By the time a person graduates, they feel like they've really earned their degree. That is, of course, if they received one.
Some fail to meet requirements and drop out before they can earn a degree. In rare instances, a degree can be earned but never received. That's what happened to Catherine Palmer who studied at the Victoria University of Manchester in England.
Palmer (then known as Catherine Bolton) first came to the university in 1935 to study English. She was highly involved there participating in choir, the school's fencing team, and other activities.
Catherine Palmer finished college in 1938 but never received her degree.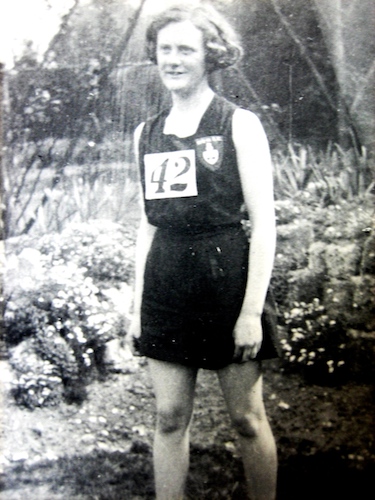 Within 3 years, she met all of the requirements to earn her degree and attended her graduation ceremony. Yet she oddly didn't get her certificate there.
She moved to Glasgow shortly thereafter. Then she moved on to wartime placements at St Thomas's and St Mary's hospitals in London. After that, she started teaching, still never receiving her degree.
Generations passed. She gave birth to three children who now have kids (and grandkids) of their own.  At 100 years old, Palmer had accomplished incredible things (like climbing the Himalayas well into her 70s!) but she still didn't have a degree to show for it.
"I had so often heard her talk about her days at university as special and very happy times and then she'd mention the lack of evidence of her achievements there," Palmer's daughter, Alison Gould, told BBC.
Yet, at 101, everything changed.
Palmer's daughter, Alison Gould, gave her a special gift.
When Palmer celebrated her 101st birthday, she received a special surprise from Gould.
She had arranged with the staff at Manchester to finally get her mother the degree she had waited 70 years for.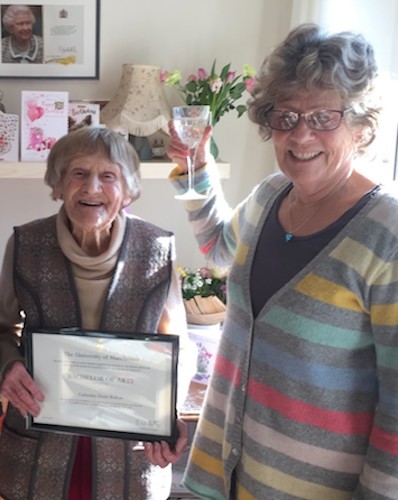 "It felt important to try to give her the acknowledgment of those days, and contacting staff at Manchester has enabled a sense of completion and celebration to finally happen!" Gould told BBC.
"We had a great birthday with Mum, and she was delighted to finally get her certificate, which has now taken pride of place next to her card from the queen," she added.
Once Palmer finally received her degree, the news spread back to the university. The staff there was very proud of her. Professor Peter Knight, head of Manchester's English department, told Manchester.ac.uk:
"I am delighted that Catherine has finally received her degree certificate. In this centenary year for women's suffrage, it is important to celebrate the achievements of our alumni, and Catherine's life and work are an inspiration to our current students."