When Brent from the DUDEbenice clothing company visited Heritage High School in Brentwood, CA, they set out to honor someone on campus who had made a difference in student lives but had gone under appreciated.
They chose Officer Mitch, a school resource officer whose job it was to protect and look after students. The students there all seem to agree that Mitch has done a fantastic job of that, setting himself apart from recent cop stereotypes. They think of him like a friend.
"I promised myself two things when I became a police officer: I'll never be a jerk and I'll never let myself get fat," Mitch said. "I want [students] to know me but also know who I am as a person. I treat them with  respect but they've gotta give respect back."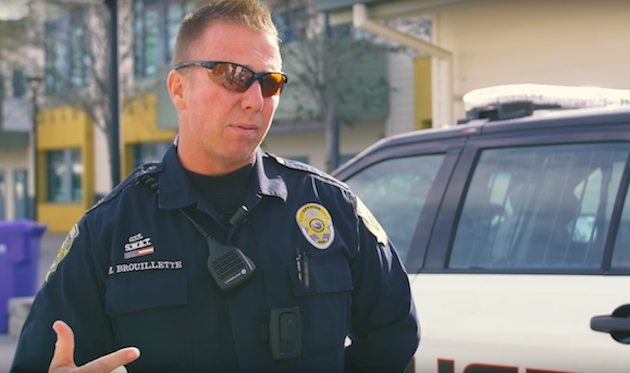 One example of Mitch's kindness came when a boy named Dalynn was struggling with anger issues and Mitch helped him out by working out in the gym with him.  It should come as no surprise then that Dalynn was a key figure in planning a surprise for Mitch.
The surprise started with Mitch being brought into the principal's office to talk to a student named Sienna about a "troubling" video she posted to social media. In reality, the video was tribute to Mitch from a group of students.

Brent asked Mitch how he felt after the video and he said, "That's not even fair… That was great."
Little did Mitch no that there were more surprises yet to come.
"It's not over yet," said Brent.
What awaited Mitch when he walked outside, you simply have to see to believe.
Credit: DUDEbenice