There are only so many valedictorians each year for every high school. It takes a certain amount of dedication and hard work to be at the very top of your class.
But those who do reach that status are recognized and rewarded handsomely.
Take Destiny Brannon, for example.

The girl was named the 2018 valedictorian for her graduating class at DeSoto High School in Texas, which certainly is no easy feat given the number of students at any high school.
As a result, she was slated to get free tuition for her first year at the college she plans to attend: the University of Texas at Austin.

However, before Brannon was able to take advantage of this offer, something changed.
It turned out there was a error made by the school in calculating her grades. Because of this, Brannon was found not to be the number one student at her high school.
Thus, her valedictorian status and free first-year tuition was taken away from her.
One can imagine the disappointment and frustration that Brannon felt upon finding this out—the last thing she wanted was to be a financial burden to her parents because of school.
Her plans were no doubt thrown for a loop, but she had an idea in the midst of the chaos.
A GoFundMe was started by Brannon, in hopes that others would see her story and contribute to her being able to make up for the loss of her first-year tuition.
"I am just asking for support whether it's a pray, encouraging word, or donation," the girl said in her post.
And she didn't expect to get the amount of support that she did.
The account reached a staggering $40,000—much more than the original goal of $25,000—in less than two weeks.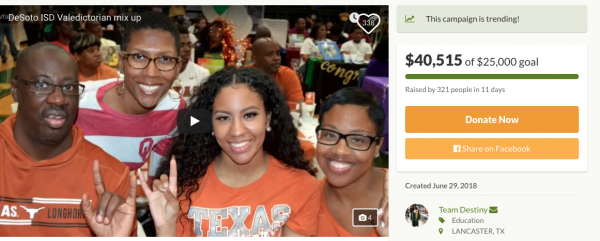 "I was very surprised and very grateful," she told Dallas News.
It's as if Brannon never lost her valedictorian status, all thanks to the hundreds of donations from many people she's never even met before.
It looks like the girl will at least have her first year of college covered by the donations when she goes off to school in August.

Everything happens for a reason; what could've been a sticky situation for Brannon turned into one where she doesn't have to worry about her finances for quite a long time.
"It made me happy—and very appreciative," she said.
The real story here is people coming together to help this woman in her time of need. The GoFundMe shows people as far away as Ireland donating to Brannon's cause.
And given she's still in the top five of her class in high school, maybe she'll have a chance to be the valedictorian of her college class!