Karen Handel, a Republican candidate from Georgia, said she and several neighbors received packages that had "contained threatening letters and a suspicious substance."
The Atlanta-area neighborhood where Handel lives was closed off by police as they investigated.
The incident is currently being investigated by the FBI and other agencies, Fox News reported.
"The FBI is responding along with Roswell Police Department and Fire to a suspicious white powder with letters," Special Agent Stephen Emmett told the broadcaster. "The situation is at several residences in Roswell, including Karen Handel's house."
Handel is currently engaged in a tight campaign against Democrat Jon Ossoff for next week's special election.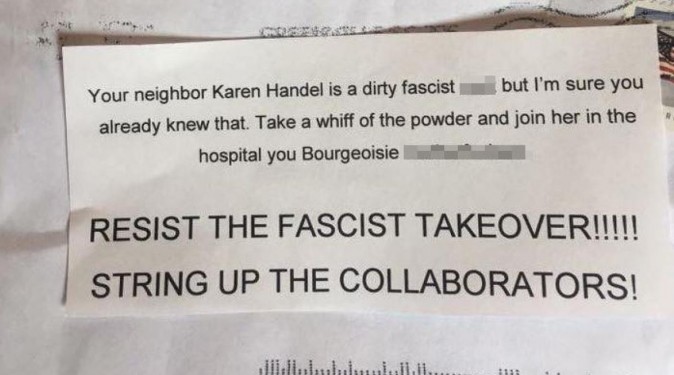 "This afternoon, we had some suspicious packages delivered to our house and to our neighbors," Handel wrote in a statement. "The packages contained threatening letters and a suspicious substance."
"We will continue to coordinate with law enforcement as necessary," Handel said.
WSB-TV reported that the envelopes were sent to five homes, containing a "white powdery substance."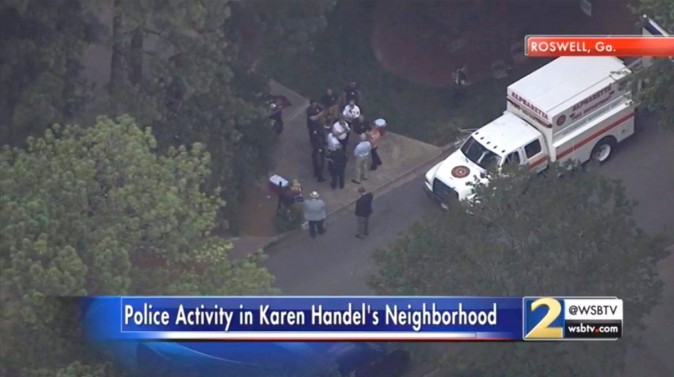 A picture posted to Facebook shows the alleged package and note. "Your neighbor Karen Handel is a dirty fascist….but I'm sure you already knew that," the letter read. "Resist the fascist takeover!!!!! String up the collaborators!" It was posted by Melissa De Feis Lentz.
Ossoff, meanwhile, issued a statement on the threats.
"Our campaign has received a number of threats, some of which have intensified in recent days, and we have reported them to local police as well as taken prudent precautions," Ossoff said in a statement to Patch.com.
"These recent events speak to the need for a redoubled commitment to civility and unity," Ossoff added. "The overwhelming majority of Americans want decent and civil political dialogue, and candidates for office and elected leaders must continue to call for calm and unity, even when there are intense differences of opinion."