It takes a lot of work to take care of a very young puppy, especially a disabled one. Pups are so rambunctious and curious—but they're also quite fragile.
At the Mia Foundation in Rochester, New York, disabled puppies are taken in and given treatment by human caretakers.
Yet there's only so much they can do to help. They can give pups medical treatment, but they can't understand them as well as another dog could. That's where Kenzie comes in.
When Kenzie the chihuahua was brought to the Mia Foundation, she had cleft palate and was underweight.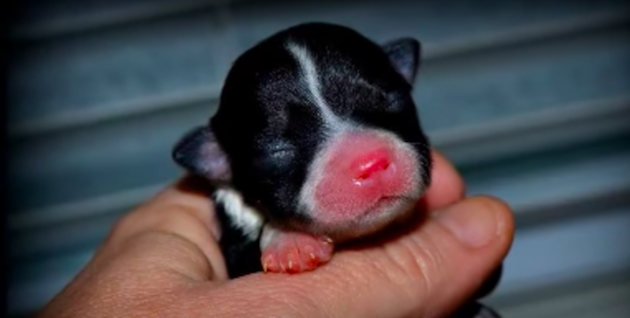 On January 1, 2013, the Mia Foundation received a call asking to take in two newborn chihuahua pups. Both were in dire condition, but while one of the puppies passed away, the other held onto life with everything she could.
Her name was MacKenzie or "Kenzie" for short. She had cleft palate, so she couldn't eat or drink. She was tiny and frail as a result, weighing in at only 3 ounces. Fortunately, Sue Rogers, president and founder of the Mia Foundation, had her back.
Kenzi had to use a feeding tube for almost a year. During this time, Kenzi was having a rather rough go of it. She spent a lot of time in the hospital due to pneumonia and aspirating her own saliva.
During this trying time, Rogers noticed something very interesting about about Kenzi.
"As sick as she was, her main focus was to care for other special needs animals in our care," she wrote in the video below.
Kenzie cared for other disabled dogs as if they were her own children.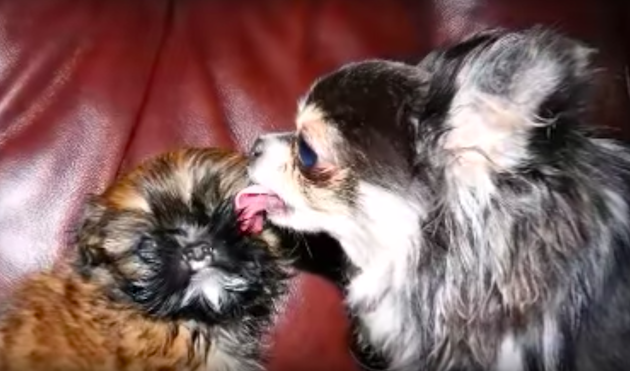 Kenzi would snuggle other pups, play with them, and bathe them with kisses. She was able to provide the sort of care that humans simply couldn't, and once she had her cleft palate surgery, she was able to do even more.
When rescues come in at a very young age (as they very often do), Kenzi fills in as "mom" for all of them. She accompanies them to every veterinary appointment to make sure they feel comfortable. She teaches them selflessness so that they too can become therapy dogs.
Dogs aren't the only animals Kenzie gets along with. She loves humans too. She's always the first to greet humans when they come to the Mia Foundation, and she frequently attends schools to teach kids about being born differently.
She's even able to get along with other animals, like birds.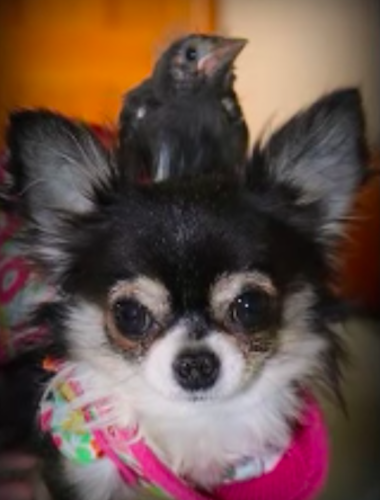 "I had never witnessed [this behavior] before in a special needs pup," wrote Rogers.
And that's exactly what makes Kenzie so lovable.
"Kenzie, you are the definition of love and you make me (and many others) SMILE!" Rogers wrote.