Almost 1 million pregnancies are lost every year in the United States, according to HopeXchange. It's a common occurrence, and an unfortunate one at that. But for many women, the loss of a baby doesn't stop them wanting to try again.
Courtney Mixon was at a Hobby Lobby in Arkansas when she saw a stranger wearing a plain black shirt with a rainbow on it. The rainbow was in the shape of a heart, and placed right over the woman's stomach. Upon seeing it up close, Mixon read, "You're looking at a rainbow!"
This touched Mixon so much that it drove her to tears. She went over to the woman and said, "I know what your shirt means …"
She knew what it meant because both of the women had something in common: they had both lost a baby.

A rainbow baby is a term used for a baby that is born after the previous baby was lost, whether is was a miscarriage, stillbirth, or other reason. The word "rainbow" itself refers to how the storm, which represents the previous pregnancy loss, is now over. This gives way to the rainbow, which in this case is the new baby.
This is why the woman was wearing the shirt. She wanted to give hope to those who had gone through the same experience, like Mixon had.
The woman's name was Autumn Safley, and she had lost two babies prior to her current pregnancy.
"I bought it after my first miscarriage, with intentions of wearing it when I was pregnant again," Safley told TODAY. "But I lost the second baby, and never got an opportunity to wear it."
It's no surprise that she was itching to wear the shirt once she was pregnant again.
The encounter prompted Mixon to take a picture of Safley and post about it on Facebook, where it was shared almost 35,000 times.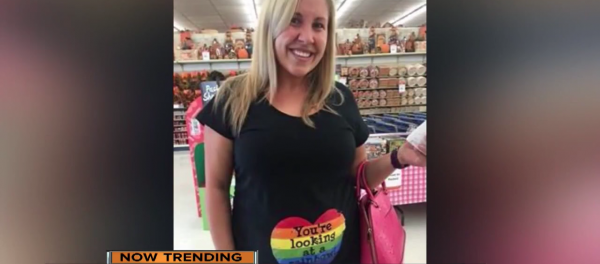 The popularity of the post made Mixon realize that she was not alone in her struggles. This, along with Safley's message of hope, had reassured her to keep going and keep trying for another child.
And Mixon did eventually give birth to a healthy baby boy!
They called their baby James, shortened to Jas (pronounced Jace), a nickname based on her husband's name, and he looks as healthy as can be.
Even Safley had her doubts in her third pregnancy, going as far as waiting 16 weeks to announce online that she was pregnant. But through it all, she knew that "it was going to be ok eventually." And this proves that third time's the charm, as Jas has recently celebrated his 1st birthday!
All Safley wanted to do was show off that she wasn't giving up hope for a baby. What she ended up doing was inspiring Mixon, and thousands of other mothers, who will hopefully have themselves a rainbow baby like Safley did.