Officer Brian Nolff realizes how intimidating a police officer can be—particularly to kids. Most typically don't interact with the police unless something has gone wrong, a connection Nolff is looking to break.
The Dallas, Texas, police veteran has been on the force for 28 years, and is still looking for new ways to better serve his community. His latest idea might be his best yet.
Nolff is hoping to get a new pair of shoes on the feet of kids who need them most.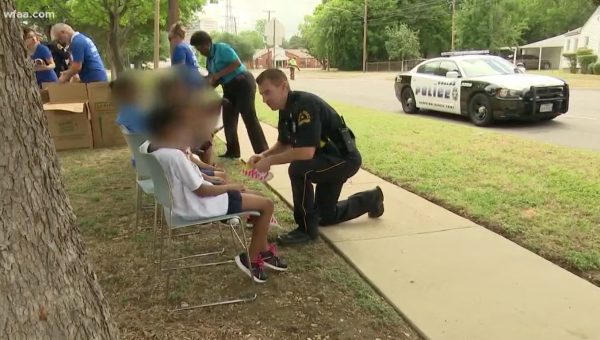 "I remember when I was younger, and you got a pair of shoes you felt better, and you got more confidence, it's a good thing," Nolff told WFAA.
The police veteran is spearheading a program that collects shoes for kids, and personally delivers them to various camps and recreational centers in the area. Those who spend time with the kids have seen the difference the program has made.
"Oh, they run out of shoes every half a year, every six months or so, they run out of them," Diane Ware, a Summer Program Instructor with Dallas Parks & Recreation, told WFAA.
"And that's a nice little relief off the parents, and they don't have to worry about it because sometimes they don't even realize that the kid has outgrown the shoe," Ware said.
Nolff hopes the program will help kids see police officers as friends.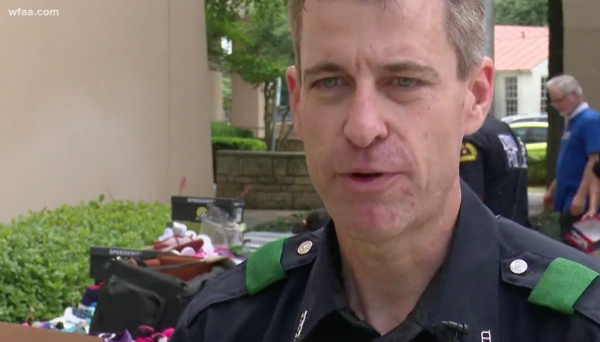 Because of the circumstances that typically warrant police intervention, Nolff feels like little ones may have a skewed perception of what police do. By showing they care, Nolff said he hoped it would help the kids view police differently.
"For them to see us in a different light and kind of more relaxed atmosphere was good for them—it was a good deal for them and also," Nolff said.
This is the second time that Nolff has organized the shoe drive with children in mind. In June 2017, he put together a similar event which operated under the name "Share the Shoes."
With such steadfast devotion to his community, it's no wonder why Nolff was named "Officer of the Month" in February 2018.
"Officer Nolff has built a reputation in the community and among his peers as a trustworthy and reliable professional," his recommendation letter, published on the Dallas Police Department website, said.
The devoted officer said he had no plans of discontinuing the program anytime soon.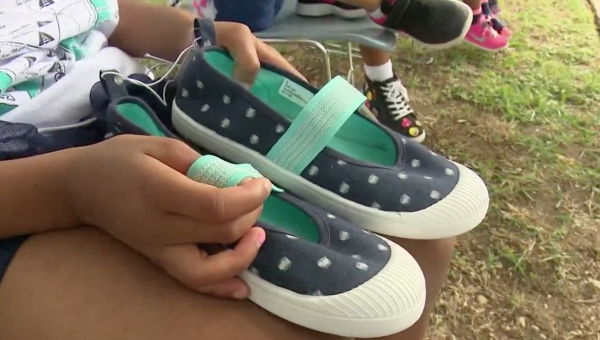 After nearly three decades of public service, Nolff isn't showing any signs of slowing down. He's just as committed to bringing his community together as ever.
"I'll be doing this probably the rest of my career," Nolff said.
Other community figureheads, like Ware, are relieved to hear him say that. With so much distraction in the world, Nolff's efforts go beyond providing shoes, but also teaching the youth to be kind, considerate, and caring.
"Especially the men, our boys need to see more men—yes this is great," Ware said.