Pigs are often thought of as sloppy and gross but, in reality, they're some of the sweetest and most intelligent animals. They form emotional bonds just like humans and are smart enough for complex tasks like playing video games.
Pig brothers Horton and Henry are no exception. When you learn the sort of things they do for each other, you'll be shocked!
When pig siblings Horton and Henry were brought to The Gentle Barn, they were unhealthy and afraid.
When rescuers found Horton and Henry in 2015, they were young, unhealthy, and afraid. The pig farm they came from hadn't been taking proper care of them. Not only were they starving but they were covered in ticks and parasites.
The pair were brought to The Gentle Barn in Tennessee where they were finally given the care they so desperately needed. Yet it still took quite a while for the pigs to get comfortable around humans.
"They were scared to death," The Gentle Barn's founder, Ellie Laks, told The Dodo in February. "We sat with them every day for weeks to comfort them."
Eventually, the pigs allowed their caretakers to get close to them, as long as they offered up snacks. At a certain point, not even that was necessary.
"We read books to them and sang them songs," Laks said. "It was as if their eyes went from dull to bright. After a few weeks, they started rolling over to let us rub their bellies."
Over time, the pigs grew bigger and more comfortable with people.
Eventually, Horton and Henry became happy and healthy. They gained weight, grew stronger, and their hair got far softer. Their familial bond grew as well.
They'd bask in the sun, eat, and sleep together. Horton and Henry had always been close, but their life at the barn really cemented their friendship.
By the time the pigs turned a year old, caretakers noticed that Horton was having trouble walking. His body was too big for his stubby legs to support him: a problem common in pigs bred for food.
In order to combat this, Horton was given surgery and anti-inflammatory medication. Yet doctors and caretakers weren't the only ones assisting him …
When Horton's legs couldn't support him well, Henry helped in every way he could.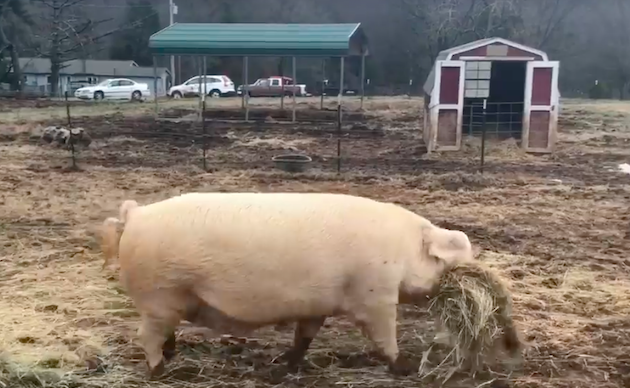 Henry also did his part to care for his brother while he was in need.
"When we bring out hay for them to eat at lunch time, Henry will grab a mouthful and bring it right into the barn for Horton," Laks said. "He is very nurturing to him — to the point where he won't let any other pigs near him. He knows that Horton is delicate and vulnerable."
Henry is never far away from his brother as he wants to consistently keep an eye on him.
"If Horton makes a peep, Henry is right back there to check on him," Laks said. "He'll check back in throughout the day, too, just to make sure he's doing OK."
Henry and Horton have grown to love people and, when they're given food or belly loves, they often grunt in appreciation. Laks has witnessed Horton do this when his brother helps out too.
"We'll sit out straw for bedding, and Henry brings that in … too," Laks said. "And I'm sure Horton says thank you in his own way."