One of the oldest wood ovens on the Upper East Side is at Petaluma, a Yorkville restaurant that's been a neighborhood fixture for more than 30 years.
At a more-than-toasty 950 degrees, the wood-fueled beast cooks pizzas in about 5 to 7 minutes and a whole branzino in 7 minutes flat. That's fast food the old-fashioned way.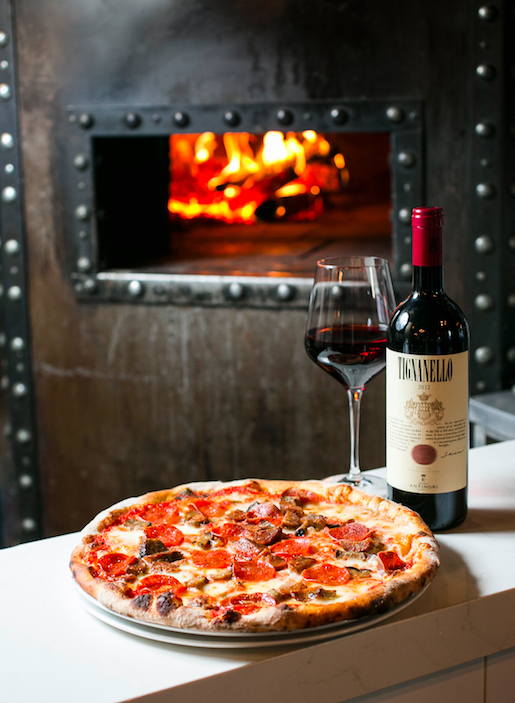 Petaluma was spruced up last year under a $1 million renovation (the operators also own Sons of Essex and Leave Rochelle's Out of It on the Lower East Side). It included a more adventurous revamp of the menu that was short-lived—the neighborhood only wanted the simple, good Italian-American fare that it had known for so long. Lesson learned; the owners obliged and peace returned.
There's a warm, friendly feeling that permeates the space from morning to night—stoked by the hearth's roaring fires and the lively daily bustle.

Watch people come and go for a day and what you get is a slice of New York: lunchers, book clubs mid-day, hungry parents and their even hungrier charges at the end of day, workers from nearby Sotheby's celebrating a sale, business people entertaining prospects, and evening dates. Somehow, there's room for this whole little world in the 225-seat restaurant, with varied spaces that give it more of an intimate feel than expected. 

Wednesday evenings prove especially popular, with Wine Down Wednesdays offering 50 percent off bottles on the wine list all day, barely a few dollars above wholesale prices. The wine list is extensive, with a big focus on Italian and American wines. Brunch, by the way, is quite popular too, with an add-on $19.99 option for bottomless bellinis or mimosas.
The requisite appetizers of Italian-American cuisine are all here, from a luscious burrata and prosciutto to eggplant parm, but the most fun are Nonna's Sliders ($12). Fried, crispy rounds of angel hair pasta are topped with meatballs and Sunday gravy. If it bears a resemblance to the umami-packed ramen burger, be assured this little appetizer came generations before, from the grandmother of a former chef who would make these delicious morsels from leftovers.

The more health-conscious might opt for the popular shaved Brussels sprouts salad, topped with pecorino cheese ($15).
The entrees are all generous, so come hungry and be ready to share, or take some leftovers home.
The pasta menu features an unexpected little gem: a carbonara dish made not with traditional spaghetti but with udon noodles. The noodle maker is "Top Chef" (season 3) winner Hung Huynh, who's been experimenting with all sorts of noodles.
Unlike store-bought udon noodles, which usually become very soft, Huynh's have some real bite. The dish is served with a poached egg on top, the result of 12 hours of sous-vide cooking, and there's a definite pleasure in cutting it open and letting it ooze all over the noodles. The egg, cream, and Parmesan cheese, along with the peas and lardons, make it opulent—like a spaghetti carbonara on steroids. Don't let the portion size fool you. It's served in a deep bowl and you get a lot of it ($21).

Healthier, though just as delicious, are the zucchini noodles—not spiralized but hand julienned, which gives them a nice texture. It's served with salmon, in a light, flavorful sauce made with shallots, garlic, white wine, and barely a spoonful of butter.

For a bite of spice get the Orecchiette Classico, with a spicy housemade sausage and broccoli rabe ($18), or if you lean more toward seafood, the Linguine Vongole, with fresh clams in a garlic-white-wine-lemon sauce ($22).
Pizza indulges both the veggie lovers and the carnivores. Marco Costa, who oversees the wood-fired oven, dishes out pies such as the Bianca with creamy ricotta, confit garlic, and Parmesan ($15) as well as the more meaty Carnivoro, with pepperoni, meatballs, and housemade sausage ($19).

Nostalgic for some hearty Italian-American fare? Chicken or veal parm are here. Or especially popular is the Chicken Scarpiello, a generous dish that looks like it could feed a hungry little family ($26). The chicken, cooked sous-vide, is impossibly tender. This chicken and the buttery Yukon gold potatoes, tinged with the scent of rosemary, topped with a glass of wine, are all that's soul-satisfying on a cold winter's evening.

Upcoming Events
Feb. 7
Superbowl Kickoff Catering Package
Feed a hungry crowd of 8 to 10 for $99. Includes Margherita and Pepperoni pizzas, four pounds of wings, and Caesar or chopped salad. Order before 1 p.m. Friday, Feb. 5 and get 10 percent off. Add-on options are Crispy Calamari ($49), Penne Alla Vodka ($59), and Nonna's Meatballs ($69). Pick up or delivery available.
Feb. 13
Galentine's Day
Complimentary champagne toast all day for ladies.
Feb. 14
Valentine's Day
Special Duet four-course prix fixe dinner ($65 per person), with a complimentary glass of wine.
Ongoing
Wine Down Wednesdays
Fifty percent off all bottles of wine all day.
Petaluma seats 8 at the chef's tasting table, 33 on the outdoor patio in good weather, and 70 in a one of the largest private dining rooms you can find in the Yorkville section of the Upper East Side.
Petaluma
1356 First Ave. (at East 73rd Street)
212-772-8800
petalumarestaurant.com
Hours
Open daily
Lunch
Monday–Friday 11:30 a.m.–4 p.m.
Dinner
Monday–Thursday 5 p.m.–10 p.m.
Friday & Saturday 5 p.m.–10 p.m.
Sunday 5 p.m.–9 p.m.
Brunch
Saturday & Sunday 10 a.m.–4 p.m.