Could it be that the Appalachian Trail runs through Brooklyn's Bushwick neighborhood? Not really—it runs 30 miles north of the city. But among Bushwick's colorful urban murals stands Montana's Trail House, a rustic spot inspired by the legendary trail.
Or more precisely, by the trail houses dotting the track, which are located several days' walk from each other. The huts may be nothing more than three walls and an open front, but they transform each night, as complete strangers who hike the trail gather there to swap stories, books, and fellowship.
Built on the site of an old gas station and then a garage, Montana's Trail House might be mistaken as having an old Appalachian atmosphere, but that's not the case. Founding member Montana Masback said, "We're not running around in cowboy hats or coal miner helmets."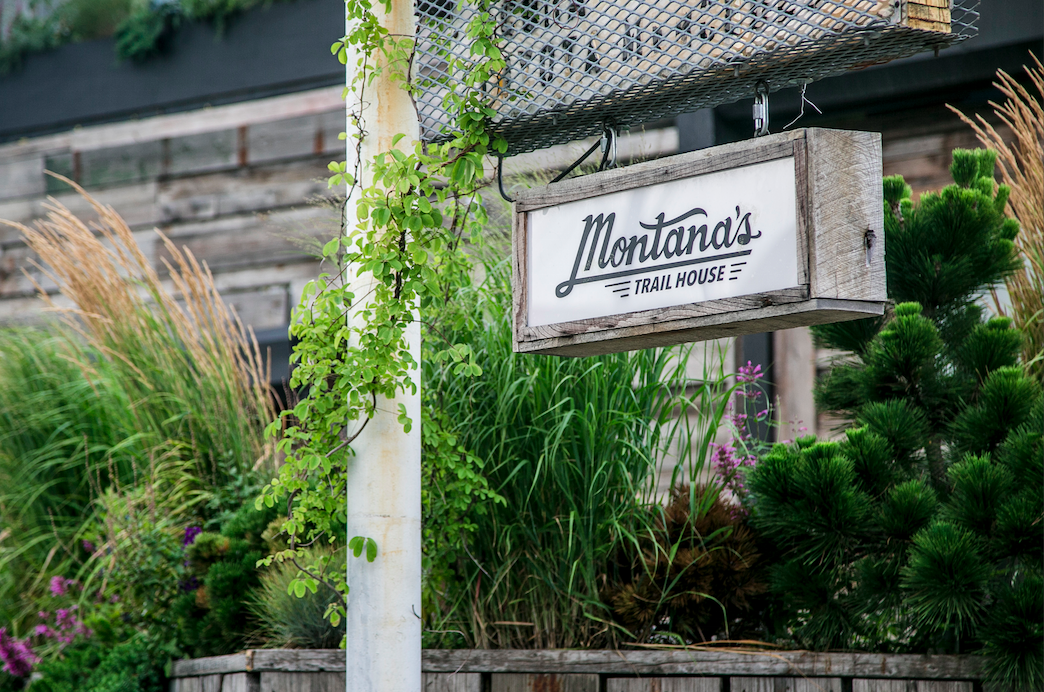 "My vision comes from memories of hiking in the woods in northern America, being with your friends and bringing everything together to make an amazing experience," he said, "and that sort of attitude where everyone pitches in to make this thing great."
The bar is made with repurposed wood from a Kentucky barn and in the library lining one wall, one section of shelves reveals itself to be a door leading outside.
In the gardens and in flowerpots all around, you might find dill, kale, blueberry plants, arnica, and agastache—all of which are destined for your plate or glass.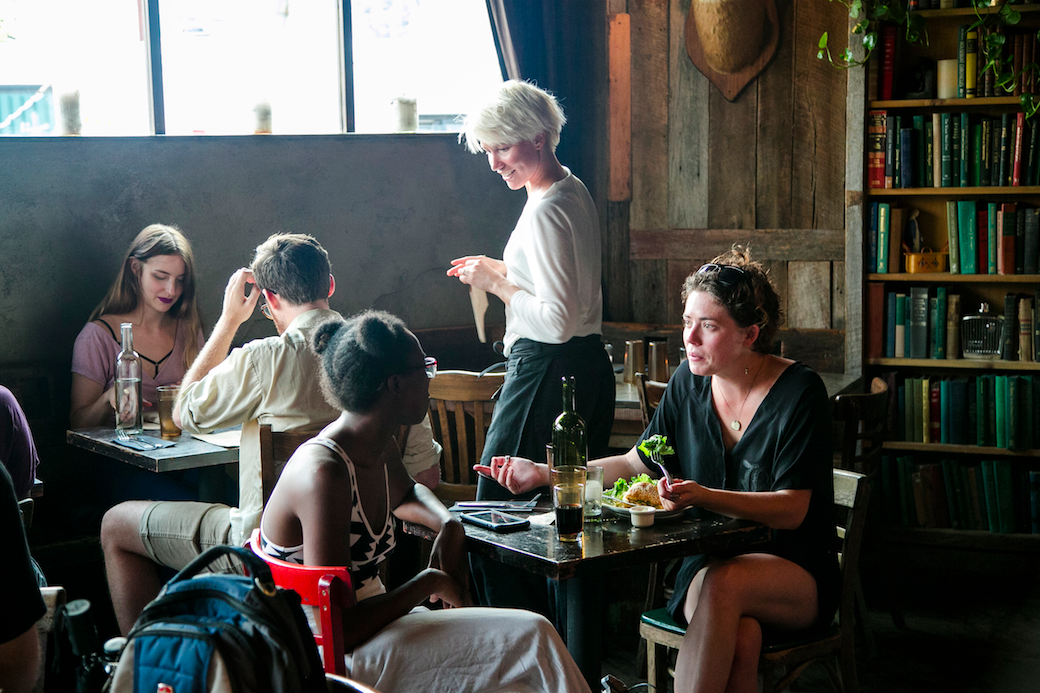 The bar offers a singularly strong tonic: switchel, a drink made of water, apple cider vinegar, and fresh ginger (preferably young), that traces its origin at least to colonial times. Try a bracing shot of concentrated switchel ($5), full of probiotics, at the bar and you'll still be feeling it half an hour later. Or get the Switch Back: a shot of Old Overholt Rye whiskey and a shot of switchel in equal amounts ($8).
Masback said, "We discovered it when we were building the place taking shots of whiskey, hanging out after 5 o'clock, then taking a bunch of switchel. We would wake up at 7:30, 8 o'clock, and be like, 'We should really be hung over. Let's not jinx this!"
It's clear that there's a playful side reflecting the partners' lifelong fascination with comic books. A look at the names on the cocktail list makes it clear; there's the Flawless Victory, made with mescal and house made blood orange and arnica Montana bitters ($12); the Captain Stormalong, made with local whiskey, cider, and a grapefruit twist ($9); and more.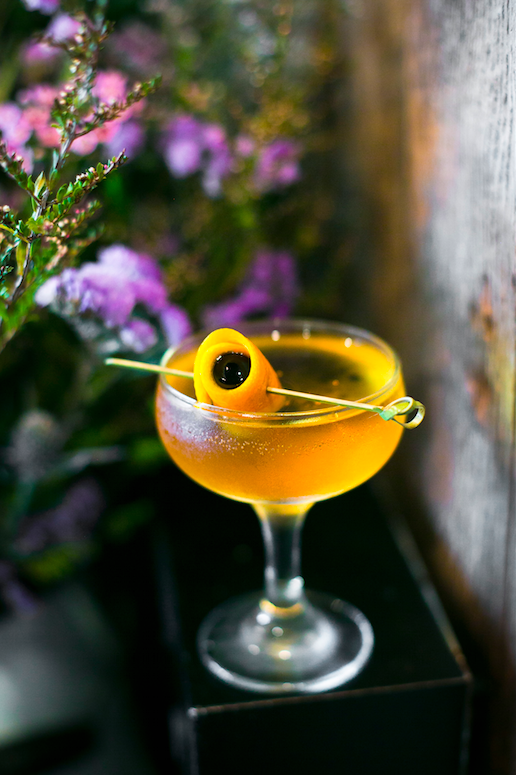 Cooking Like a Grandma
Partner and head chef Nate Courtland, formerly of Esca, Al Di La, Union Square Cafe, and ICI, puts it succinctly, "I cook kind of like a grandma."
"I don't mess with things," he added. "It's just really simple. The more you change it the more you lose what it's supposed to be, which is food for nourishment."
Courtland makes a point of sourcing locally from farms in New York, Connecticut, Pennsylvania, and down South for ingredients like grits from Anson Mills.
The Heirloom Tomato and Watermelon Salad is simply dressed with olive oil, and the juices from the tomatoes and watermelon meld with the yogurt, to create the salad's dressing as you eat ($13).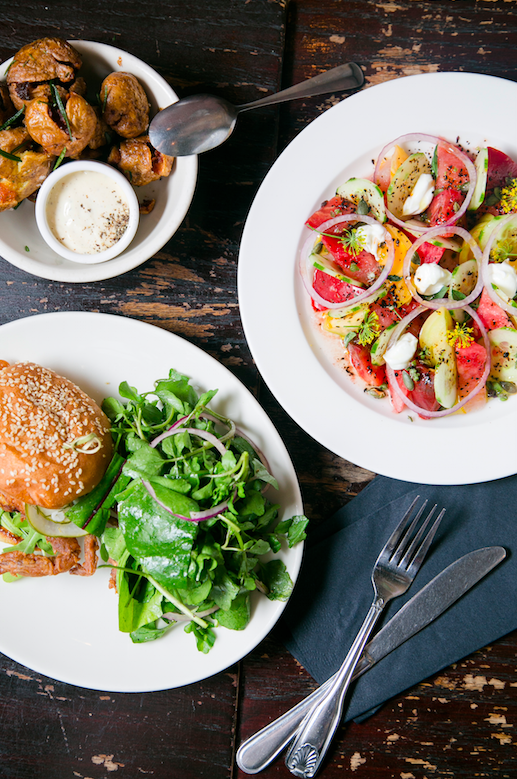 If you come and get only one thing to eat at Montana's Trail House, let it be the Master Fat Fried Potatoes served with black pepper aioli. These beauties are completely covered in salt and then baked. "It dehydrates them and then they get really crispy once you flash them in the fryer," Courtland explained.
The potatoes are, for lack of a better word, intensely potato-ey—concentrated potato flavor. They are fried in the restaurant's master fat—a term for the fat that Courtland saves up while he braises other dishes. The fat doesn't go back, he said, if you eliminate the moisture. Instead you get fat that tells a tale of how it's been used. "It becomes very complex. Sometimes it's smoky, sometimes it tastes like a donut because there's root beer-braised brisket fat in it."
He also uses wintered over Yukon potatoes, which are not as moist as a new crop of potatoes.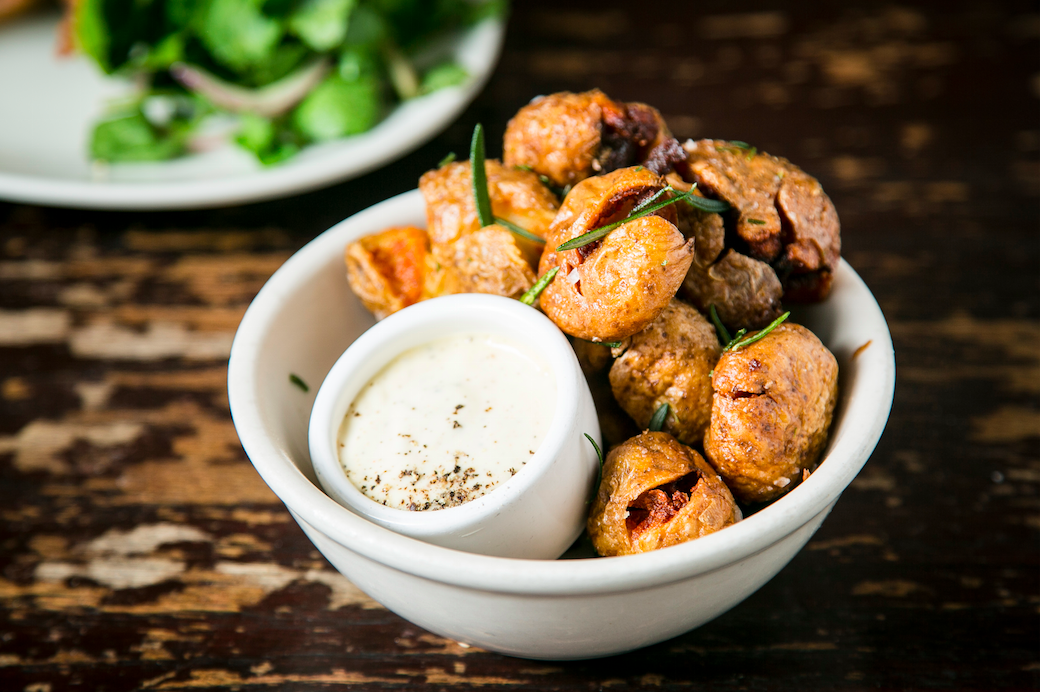 They go like a charm with Courland's Fried Chicken ($18), which he serves with a housemade hot sauce that takes about four months to make.
The food may speak of "farm-to-table," as is the modern trend, but it also says "comfort" and "rustic."
"In this space, we're not going to serve modern cuisine," he said, adding that they want to match the food to the rustic setting. "You may get a splinter as you eat our fried chicken, but you know, you'll remember it," he joked.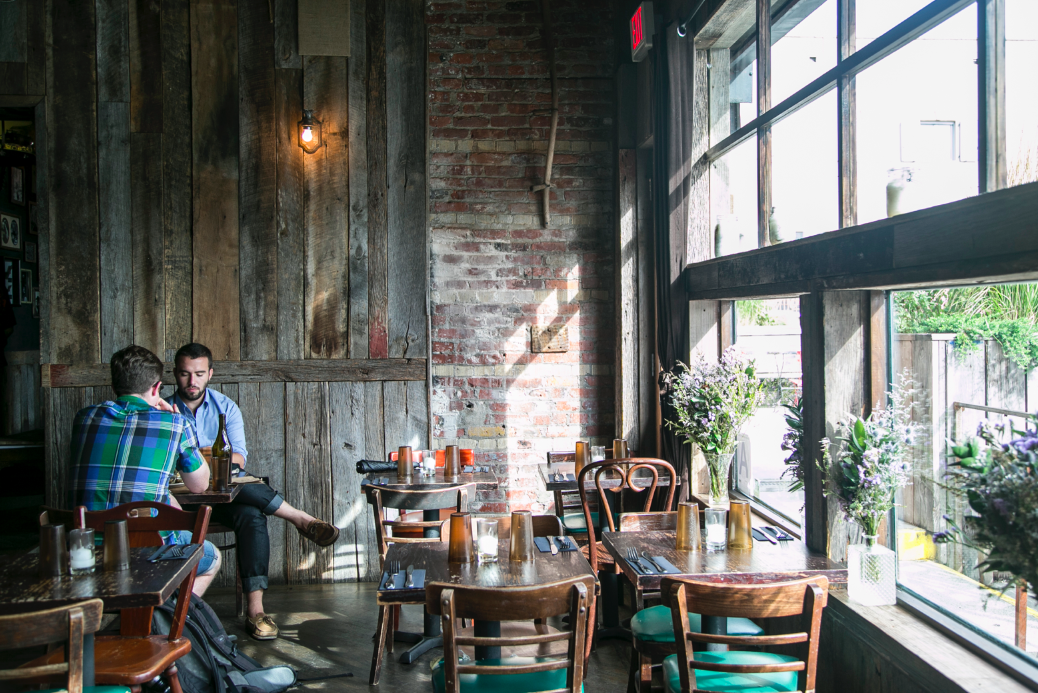 On the menu you'll also find Barnyard Trout, roasted whole with country ham ($23), Roasted Corn Hash with andouille sausage and tomato preserve ($10), and Seared Hanger Steak with spring onions, sun gold cherry tomatoes, and chipotle oil ($22).
If you linger on to soak in the summer's last rays or just the nighttime vibe, get a little something sweet. The fabulous Banana Bread S'More ($8) should do nicely. Courtland's mother's recipe benefits from caramelized edges, bittersweet chocolate ganache, and toasted homemade marshmallow, with banana jam bread underneath it all.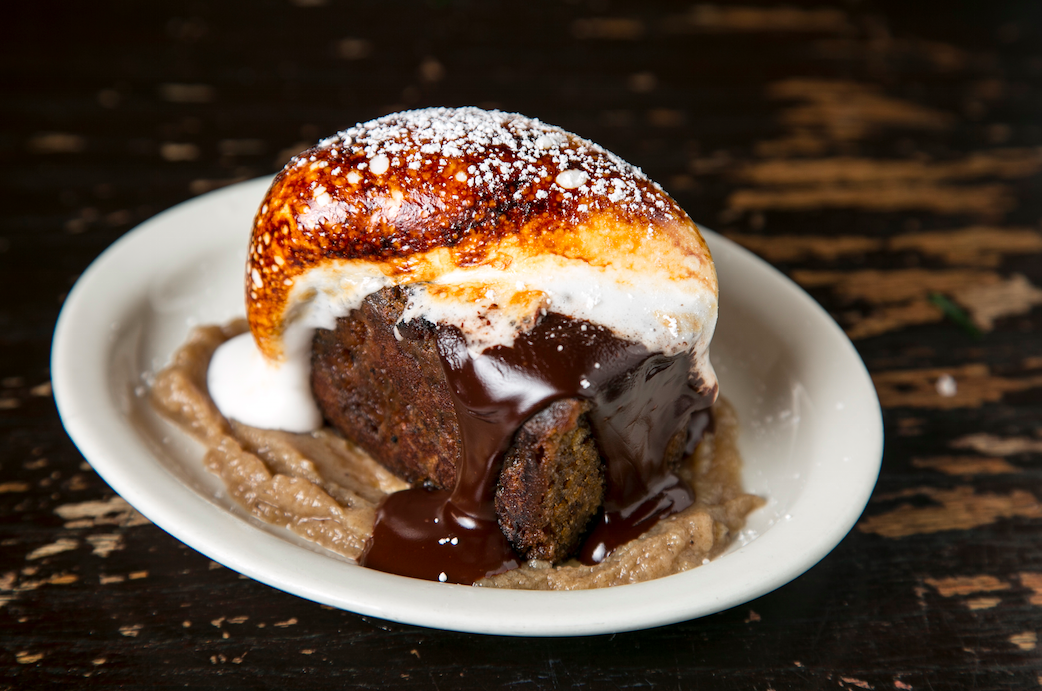 Montana's Trail House
445 Troutman
Bushwick, Brooklyn
917-966-1666
MontanasTrailHouse.com
Hours
Monday–Friday 3 p.m.–4 a.m.
Saturday 11 a.m.–4 a.m.
Sunday 11 a.m.–12 a.m.