In Hollywood's golden days, actors were bound by the so-called "two-hour rule." Rather than being their own free agents, actors had to sign up with a particular studio, and they were always on call. If summoned, they'd have to be back in Hollywood within two hours. They'd have to forget about getting away to Vegas or Mexico, but Palm Springs was within bounds. It became their retreat from the hectic hustle and bustle of show business.
By virtue of its early glamorous association and its current favor among Hollywood A-listers, the greater Palm Springs area is unlike any other desert region. There's also another, much older reason: Palm Springs, though surrounded by dust and sand, sits on top of an aquifer. It is both figuratively and literally a glittering, green oasis.
The Palm Springs area, which encompasses nine cities with palm-lined boulevards and avenues, is easy to get around. The days are warm and sunny, with more than 350 days of sunshine a year. In wintertime, its temperatures are a dreamy respite for those hailing from cold, wintry places.
Discovering Nature
Hollywood stars of course weren't the first to discover Palm Springs. For at least 5,000 years, the Agua Caliente Band of Cahuilla Indians (who prefer to be called Indians, not Native Americans) dwelt in its canyons, which provided access to springs and shade from the blistering sun.
It's this side of Palm Springs—its canyons, palm trees, cacti, and big-horned sheep clambering impossibly on vertical rock faces—that visitors often forget about. If you can muster the will to leave your hotel pool, there is a richly rewarding landscape, full of lore, that awaits.
Joshua Tree National Park is about an hour away, but even at the edge of town, just beyond the celebrity homes that perch on the surrounding hills, there are fascinating canyons to visit.
Bob Gross, one of the tour guides with Desert Adventures Red Jeep Tours, picked me up in a bright red jeep, regaling me with some stories and scandals of a bygone time and facts about the local geology (their San Andreas Fault tour is one of their most popular).
We zoomed across town, dry, hot air against our faces, towards the Tahquitz Canyon—a spot of green, from the tall palm trees inside the oasis, against the gray rock faces. Their age is impossible to tell accurately. Unlike trees, whose rings betray their age, palm trees are monocots, in the same family as grasses.
It's a harsh landscape, but the few plants that met the eye had many uses to the Agua Caliente. Gross pointed to the mesquite tree as an example. The pods were ground into a paste and cooked to make flatbread. Chewing on a pod, I found it nutty, fruity. The sap was used to make dye and, when boiled, glue. Its flexible branches were used to make bows. And then there was a humble-looking plant, the creosote bush, that can draw out toxins from wounds and was also used as a contraceptive.
How such a barren landscape could support plants with so many uses was mind-boggling.
Another way to take in the nature is through hiking. Tallgrass Hiking and Tours is a good option if you don't want to go on your own. Here, too, it's enriching to have a guide to explain, for example, how a broken cactus ended up at the bottom of the river bed: It was head-butted by a thirsty bighorn sheep looking for something hydrating to eat.
Spa Time
After some hiking (or not), it's time for some pampering, one of the prime pastimes in Palm Springs.
The J.W. Marriott Desert Springs Resort & Spa is the largest spa on the West Coast, at 38,000 square feet, with 48 treatment rooms. It makes use of local ingredients in its treatments, such as citrus and dates. The resort's setting itself is relaxing, with Venetian-inspired waterways and gondolas ferrying guests around the property.
In the city of Desert Hot Springs, natural hot spring pools are a major attraction at many hotels. They vary from spas like Two Bunch Palms, where an outdoor pool allows you to relax under the stars at night while guardian white owls look on nearby, to the lush setting inside El Morocco Inn & Spa. Many of the spas offer day passes.
Where to Eat
So.pa
A testament to the warm weather, the restaurant So.pa—attached to the world-class L'Horizon Resort and Spa—is completely outdoors. Located in an intimate courtyard among mimosa trees, So.pa has dramatic accents provided by the elements—fire pits, fountains, and the nighttime wind. On a scale of zero to 10, this restaurant scores a 10 for its romantic vibe. Executive chef Jason Niederkorn, who hails from a very different climate—he previously worked at Hotel Jerome in Aspen, Colorado—isn't shy with his use of ingredients from all over the world: from pomegranate molasses to kaffir lime to smoked sweet paprika. Palm Springs. LHorizonPalmSprings.com/SOPA-Restaurant
Wilma & Frieda
Go shopping at Palm Desert's shopping complex El Paseo, and then refuel at Wilma & Frieda. (Be warned, it closes at 2 p.m.!) Choose your egg dish size according to your hunger level, from the Eeny to the Meany to the Miney, and yes, you guessed it, to the Mo'. A favorite is the Marion Blackberry Vanilla Custard French Toast that's more bread pudding than French toast, with a perfect balance of blackberry glaze and fresh blackberries. If it's lunch time, you can't go wrong with the BLT & Avocado. Palm Desert. WilmaFrieda.com
Workshop Kitchen and Bar
Once a 90-year-old movie theater, Workshop Kitchen and Bar won a James Beard Award for restaurant design. Located in the Uptown Design District, Workshop shows off American fare, using ingredients from farms within an hour of Palm Springs. Think local citrus in the Jidori Chicken Diavolo, or local corn in the Market Veggie Enchiladas. Palm Springs. WorkshopPalmSprings.com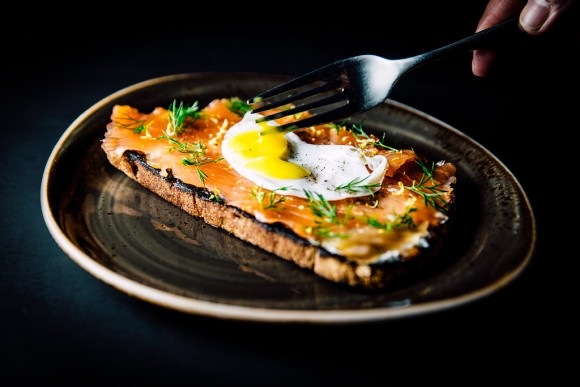 Shields Date Garden
Dates are big business in the Coachella Valley, and Shields Date Garden highlights the fruit with a store that carries an incredible variety of them. Just be forewarned: These dates are so huge, sweet, and filling, there are only so many you can have at one time before you become entirely sated. An entertaining retro film, "The Romance and Sex Life of the Date," which details the history of Shields Date Garden and the date industry in the Coachella Valley, plays inside the store. The cafe portion of the store serves, among other items, pancakes with date butter, topped with Deglet Noor dates. Indio. ShieldsDateGarden.com
This trip was arranged by Visit California. For more information, see VisitGreaterPalmSprings.com