The Royal Munkey

The colonial occupation of India by the British, French, Dutch, and Portuguese gave rise to unique dishes. The Royal Munkey, newly opened by the team behind The Drunken Munkey and Le Bateau Ivre, takes its culinary inspiration from that time. 
On the menu you'll find Chili Cheese Toast, with Pullman toast, cheddar, green chilies, cilantro, and onion; or Railway Chicken Curry alongside fare such as Goan Pork Vindalu and Double Onion Goat Curry. A large format option is available with the Slow-Smoked Raan, a whole roasted leg of lamb available for six or more people, along with breads, rice, and chutneys.
The cocktails take their inspiration from colonial India as well, with names such as Lady Mountbatten, named after the wife of the last viceroy of India before its independence (Monkey Shoulders Scotch, Crème de Pamplemousse, strawberry gastrique, fresh lemon and lime juice, peach bitters) or East India Cocktail (D'usse VSOP Cognac, Combier, pineapple syrup, Luxardo, and Peychaud's bitters).
Open daily for lunch and dinner.
438 Second Ave. (between 24th and 25th streets)
New York, NY
646-863-2249
royalmunkey.com
Syndicated

Rejoice, movie buffs and foodies, for at last the twain—food and music—shall meet.
Tim Chung, who used to be a film location scout and is a lifelong movie buff, has opened Syndicated, a venue that features a restaurant as well as a separate movie theater. Guests can order food and drink from their seats before and during the screenings. The kitchen and bar will take inspiration from the films for specials. Count on eight different kinds of gourmet popcorn.

The fare is seasonal New American, with executive chef Bret Macris serving Popcorn-crusted Fried Oysters, Bacon Butter Maple Meatballs, and Duck Confit Nachos. Other selections include a Hot Fried Chicken Sandwich, Hurricane Popcorn Tuna with horseradish beets, and Heritage Porchetta.

Syndicated will air the Oscars live as well as the season premiere of the "X-Files." The films will rotate from blockbusters to indie films to classics in every genre. Single tickets are $3.
Open daily from 4 p.m., with film screenings every day.
40 Bogart St. (at Thames Street)
Bushwick, Brooklyn
718-386-3399
syndicatedbk.com
Aunt Jake's: Italian Specialties

Nick Boccio of Mulberry Project has recently opened Aunt Jake's: Italian Specialties in Little Italy.
"I've had Mulberry Project for almost five years now, and being surrounded by Italian restaurants in the heart of Little Italy, I saw the need for an Italian take-away concept in the neighborhood," Boccio said in a press release. "Not to mention, the need to give New Yorkers a healthier option paired with quick service was imminent."

Here's the formula: Choose a pasta and a sauce, or one of the six daily specials. Homemade pastas will include rigatoni, cavatelli, beet pappardelle, as well as gluten-free and organic options. Composed sauces by executive chef Carmine Di Giovanni will include his broken meatball sauce, lamb ragu, and roasted garlic pecorino.  
Open daily for breakfast, lunch, and dinner.
151 Mulberry St. (between Grand and Hester)
212-689-2130
New York, NY
AuntJakesNYC.com
Le Boudoir

An underground Rococo-style 75-seat bar inspired by Marie Antoinette? It's real and it now exists, in Brooklyn Heights.
Beverage director Franky Marshall (formerly of Monkey Bar and The Dead Rabbit) curates a cocktail menu offering classics and signatures with unusual spirits or liqueurs with the common thread being named after the French queen, for example, the Axel von Fersen with Applejack, bourbon, sesame, curry and black caraway, and the Guillotine with mescal, scotch, banana, and honey.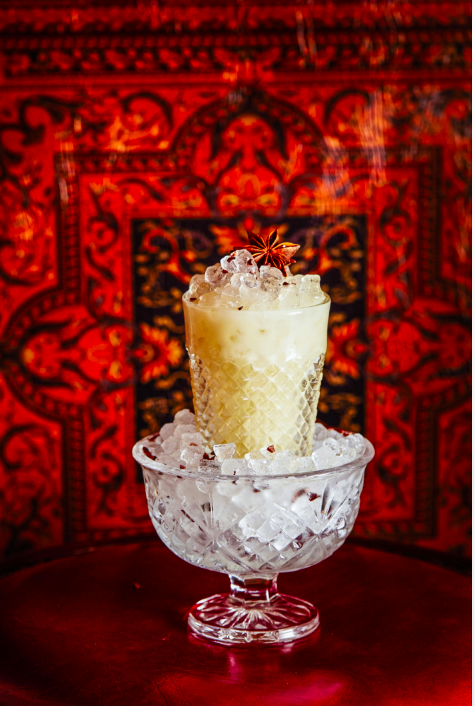 Red velvet banquettes, white marble tables, ornate gilded mirrors say opulence. Even the bathrooms are replicas of Marie Antoinette's private powder room.
Open daily from 6 p.m.
135 Atlantic Ave.
Brooklyn Heights, Brooklyn
347-227-8337
chezmoiny.com