New restaurant openings in and around New York City:
Olmsted
Olmsted has just opened two blocks away from Prospect Park, which was, along with Central Park, designed by the restaurant's namesake Frederick Law Olmsted.
The 50-seat Prospect Park restaurant from chef and owner Greg Baxtrom and farmer Ian Rothman features a seasonal menu and draws from Baxtrom's experience at Alinea, Per Se, Atera, Blue Hill at Stone Barns, and Lysverket in Norway.
Among the menu options are Fried Pickled Fiddlehead Ferns; Radish Top Gazpacho with smoked trout roe, radish and lemon balm; Guinea Hen, roasted and confit, with ramps and morels; and New York Grassfed Steak with potato "Dauphinoise," tarragon, and lemon.
Cocktails are likewise seasonal, including the Sassafrass with sweet vermouth, Frenet Branca, sassafrass syrup, and soda; and the Lavender with herbs de provence-infused bourbon, Pedro Ximenez sherry, black walnut bitters, and a lavender sprig. The wine list includes value-focused wines from Old and New Worlds, while tea offerings range from recently harvested first-flush Darjeeling to Pu'erh teas.
A 25-seat backyard garden beckons in warm weather.
Open for dinner Tuesday through Sunday.
659 Vanderbilt Ave. (at Park Place)
718-552-2610
olmstednyc.com
Günter Seeger NY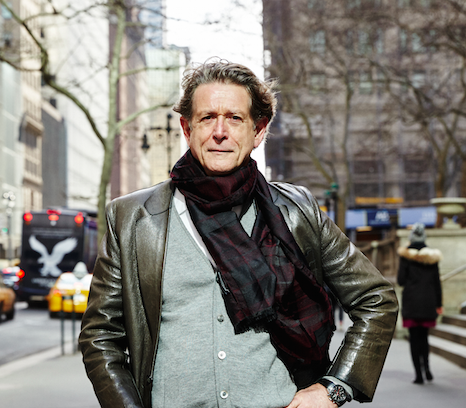 After some time in Atlanta, German-born chef Günter Seeger, who has garnered awards including a Michelin star, has opened a restaurant in the Meatpacking District.
Günter Seeger NY offers a produce-driven New American tasting menu (starting at $185), and through the Book an Experience feature on the restaurant website, guests can customize their experience by indicating their allergies, special occasions, wine preferences, and more.
The 34-seat restaurant, designed in a lavender and gray palette, has the feel of a townhouse and features family heirlooms and pieces from Seeger's personal art collection.
Open for dinner Monday through Saturday.
641 Hudson St. (between Horatio & Gansevoort streets)
646-657-0045
gunterseegerny.com
Schilling
Michelin-starred chef Eduard Frauneder (of Edi & the Wolf, and Freud) has opened a new bistro in the Financial District, Schilling.
The bistro features a contemporary take on Austrian cuisine with a Mediterranean touch. Dishes include Braised Lamb Shoulder with Israeli couscous, harissa, confit tomatoes, mustard greens, and pistachio crumble; Wiener Schnitzel with potato salad, cucumber salad, and lingonberry; and Branzino with charred onion broth, spring garlic, and legumes cassoulet.
The 70-seat restaurant includes a 24-seat communal table, and a front-windowed garage door opens up for al fresco dining.
Open for dinner Monday through Saturday. Sunday and daytime service to come.
109 Washington St. (between Carlisle & Rector streets)
212-406-1200
schillingnyc.com
Sushi Ginza Onodera

New omakase sushi restaurant Sushi Ginza Onodera, led by chef Masaki Saito, distinguishes itself by offering almost all wild caught fish, imported from Japan, and delivered several times a week.
The restaurant also sources rice from specific farmers. The house soy sauce is a proprietary blend, and the the vinegar is an authentic Edomae-sushi style vinegar.
The omokase dinner is priced at either $300 or $400 per person, served at the counter, while in June a $200 menu will be served at the table. Lunch service, which will start in June, will offer menus priced at $70, $100, and $130. All prices include service.
The 32-seat space features an Oya stone wall, made from lava and ash, and ancient Bizen-yaki tiles.
Sushi Ginza Onodera has branches in Tokyo, London, Honolulu, Paris, Hong Kong, and Shanghai, with another to open in West Hollywood in September.
Open for lunch and dinner Monday through Saturday.
461 Fifth Ave. (between East 40th & East 41st streets)
212-390-0925
sushi-onodera.com 
Hail Mary
Husband-and-wife team Ham and Sohla El-Waylly are bringing their dining work experience (from places such as Atera, Del Posto, Empellón Cocina, and Momofuku) to update the classic American diner.
"The American diner takes its influences from several cultures. You have matzo ball soup, spanakopita, and croque madame on a menu slathered with home fries and American cheese," said El-Waylly in a press release. "We love the all-encompassing nature of the diner menu and see it as an ideal restaurant concept to allow us to creatively meld our varying cultural heritage and culinary interests under one roof."
Ham who grew up in Doha, Qatar, with an Egyptian father and Bolivian mother, while  Sohla is first-generation American born to Bengali parents.
An Egg All Day section includes Deviled Egg Dip with trout roe, smoked maple, and homemade "Ritz" crackers; Toad in a Hole with a fried duck egg, preserved lemon and fresh herbs; and the Puff Benny, an extra large profiterole filled with hollandaise, ham, and a slow-poached egg.
The dessert menu includes The Paulie Gee Malt with burrata ice cream, Mike's Hot Honey, and Guanciale; as well as candy bars such as Rose Nougat & Cashew "Snickers" and Cardamon & Pistachio Butter Cups.
Open for dinner Wednesday through Sunday, and weekend brunch.
68 Greenpoint Ave. (between West & Franklin streets)
Greenpoint, Brooklyn
347-422-0645
hailmarybk.com
Dazzler Beer Garden

The 3,200-square-foot Dazzler Beer Garden has opened at the Dazzler Brooklyn Hotel in downtown Brooklyn. Designed with traditional wooden communal tables and oversized barrels, the beer garden features local brews, beers from around the world, as well as cocktails.
A seasonal menu featuring a variety of small plates including Beer Braut with onion marmalade and Traditional Salted Pretzels to BBQ Short Rib Sliders with cilantro slaw.
Dazzler Hotels are part of an upscale collection of properties by Argentine brand Fën Hotels, with the Brooklyn location being the first to open in the United States.
Open daily from 5 p.m.
85 Flatbush Ave. Extension (between Concord & Tillary streets)
Downtown Brooklyn
dazzlerhoteles.com/en
718-329-9537 
Halifax
Owner Michael Barry and executive chef Seadon Shouse offer a taste of Nova Scotia with a Manhattan skyline.
Halifax, located at the W Hoboken, features only Marine Stewardship Council Certified seafood, and meats sourced directly from farms.
The menu includes maple-glazed smoked wild salmon; smoked pollock rillettes; Barnegat sea scallops with cauliflower, golden raisins, capers and beurre blanc; and Maine lobster rigatoni with trumpet mushrooms and lemon.
The Bubbles brunch features unlimited small plates and a bottle of Champagne; it has two seatings, one from 11 a.m. to 1 p.m., and the other from 1 p.m. to 3 p.m.
Open daily for breakfast, lunch, and dinner; and brunch on Saturday and Sunday.
At the W Hoboken
225 River St.
Hoboken, NJ
201-253-2500
halifaxhoboken.com 
Shake Shack
The newest Manhattan location of Shake Shack has opened in Herald Square.
In addition to Shake Shack classics, the location carries these exclusive concretes: Empire State (chocolate custard, peanut butter sauce, banana, chocolate truffle cookie dough, and sugar cone cookie), Give My Regards… (vanilla custard, salted caramel sauce, Mast Brothers Shake Shack dark chocolate chunks, malt, and chocolate toffee), and Hit Parade (vanilla custard, strawberry purée, Milk & Cookies Bakery cream cheese pound cake, marshmallow sauce, and crunchy rainbow sprinkles).
Open daily from 11 a.m.
1333 Broadway (at West 36th Street)
646-230-0696
shakeshack.com