Police swear an oath to serve and protect their communities. While that promise is most often attributed to human beings, there are instances of good-hearted officers extending their kindness to other members of the community.
In Upper St. Clair, Pennsylvania, the local police department does their best to look after anyone in need. On May 24, they got an unusual call from a woman who urgently needed an officer dispatched.
The police department received a call from a woman who saw some baby ducks fall into a sewer.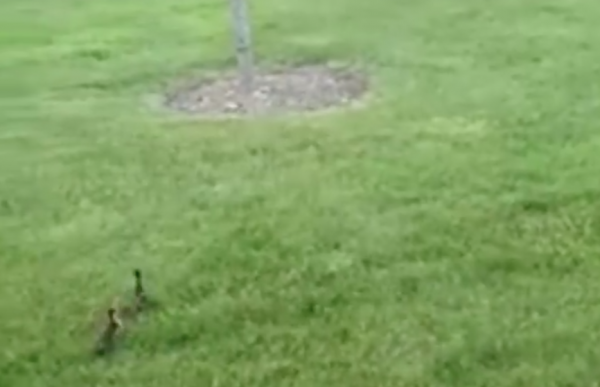 The woman who called 911 said she'd seen the ducks crossing the road when they started to fall through the sewer grate. Upper St. Clair Police Lt. Jonathan Wharton noted how distressed she was by what she'd seen.
"She was very upset," Wharton said to Patch.
An officer was dispatched to respond to the call and see what he could do. Police officer James Johnston arrived at the scene, and after looking through the sewer grate, saw the chicks were still alive at the bottom.
The rookie officer joined the force recently, and has only been on patrol since December. Perhaps eager to prove his courage, he volunteered for a job most others would refuse.
Officer Johnston opened the sewer grate and climbed in after the ducklings.
The narrow shaft was wide enough for the officer to stand upright in, but didn't offer much wiggle room. Using a net, he bent over and scooped up the ducklings one by one.
Each duckling was handed off to Upper St. Clair animal control officer Donald Cooley, who was standing outside of the sewer. Officer Cooley relayed the ducklings back to their mother.
The entire rescue went quickly, and before long, all of the ducklings were reunited with their mother. In a video captured at the sight of the rescue, the ducklings can be seen waddling happily across a green lawn.
Officer Johnston has not yet commented on the rescue, but if the smile on his face in the photos taken at the scene are any indication, the animal-loving officer didn't mind climbing into the sewer to save a few fluffy lives.
The police department urged their community to call them in any emergency, big or small.
"Well … we do just about anything!!! Earlier this evening, Officer Johnston climbed down into a storm sewer where baby ducklings had fallen through the grate," the Upper St. Clair Police Department said on Facebook.
"Please call us for assistance, even if you think it's something the police won't do. We always try our best to serve the public … and nature."
Their Facebook post was quickly inundated with comments praising Johnston's willingness to climb into the sewer to save the ducklings. When many others would have balked, he sprung to action.