Mr. Purple
A rooftop bar and restaurant on the 15th floor of the new Lower East Side Hotel Indigo, Mr. Purple is a new venture from the Gerber Group. The venue is the group's first downtown property, and offers grand views of the area.

"We are extremely proud to introduce Mr. Purple to the vibrant Lower East Side community," said Scott Gerber, principal and CEO of Gerber Group, in a press release. "We have worked hard to ensure the fabric of the neighborhood flows through every detail of the menu and property, to give Mr. Purple a truly authentic LES, New York vibe."
Mr. Purple is named after a fictitious artist—"a mysterious man, born and raised in the Lower East Side, the city was his muse. He was an unmistakable staple of the neighborhood and an unforgettable piece of its continuing character," according to the release.
Open daily, Monday–Friday from noon; Saturday & Sunday from 10 a.m.
180 Orchard St.
212-237-1790
mrpurplenyc.com
Surya
Chef and owner Lala Sharma (of Swagat and Savoury on the Upper West Side) is reopening his restaurant Surya, which closed several years ago. The new digs are on Bleecker Street.

Sharma emphasizes flavorful and light Indian cooking. The signature dishes include Railway Chicken Curry with garam masala, tomato, and onion; Dalcha Machi, salmon tikka with sprouted lentils, with turmeric, bay leaf, mustard seed, and curry leaves; and Maharaja Shahi Korma, with an almond-based saffron sauce.
Open daily for lunch and dinner.
Surya
154 Bleecker St.
212-875-1405
suryanyc.com
Oovina
Home-style Latin American cooking gets paired with unique varietals at Oovina. Chef Giovanni Morales, formerly of Market Café, goes back to his culinary roots with recipes from his family kitchen. The menu, which is gluten-free, includes Arroz Con Chorizo with house made jalapeño sausage, handmade Cassava Gnocchi with bacon, and Pollo Guisado (stewed chicken) with hominy and a pinot grigio-tomatillo broth. The beverage selection features boutique wines and grower champagnes from around the world.
Open daily for dinner and for brunch on Sunday.
Oovina
496 Ninth Ave. (between 37th and 38th streets)
212-967-3892
oovinanyc.com
Treadwell Park
You have to really love beer to get "Beer Geek" tattooed on your knuckles. But certified cicerone Mikey Fishbone did just that. After working at Blue Hill at Stone Barns and Smoke and Barrel, he's now curating the beers and cocktails at the new Treadwell Park on the Upper East Side. Twenty craft draft beers and ciders rotate weekly. A gizmo called a flux capacitor on-site controls the blend of nitrogen and carbon dioxide for each beer recipe.

The libations are complemented by the menu created by chef Stephen Lyle, who whips up grass-fed burgers topped with béarnaise; Schaller and Weber's signature bratwursts; Moroccan pastries filled with ground lamb and mint; and Korean-style Kimchi pancakes.
The venue also features TVs, a game room with ping-pong tables and pinball machines, free self-serve popcorn, and a fireplace.
The project comes from Abraham Merchant (Philippe Chow, Industry Kitchen) and partners Richard Cohn and Andrew Emmet. It's due to open on Dec. 2.
1125 1st Ave.
212-832-1551
www.treadwellpark.com
Bustler Coffee
With New Yorkers always being on the run, it was only a matter of time that someone would come up with a self-service coffee shop with customizable options without having to wait for a barista.
Coffee veteran and owner Jamie Rogers said in a press release, "Throughout my years working with coffee shops I've noticed two big inadequacies–quality and efficiency. Bustler is breaking the mold of the traditional coffee shop model, offering a solution by putting control in the hands of guests without sacrificing quality and overall experience."
Bustler Coffee, opened a first location in Manhattan on Nov. 23 serving hot and cold brews on tap, small-batch roasted expresso—tap the button, wait 30 seconds, and voilà—as well as blended frozen coffees. Housemade natural simply syrups are available as well various milk options (almond, soy, Hudson Valley Fresh milk). Sweet and savory pastries and lunch options range from $4 to $9.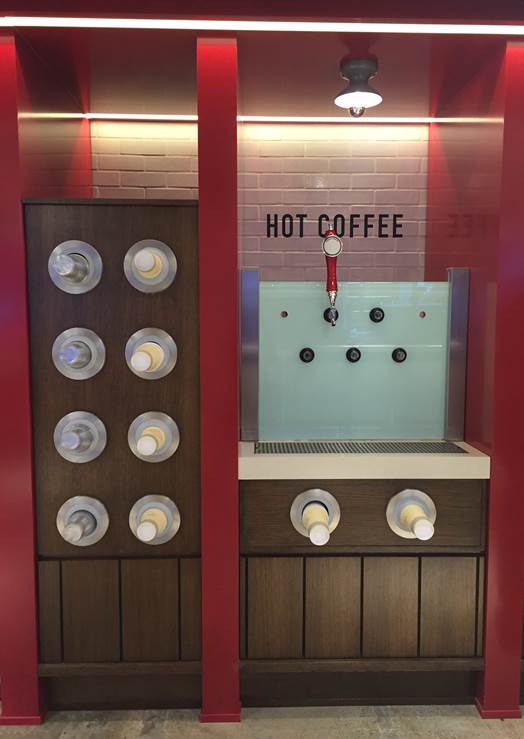 Different colors of coffee cups correspond to different price points, so you can check out more quickly.
Should you want to stop and smell the roses, though, seating is also available. Open daily 7 a.m.–7 p.m.
485 Madison (corner of 52nd Street and Madison)
www.bustlercoffee.com
Bierocracy
Long Island City is home to new beer hall Bierocracy. Fiercely central European, the new gastropub was created by a group of Czechs and Slovaks.
Local brews, ciders, radlers (beers mixed with soft drinks) all figure into the brew. On tap you'll find B-Original, a Czech golden lager with an elegant malt body and a long lasting, hop finish; B-Witte, a traditional Belgian-style wheat beer brewed with orange peel and coriander; and B-Dark, a deep amber colored lager with aromas of roasted malt and spicy hops. Pilsner Urquell, Schofferhofer Weisse, and Weihenstephan Dunkel are available on draft as well. 

Curious about authentic pours from the regions? The "mliko" is an all wet foam pour, while "řezané" is achieved by drawing a pilsner first and then topping with the wet foam of a dark lager. 
The food menu is likewise inspired by Central Europe, with dishes such as the Lobster Salad in a Pretzel Roll with radish sprouts and crème fraiche, Pork Belly braised with plum ginger glaze and served with the house-made slaw, and the Bavarian Pretzel served with beer cheese spread and house mustard. 
The 4,000-square-foot beer hall seats 220. Open Monday–Thursday starting from 4 p.m. and Friday–Sunday from 3 p.m.
12-23 Jackson Ave. (at 47th Road)
Long Island City, NY 11101
www.bierocracy.com