Kids are capable of more than we give them credit for. When the holiday season rolls around, adults shower kids with gifts, but it's rare for parents to ask the kids how they can give to others. As a result, youngsters are often unaware of the needs of those less fortunate than themselves.
Nine-year-old Mikah Frye is the exception aiming to change the rule. At such a tender age, he's experienced enough hardship to open his eyes to some of the realities around him. Without any prompting, Mikah wondered what he could do to make a difference in the lives of people in need.
Mikah Frye was living in a shelter with his parents just a few years ago. As Christmas drew near, he wondered how he could help those who were in need.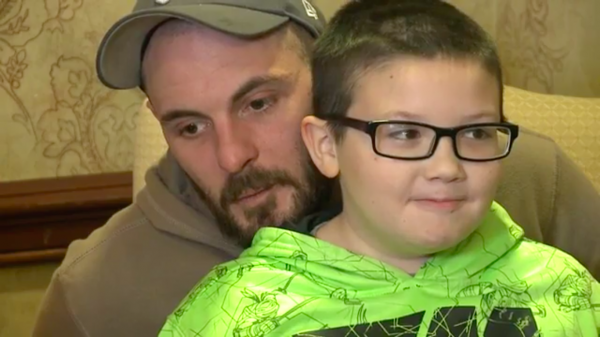 As Mikah was walking through town with his grandmother, Terry Brant, he noticed that a number of homeless people weren't properly equipped to deal with the cold weather.
"He said 'grandma it's so cold outside, what does the homeless people do?'" Brant told the Cleveland Fox affiliate. "And I said, 'I don't really know', and he said 'well, they're cold' and I said, 'what do you want to give them, a blanket?'"
Mikah loved his grandmother's suggestion. Together they hatched a plan, and put blankets around the shoulders of as many people living on the streets and in shelters as possible.
Mikah agreed to forfeit one of his Christmas presents if it meant giving a blanket to a homeless person. But that was just the beginning.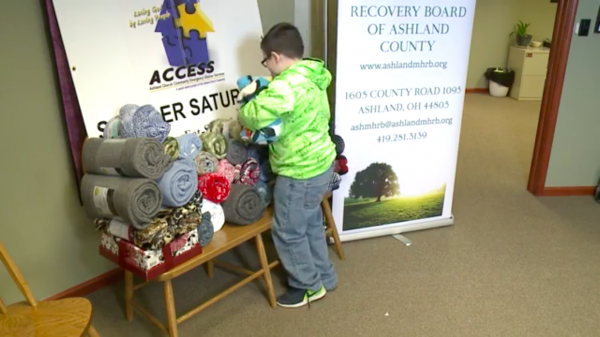 Terry agreed that she would buy a blanket for Mikah to give to a homeless person, but it meant he would have one less Christmas present under the tree. He agreed, but he wasn't satisfied helping only one person—he wanted to make a significant difference.
He pondered how he might drum up funds to fuel more direct blanket donations.
"When he got home, he said 'if the XBox is $300, and the blankets are $10, then I can buy 30 blankets,'" Terry Brant said.
Mikah was so affected by his time living in a shelter that he wanted to make life easier for anyone who was still there. He decided give up his Xbox and use the funds for more blankets.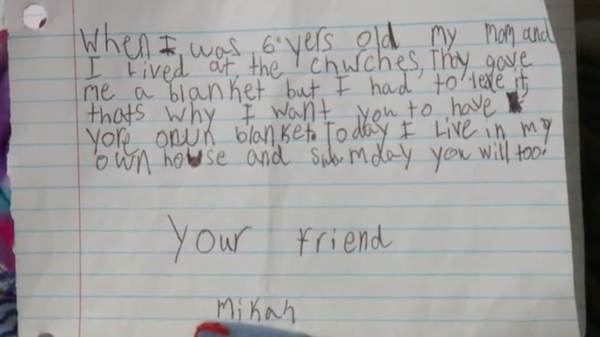 Mikah has already managed to donate 60 blankets to those living in a shelter through the holiday season.
"They have a nice warm blanket that they get to keep," said program director Cathy Thiemens, adding that everyone will be "wrapped in love."
Such generosity in someone so young is rarely seen. But Mikah obviously remembers his time in the shelter vividly, and wants to extend as much comfort as possible to those who find themselves struggling to get by.
With each blanket, Mikah attaches a heart-warming and powerful note: "Today, I live in my own house, and someday you will too. Your friend Mikah."
UPDATE: Word of Mikah's sacrifice reached Microsoft, who wanted to give back what he gave up.
Since this story was published, the movers and shakers at Microsoft caught wind of Mikah's selflessness. They wanted to do something for him to show their gratitude.
They invited Mikah to visit a local Microsoft store, where they had set up a meeting between the selfless boy and Santa Claus. When Mikah arrived with his family, employees ushered him to the back of the store.
There, Saint Nick was waiting with a bag of gifts, including a brand new Xbox. The nine-year-old couldn't contain his emotions, and started to cry tears of joy.
"When they called and told me I was just instantly crying on the phone and I couldn't believe it," said Mikah's grandmother told the Cleveland Fox affiliate. "What's harder was not telling him."
"It's just amazing, it's a blessing, Mikah is a blessing to our family and we thank you very much," she said.
"Internet Bully" Used to Weigh 700 Pounds. But Watch After He Loses 400 Pounds After His Victims Speak Out