When Jessica Simmons emerged from the cool waters of M.B. Miller County Pier in Panama City Beach, Florida, she heard shouting. A crowd of people was gathered at the water's edge and pointing at something far from shore.
Initially puzzled, Simmons ran to her husband Dennis, who discovered that the source of the commotion was a family caught in a rip current who couldn't get back to shore. People watched and pointed as a total of nine people, including Roberta Ursrey, her two young sons, and her elderly mother, struggled to stay afloat in the 15-ft water.
When Jessica Simmons realized people were in danger, she rushed into the surf.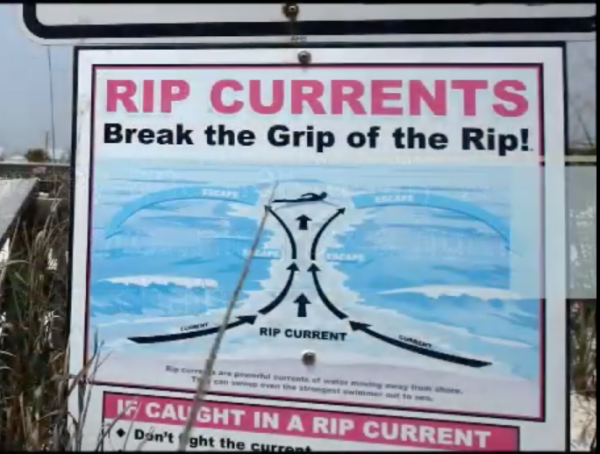 These people are not drowning today…It's not happening. We're going to get them out," Simmons remembered telling herself, according to NWF Daily News.
Simmons grabbed an abandoned boogie board, and paddled into the frothy water. Her husband understood what he had to do immediately. With nary a word between them, Dennis Simmons gathered the onlookers. Together, they would make a human chain to drag the struggling family back to shore, with those who couldn't swim standing in the shallows.
Jessica's husband Dennis organized the chain from the beach.
Simmons did not have to exert much effort. The tide swept her out to the stranded Ursrey family with lightning speed. But when Simmons reached them, the family was barely hanging on. Ursrey's mother and children frequently bobbed under the water.
"It was like, 'Oh God, this is how I'm going,'" said Roberta Ursrey according to the NWF Daily News.
Yet Simmons persisted, and she used her boogie board as a flotation device for the weary swimmers. Though given a slight reprieve, there was another problem. Ursrey's mother's eyes rolled into the back of her head, and her swimming became instantly erratic; she had a heart attack mid-rescue.
Simmons did her best to support the woman, but the matriarch, desperate that her family survive, resisted the special treatment. Ursrey's mother told the rescuers "to just let her go and save [themselves]," according to the NWF Daily News.
But Simmons did not let go, and the human chain, made up of 80 people and spanning 100-yards, finally reached them and began towing the nine people to shore.
80 people stretched 100-yards into the ocean to rescue the family.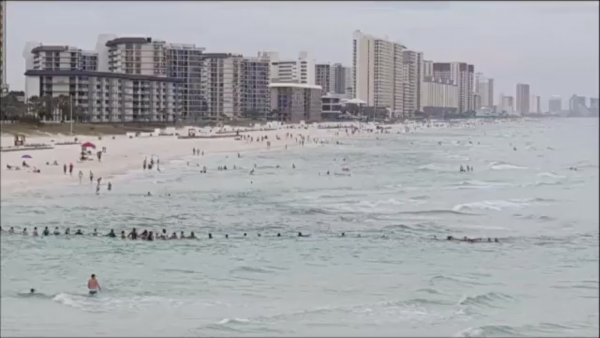 Everyone was pulled to safety, but Ursrey's mother was not breathing by the time she was pulled onto shore. Lifeguards and medical personnel descended on the lifeless woman and were miraculously able to revive her.
"I am so grateful," Ursrey said according to the NWF Daily News. "I owe my life and my family's life to them. Without them, we wouldn't be here."
Bit despite her pivotal role in the rescue of these five people, Simmons merely shrugs off her own part.
"With everything going on in the world, we still have humanity," Simmons told the NWF Daily News.
Watch the amazing story below: