As the Super Bowl approaches in just a few weeks, excitement is growing and all eyes are on the NFL. So at this time of year, it's nice to be reminded that many of these pro athletes remain humble, remembering where they came from—and the friends who were there for them since the beginning.
Bradley Pinion has been doing very well for himself lately: he's been a punter for the San Francisco 49ers since 2015. While his team won't be in the playoffs this year, Pinion is up for another special honor: the Walter Payton Man of the Year Award, a prize that celebrates excellence both on and off the field, recognizing an NFL player's community outreach and charity.
"Since entering the NFL in 2015, I felt it was my responsibility to use this God-given platform to give of my time and resources to events and causes throughout the Bay Area and the Carolinas," Pinion said in a statement to the 49ers.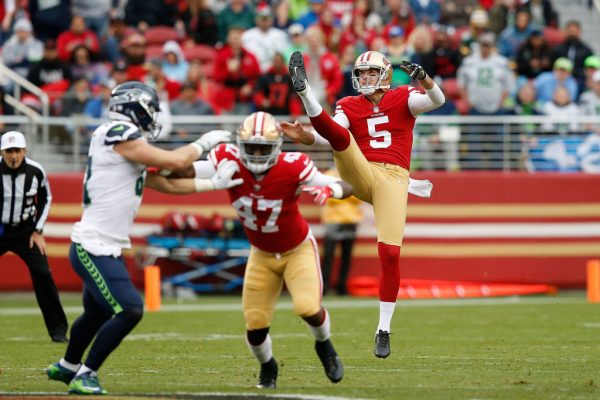 But even before Pinion was honored for his volunteering efforts, many people could attest to his strength of character—like the Furr family from his hometown of Concord, North Carolina.
Pinion says he has known his childhood friend Jason Furr "basically since I was born." The two attended the same church and became lifelong friends—and even as Pinion's football career took off, he has always stayed in touch with Jason and his family.
"I've always loved Jason," Pinion said. "'Jason hugs' are what we call them. He gives the best hugs."

And Jason has always cheered his old friend on, watching the games from their hometown:
"He has always been one of my biggest fans."

The two recently reunited around Christmas. Pinion couldn't be there to visit Concord in person, and instead he spoke to Jason and his parents over a webcam—but it was still a very special meeting.
Jason was told that he and his parents were surprising Pinion with a special Christmas message, right as Pinion was coming off a practice.
But little did they know, the surprise was actually on them.

Pinion asks the family how they're doing, and they congratulate him on his award nomination—and his recent game wins, as Jason points out. He's clearly been following his friend's career enthusiastically.
But then, Pinion reveals that he has a "special announcement for the family."

He explains that, as a nominee for the Walter Payton award, he was given two Super Bowl tickets—and he knew just who to give them to.
"I wanted to invite you and your dad to the Super Bowl this year."

Pinion gifted them two free tickets to the game, to be held in Minnesota this year, with airline tickets and hotel room included. For Pinion, he couldn't think of anyone more deserving of the honor:
"I couldn't think of a better person [who] symbolizes what the Man of the Year should be than you," he explained.
The family was stunned and thrilled by the surprise.
"It blew my mind," Jason told WJZY.
"I just cried," his mother Marla added.
"I cried and cried, and still even now sometimes I think this is not really real."

"We love you too, Bradley," Marla tells him. "More than you'll ever know."
The love is mutual—when someone reminds him he needs to visit Concord soon, he insists that he will:
"I'll have to come get a Jason hug."
Watch the heartwarming surprise below:
Pinion Surprises Friend with Super Bowl Tickets

Bigger than football.As a Walter Payton NFL Man of the Year nominee, Bradley Pinion was given two Super Bowl tickets to use as he saw fit. He decided to surprise lifelong friend Jason with an early Christmas present. This was Jason's reaction 👇

Posted by San Francisco 49ers on Friday, December 22, 2017