The neonatal care unit is the cutest one in the entire hospital. The nurses that look over the newborn babies have the pleasure of tending to them in their first hours outside of the womb.
It's a difficult job, but often without the drama associated with the intensive care unit or the emergency room. Newborn lives are delicate, and they require a learned and gentle hand.
The nurses who work in neonatal care love their patients, obviously. But the extent of that love was put to the ultimate test on November 15, 2017, in Pohang, South Korea.
A hospital in Pohang, South Korea weathered the second most powerful earthquake in the nation's history on November 15, 2017.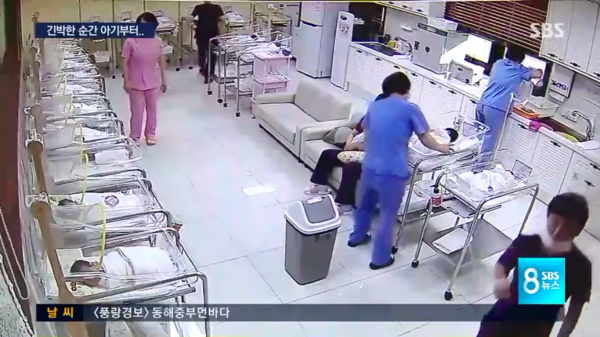 According to Metro, the quake registered a massive 5.4 on the Richter scale. Destruction was widespread and a number of walls and buildings suffered structural damage.
It was the second largest quake in the history of South Korea.
But the natural disaster has made heroes out of the nurses tending to the little ones in a South Korean hospital.
Just before the quake hit, they were caring for the little ones as if all was well. But once the building began to shake, they sprung into action.
Rather than protect themselves, the nurses were only concerned with the well-being of the infants in their care.

The building began to shake, the doors on the cabinets were thrown open, and it appeared as if the entire room was going to cave in. But the nurses worked with impressive expediency to make sure all of the babies were secured.
Two nurses worked together to make sure a long line of beds containing the precious newborns wasn't thrown across the room. The other nurses in the room sprinted to hold the other beds in place.
The entire quake, which lasted only a few seconds, was terrifying. But the nurses who were on hand weren't rattled, and put the welfare of the new little ones above their own.
Immediately following the quake, mothers who were still in recovery poured into the room to make sure their babies were safe.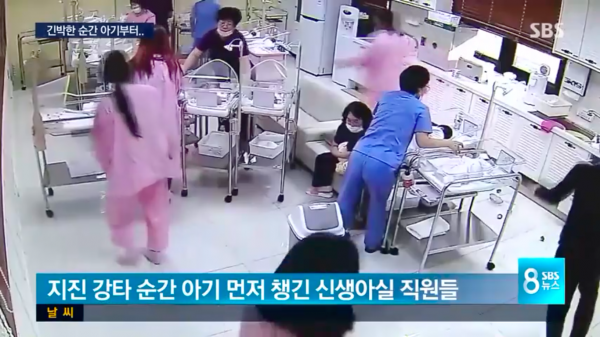 While the nurses and infants were still reeling from the quake, the mothers of the children left their beds and rushed into the neonatal care unit.
Clad in pink mumus, and still in pain from childbirth, the mothers quickly gave their children a once over to make sure everything was alright.
Once they realized what the nurses had done for their newborns, they were were endlessly thankful.
Those working in the hospital that day said they knew they were in danger, but felt it was their obligation to put their patients first.