In the week before U.K. Prime Minister Theresa May sent the Article 50 letter to the European Union, triggering Brexit, "The Really Quite Good British Cookbook" was released. Cookbook editor William Sitwell had asked 100 of Britain's "finest cooks, bakers, and chefs" to share recipes they cook for their loved ones. The result was a collection that speaks volumes about the richness and diversity of British food today.
The cookbook features recipes from less familiar names as well as more famous ones, such as Nigella Lawson, offering her recipe for Chocolate Guinness Cake, and Jamie Oliver, with his Happy Fish Pie. As in the best medieval tradition, the finished dish is shown with the fish sticking out of the pie, but given that it is the tail, the eater is spared any reproachful looks.
The British love for savory pies is well represented, from Oliver's fish pie to home cook Sarah Webb's apple and sausage turnover. But the most interesting one might be the Chicken Tikka Masala Pie, a mashup of Britain's favorite dishes, from London chef and restaurateur Atul Kochhar. The recipe takes time, from marinating to dough resting to spice tempering. When I at last broke into the golden, buttery pastry, the fragrance of spices—among them garam masala, coriander, and what seemed like tons of ginger and garlic—wafted out temptingly.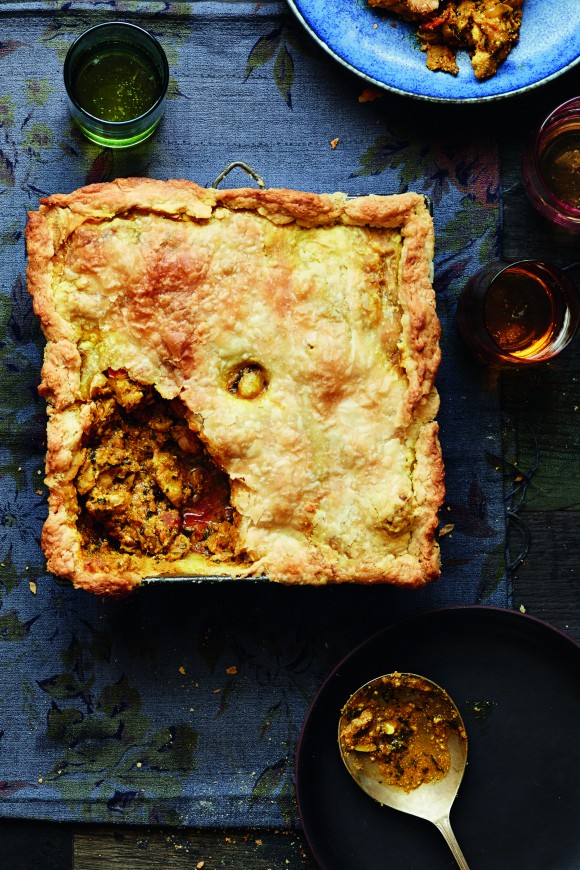 As far as the sweeter dishes, I turned to the Normandy Tart Made With a Food Processor by food writer, restaurateur, and caterer Prue Leith, mostly because she wrote invitingly, "It's so classic, it never, never fails. … However badly you make it, it still tastes wonderful."
As I sat waiting for the tart to be ready, I mulled over the word "Normandy," and my mind was temporarily transported to butter, apples … and the year 1066, when William the Conqueror invaded England. Having been schooled in French elementary schools, I found my mind filled with a whirlwind of school-fed memories and a long list of hereditary causes for grudges between the Brits and the French—among them Joan of Arc, the Hundred Years' War, and the Battle of Waterloo (which marked Napoleon's final defeat).
Normandy, indeed! I was starting to feel that perhaps this British tart recipe was just a tad bit French, after all. (It was delicious, by the way, Ms. Leith.)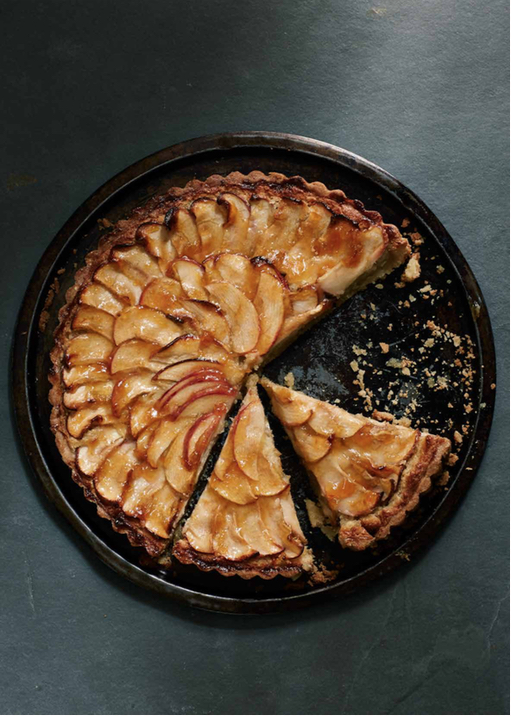 My own journey from Normandy to England took place in the pre-Eurostar days, many years ago, via bus and ferry. Once in London, I remember my mother dragging me to eat noodles in Chinatown. Were the more traditionally British food options that dismal back then? Maybe.
Much has changed since. Although the British food landscape might have been in a darker, dimmer place some decades ago, through the country's embrace of manifold cultures it has now become a lush space for foodies to explore.
"The Really Quite Good British Cookbook" features a few recipes that ideally call for ingredients that are difficult to procure, such as the asparagus from East Anglia that chef Mark Sargeant recommends (although I suppose there is no problem using good old American asparagus), or woodcocks, as per Marco Pierre White's recipe, to roast and eat on toast with wild mushrooms. But for most of the recipes, this isn't an issue.
The cookbook is an appealing read because, aside from the sheer diversity of 100 voices and cooks, who doesn't want to know what others cook for their loved ones? It's really quite good.
Published by Nourish, "The Really Quite Good British Cookbook" is priced at $34.95. A portion of the proceeds go to The Trussell Trust, a nonprofit that runs food banks throughout the U.K.
See the cookbook's recipe for Minestrone Soup With Orzo Pasta & Mint Pesto.