A young man in Indiana had the best birthday ever recently, thanks to his mother and his community.
The week of her son Matthew's 21st birthday, Kim Davis-Robinette shared a post on her Facebook asking friends to drive by her house with their cars, trucks, or motorcycles between the hours of two and four in the afternoon. She hoped that a number of people would drive by and honk their horns, thus turning it into a "birthday parade" for Matthew.
Davis-Robinette asked her friends for help with throwing her son a birthday parade, and they delivered.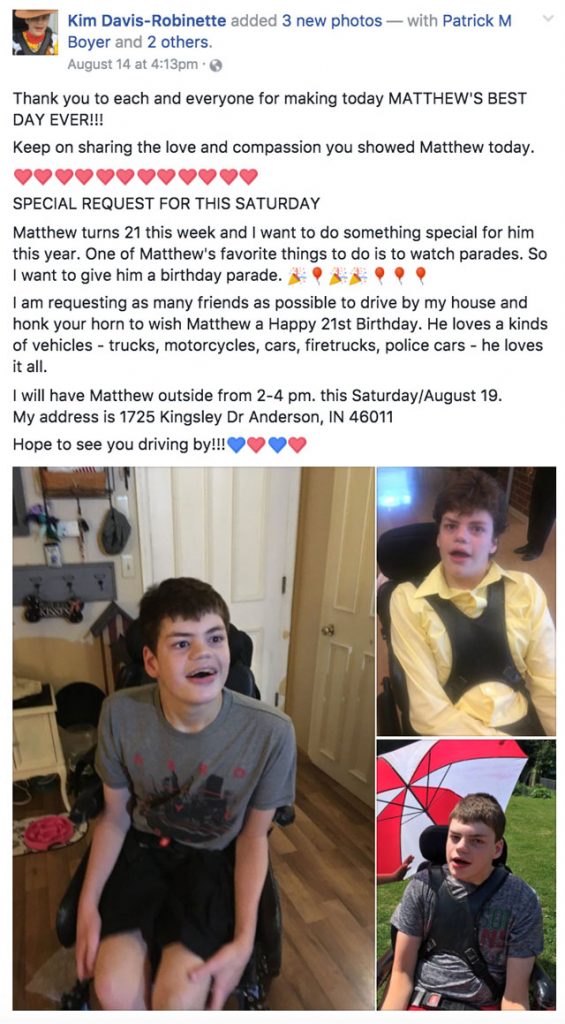 One of Matthew's favorite things to do is watch a parade, so she thought that having a parade in honor of his 21st birthday was the perfect idea.
According to Scary Mommy, when Matthew was just under two years old he was diagnosed with a chromosome deficiency, "which caused significant brain malformation, cerebral palsy, epilepsy and autism." He doesn't walk or talk, so it was easier to bring the party to him.
On the day that Davis-Robinette requested people to show up, the family sat on their front lawn and waited.
They were not disappointed.

Not only did family and friends show up, but hundreds of strangers came to wish Matthew a happy birthday.

What birthday is complete without a few balloons?

It's estimated that around 350 vehicles showed up to Matthew's birthday parade.
Like many parades, police cars started off the parade and were followed by fire trucks, motorcycles, a school bus full of people singing "Happy Birthday" to Matthew, race cars, cars decorated in banners, all wishing Matthew a happy 21st birthday. Even a local high school marching band marched in the parade.
"It was almost like going to Disney, but it was right here. It was coming past him and he was loving it," Davis-Robinette told WISH-TV.
As the crowd marched past Matthew had a big smile on his face.

During the roughly 90-minute parade, Matthew's family was in disbelief at the number of people who came out to wish the 21-year-old a happy birthday.
"This is something incredibly special, something you would never expect to happen," Chris Robinette, Matthew's oldest brother, said. "I got goosebumps and I was crying a few times."
The parade lasted 90 minutes, but the memories will last forever.

You can see more photos from Matthew's 21st birthday parade here.