Three hours into a 15-hour flight, one mom was facing a nightmare when her infant started bawling and would not stop.
But that was when help arrived in the form of a kind stewardess.
And not only did this stewardess have the magic touch, but the photos this astonished mom took had the internet raving about her kind gesture.  
Kate Whalley-Hands had no idea what she was about to get into when she boarded her flight.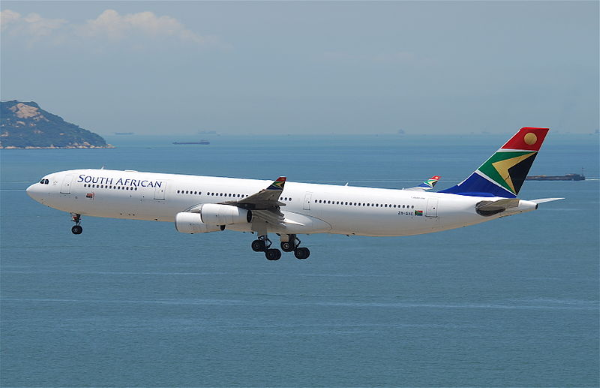 On the early morning of April 24, South-African-born Canadian-resident Kate Whalley-Hands was going to visit her mother in South Africa. The 37-year-old was not alone, though—accompanying her on this 15-hour flight was her 20-month-old daughter, Imogen.
But despite her baby being so young, Whalley-Hands did not expect much trouble; even though she was an infant, Imogen was no stranger to long flights.
"She had been on a flight before because we used to live in London," Whalley-Hands told News 24.
But this time was a bit different as Whalley-Hands would soon find out. The flight left New York early, so the family departed their home in Toronto at around 2 a.m. Unfortunately, all that activity at a time when Imogen was used to being in bed caused the young girl to become agitated.
Shortly into the flight—Imogen began to cry.
Sure enough, some time into the flight the little girl began squirming and crying.
Whalley-Hands took Imogen to the galley to try and calm her down there and rock her to sleep.
"This was three-hours into the flight," Whalley-Hands told News 24.
If this kept up, it was going to make the rest of the 15-hour flight a nightmare for the 37-year-old, her daughter, and the other passengers.
Exasperated and exhausted herself, Whalley-Hands was in desperate need of a helping hand.
Thankfully, help arrived.
And just as things seemed at their most annoying, help arrived; a flight attendant, Mavis Xotongo, offered her assistance.
"When I was rocking [Imogen], Mavis came up to me and said, 'let me help you,'" Whalley-Hands told News 24.
Mavis took the baby in her arms and wrapped Imogen in a South African Airlines blanket. The kind flight attendant then then tied the swaddled child to her back.
"Imogen was so comfortable," Whalley-Hands told News 24.
Imogen was in good hands, but Mavis did not let this new duty interfere with her job. In fact, while the baby was hanging peacefully on her back, Mavis pulled her trolley up and down the aisles and offered assistance to other passengers.
It did the trick—Imogen was soon fast asleep.
The two walked around the cabin together and Imogen was soon quieted down. As Mavis was working, with the little baby on her back, Whalley-Hands was so astonished that she snapped several photos of the pair.
"It was completely amazing," Whalley-Hands told News 24.
Mavis had the magic touch, because in just 15 short minutes Imogen was fast asleep.
"She went above and beyond the call of duty," Whalley-Hands told News 24. "I want to say the biggest thank you for not only putting Imogen to sleep, but for giving all us South Africans something to smile about."
When Whalley-Hands and Imogen arrived in South Africa, the astonished mom then posted the photos, along with the story, onto her Facebook account. Shortly after, her message of thanks and heartwarming photos took the internet by storm—in two weeks it has garnered nearly 40,000 reactions.
"Mavis, thank you for being a rock star," Whalley-Hands wrote in a Facebook post. "I appreciate you."
But while the internet lapped up the story and praised Mavis for her commitment to duty and kindness, for this special flight attendant it was all in a day's work.
"I love what I do and I do it out of passion for our airline and our customers," Mavis told News 24. "We rise together and look forward to the path ahead."