When expecting mothers find out that they are carrying twins, one of the first worries to start weighing on their hearts is the possibility of having preterm babies. Hard statistics tell us that babies who don't get sufficient time to mature in their mother's womb risk life-long complications, if they survive the first year. It's a battle that no mother wants to see her children fight, but it's one that two babies won with the help of modern science.
Lindalva DaSilva's due date was in July, but her water broke towards the end of February. She was 16 weeks—a whole four months–early.
The Head of Maternal-Fetal Medicine, Dr. Sabrina Craigo, took the decision to try and keep the babies from crowning for as long as possible.
"I thought I was gonna lose the babies," she told Today.
Antibiotics and medicine for accelerating growth in babies helped delay the inevitable for four days, but then they ran out of time.

Baby Alexandre had decided that he wants to come into the world at just 24 weeks on March 2, 2014.
DaSilva was hysterical with panic. She knew that Alexandre's chances of survival were slim. Babies born this early can't even suckle and breathe at the same time.
"We were praying to hear his cry—and he did, and it was a relief," she said.

That's when Dr. Craigo suggested a risky procedure to the mother. She wanted to delay the birth of the second child.
With tiny Alexandre fighting for his life in the Neonatal Intensive Care Unit, DaSilva decided to trust the doctors at Tuft Medical Centre and agreed to do everything to give her second child higher odds for survival.
"They were like, 'Leave him there, he is fine, his heart is beating well,'" said Ronaldo Antune, the father. And da Silva's reaction?"
"I thought it was absurd! I didn't think this was possible," she said.
Dr. Craigo and her team got to work, and they managed to delay the birth of the second twin, Ronaldo, for another 24 days. Delayed twin births are difficult procedures with only a 50 percent chance of working. In most cases, the mother develops an infection and the second child may be born without a heartbeat.
Even knowing this dire level of risk, the doctors believed it was more important to keep Ronaldo safely in his mother's womb than bring him into the world before time.
And the gamble paid off!
A little more than three weeks later, little Ronaldo came into the world, healthier and stronger than his one and a half pound twin.

"To see them go from being tiny and fighting for their lives," NICU nurse JoAnn Loiselle told CBS Boston. "To be thriving with what looks like no deficits is almost a miracle."
In the meantime, Alexandre had been putting up an incredibly good fight. He had started to gain weight and medical staff begun to be optimistic about his chances of having a normal, healthy life.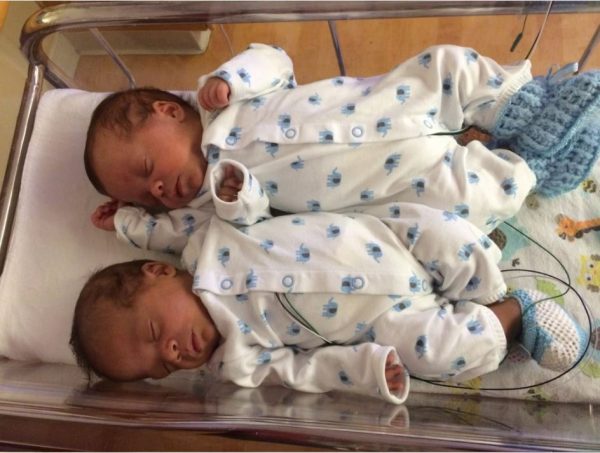 Both children were born in March, and three months later, a week before their actual due date, they were ready to go home with their mother!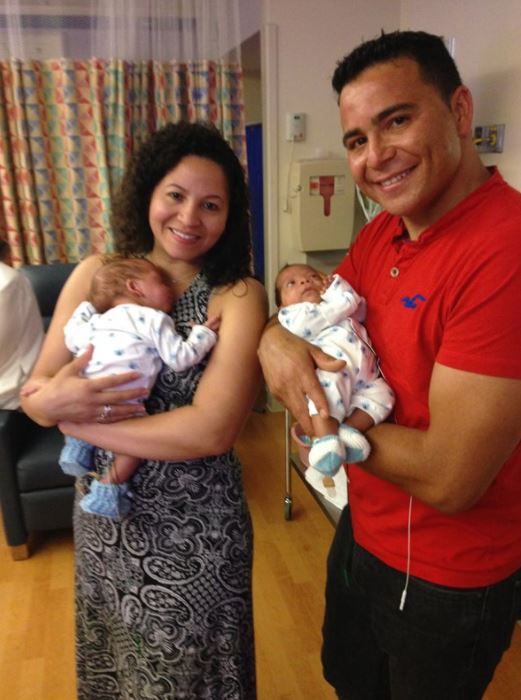 "They're my miracle babies," da Silva said. "Ronaldo because he stayed inside and Alexandre because he's a survivor."
And that's when their father, Ronaldo Antunes proposed to Lindalva by putting the boys in adorable little tee-shorts that asked their mom if she'll marry daddy.
The newly engaged couple finally left Tuft Medical Centre in June, but one year later, on 26th March, they were back there again. This time—the reason was celebration!
The Antunes boys had just completed their first year. It was a year fraught with scares and the constant worry that a new complication might impede their development. But Alexandre and Ronaldo kept growing and living, until their parents' worst fears were put to rest.
The staff were overjoyed to see that the twins had made it. Most of the time delayed births don't significantly improve the chances of the children surviving, and often, the preterm babies begin to show signs of brain damage within the first year.
But the Antunes twins decided that they were the exception to the rule. Even with most of the odds against them, the boys who don't share a birthday, proved that they share an indomitable will to survive!
Watch the interview below: