The LOCL Bar, located inside the NYLO boutique hotel in the Upper West Side, has been transformed into a winter wonderland inspired by Shakespeare's play. Decorations evoke magical woodlands and fairy kingdoms, with draping tulle canopies, floral garlands, and candle-wax icicles.
Bartender Cody Goldstein created a new cocktail menu to go with the theme, based on familiar memories and flavors. "With our 'Midwinter Night's Dream' idea, I wanted to work with wonderlands, enchantment, and holiday cheer," he said in an email. 
Puck's Shadow, with bourbon, banana, walnut, campfire marshmallow, and Xcholate mole bitters, is reminiscent of sitting by a campfire, while the smoky flavors in Prose and Cloves are perfect for winter: mezcal, brandy, mulled Manischewitz wine, orange juice, smoked clove, and anise.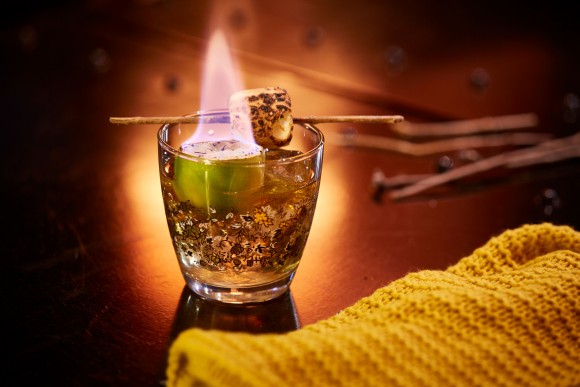 Goldstein's creations are uniquely presented: The Shakespeare's Globe (gin, root beer seltzer, Cointreau, vanilla syrup, Douglas fir, and citrus) is served in a snow globe; and Love in Idleness (tequila, Lillet, absinthe, elderflower) turns from blue to purple with a few spritzes of lemon juice, thanks to the use of blue pea flower tea.
Shakespeare was Goldstein's muse. "The beauty of the garnishes and playfulness in each drink was inspired by his early writings of both comedy and love," he said.
Through Sunday, Jan. 1, 2017
11 a.m.–2 a.m.
LOCL Bar at the NYLO Hotel 
2178 Broadway (at 77th Street)
NYLOHotels.com