Megyn Kelly, the host of NBC's "Sunday Night with Megyn Kelly," was slammed for interviewing InfoWars' host Alex Jones during her upcoming show.
Kelly was pulled from hosting an annual gala put on by the family members of the Sandy Hook victims.
"Sandy Hook Promise cannot support the decision by Megyn or NBC to give any form of voice or platform to Alex Jones and have asked Megyn Kelly to step down as our Promise Champion Gala host," Nicole Hockley, who is the co-founder and managing director, said in a statement, reported the Daily Caller.
"It is our hope that Megyn and NBC reconsider and not broadcast this interview."
The Sandy Hook gala is slated to be held in Washington D.C., on Tuesday.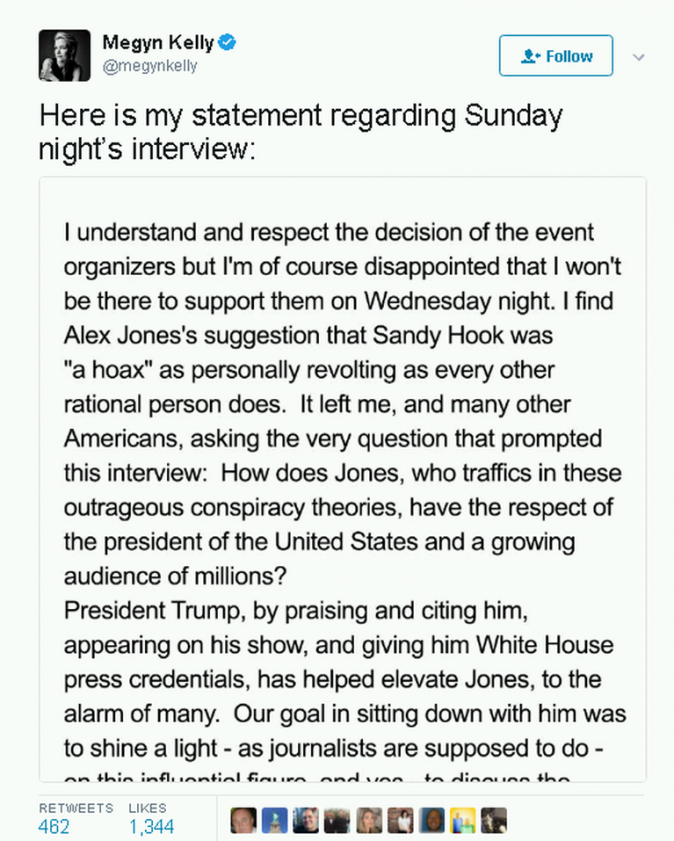 JP Morgan Chase said it has pulled advertising from NBC News until the Jones interview airs on Sunday.
Kelly on Sunday previewed an interview with Jones, asking him about his alleged denial that the Sandy Hook massacre, which left 26 people dead, was a false flag. "When you say parents faked their children's death, people get very angry," Kelly says in the clip.
"Well, Sandy Hook's complex because I have had debates where, we devil's advocates have said the whole story is true, and then I have had debates where I have said that none of it is true," he said.
Jones added that he had "looked at all the angles of Newtown, and I made my statements long before the media even picked up on it."
Kelly issued a statement on the interview, Fox News reported.

"I find Alex Jones's suggestion that Sandy Hook was 'a hoax' as personally revolting as every other rational person does. It left me, and many other Americans, asking the very question that prompted this interview: how does Jones, who traffics in these outrageous conspiracy theories, have the respect of the president of the United States and a growing audience of millions?

She added: "Our goal in sitting down with him was to shine a light—as journalists are supposed to do—on this influential figure, and yes—to discuss the considerable falsehoods he has promoted with near impunity."
Several months ago, Kelly left her lucrative position at Fox News to join NBC News.