Natural disasters have the ability to devastate communities in a number of ways. The harsh effects of Mother Nature can leave one feeling financially, emotionally, and literally stranded.
Workers at the Kimberly-Clark plant in Owensboro, Kentucky, were feeling the latter of the three. After massive flooding in Kentucky in February, daily life has slowed while the water recedes.
Roads were closed off, structures submerged, and plant workers unable to come and go as they please.
Road access to the Kimberly-Clark manufacturing plant was blocked by flood water. A skeleton staff stayed behind to keep it running.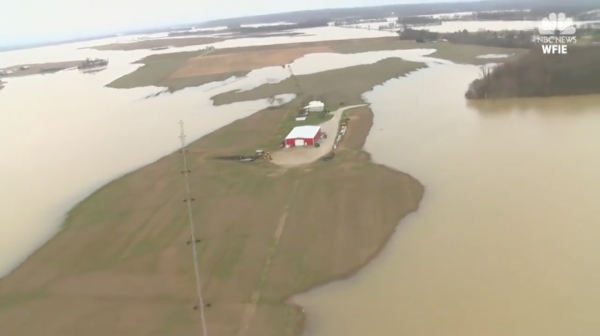 According to the Tri-State Homepage, the access road to the plant was shut down. Kimberly-Clark announced it would minimize operations until the flooding cleared up.
But a select number of employees needed to stay behind and keep the plant running. Without a way to get in or out, they would be staying overnight for an undetermined amount of time.
Kimberly Clark is shutting down operations due to flooding.

— Daviess County EMA (@dcema1) February 26, 2018
The 17 workers who stayed behind had been on the plant for two days, according to NBC 14 News, when, understandably, they wanted a hot meal.
Stuart Snow, an Owensboro native and resident, took up the task of getting them a fresh bite to eat.
Stuart Snow called local pizzeria Donatos Pizza, then delivered the pizzas to the plant via helicopter.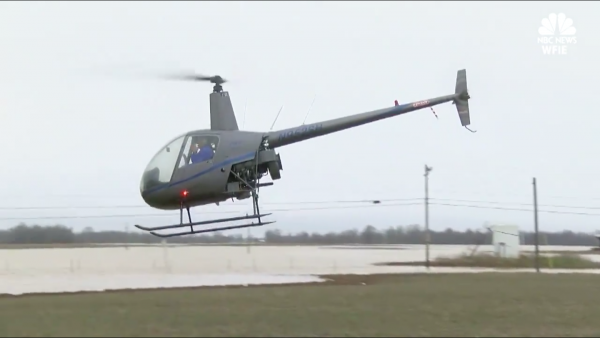 "Stuart gave me a call this morning and said 'hey is there any way you can open up a little bit early?'" Sean Byrne, owner of the Donatos Pizza location in Owensboro told WFIE. "I said 'yeah what you got going on Stuart?'"
Snow, a former Kimberly-Clark employee, wanted his buddies well fed with a hot meal. He was one of the few people in town with the resources to make it happen.
"I've got a buddy who owns a pizza shop, and a buddy that owns a helicopter, so we got them some hot pizza," Snow told WFIE.
Adam Bryant, one of the employees staying at the plant during the floods, captured the delivery while broadcasting on Facebook Live.
"A lot of you have had pizza delivered before, but I don't know if any of you have ever had pizza delivered by a helicopter," Bryant said.
Snow's concern for his former co-workers and the members of his community earned him rave reviews in the video's comments section.
"Amazing community we live in," said one comment on Bryant's video. "I seen the helicopter from my house!! Knowing it was pizza I'm jealous!!!" said another.
But of course, nobody was more appreciative than the 17 employees who dined on the special delivery.
"I got some food," said Snow as he arrived with the pizzas. "Hey, you're the man," said Bryant.