A big part of the holiday season is spending time with your family. Often friends and loved ones from all over come together and exchange gifts. But more importantly, it's a time where people unite to cherish each other.
This is no different for Andrew and Andrea Smith. The married couple has a 3-year-old daughter named Charlotte, and nearly every picture of Andrea's Instagram page is the three of them together; they seem pretty close.

Andrew is enlisted in the United States Marine Corp, which means that he'll be deployed for months at a time. He was home for the holidays in 2016, surprising Andrea and Charlotte only days before Christmas. But 2017 was different.
Around the time of December 2017, Andrew had already been deployed for almost a year. He would not be home for Christmas this time.

"Deployments are HARD," Andrea said in an Instagram post. "Sometimes I want to throw in the towel and beg the marine corps to return my husband and her daddy to us."
Having your husband away for months on end can be tough in itself, and Andrea feels that during the holidays, it is all the more difficult. And who can blame her?
And judging by her other posts, it's also hard on Charlotte, too.
Since Andrew's still deployed, this meant that the family wouldn't be able to do a traditional Christmas card for 2017. Andrea knew this, but still wanted a card that she could send to her friends and family. Then, she had an idea.
The wife went to her friend, a photographer named Leslie Owens, to do something special: a Christmas card with Andrew in it.
Given how far away Andrew was, their options were severely limited. And a grainy Skype picture of Andrew from a webcam wouldn't suffice, either.
But with a little creativity, Owens thought of the right way to do the card.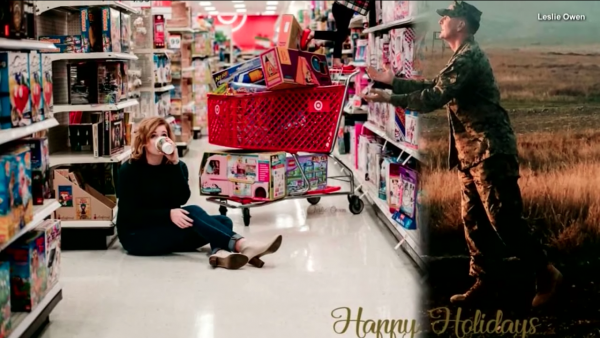 The photo was cleverly set up by Owens.
Andrea would be sitting on the floor at Target, their favorite store near their base of Camp Lejeune in North Carolina, acting carelessly around Charlotte, who appears to be on top of a shopping cart.
Then, a separate picture of Andrew is seamlessly transitioned into the right side, where he looks to catch his daughter should she fall off. His military friends had helped him take the picture, wherever he was stationed at.
"This card gives him a chance to be a part of our Christmas," Andrea told TODAY.
As badly as the family wanted Andrew home with them, this card gives them something to remember. And Charlotte is a big fan of the card.
She told her mother, "Even Daddy is in our card! I love it."
Their card has been spread around news outlets across the country, but Andrea never intended for something like this to go viral. She just wanted to share an uplifting message among other military families.

"I just want to let them know they aren't going through this alone," she told People. The fact that many military personnel are still being deployed isn't covered that much in the news, so she wants to remind the other military wives out there that she is with them.
The card is a symbol that Andrew, though hundreds of miles away, is Charlotte's father and Andrea's husband no matter what. The distance between them doesn't in any way determine how much they mean to each other.