When a loved one develops Alzheimers, it can be terrifying. Seeing someone you care about forget who you are and where they are is heartbreaking to witness.
We generally associate Alzheimers with the elderly but, in rare cases, it can effect those in their 40s and 50s. When this happens, it's even more heartbreaking.
What can make matters even worse is when the person also has a pre-existing condition, as was the case for Diana Frizell's brother, Ken. Ken had Down Syndrome and Alzheimers, a combination of conditions doctors didn't know how to handle.
While difficult at the time, witnessing Ken's predicament inspired Frizell to do something amazing to help others.
Diana Frizell grew up in Canada alongside her brother, Ken, who had Down Syndrome.
Frizell and Ken had been friends since childhood. Only 15 months apart in age, as the older sibling, Ken showed his sister brotherly love and taught her all about love, laughter, friendship, and acceptance. She said these qualities "flowed out of him effortlessly."
"I couldn't help but learn them since I was his little sister and I wanted to be just like him," Frizell wrote on The Mighty.
Throughout her life, Frizell was regularly asked about her brother. Many assumed that Down Syndrome was a terrible disease and that Ken was a burden on his family.
"Nothing could be further from the truth," she said. "He was an amazing fella to all who knew him and had the pleasure of meeting him."
Yet, as Ken grew older, he began to develop problems. His Down Syndrome left him predisposed to certain conditions, one of which was Alzheimers.
When Ken developed Alzheimers at 48, medical professionals weren't sure how to handle it.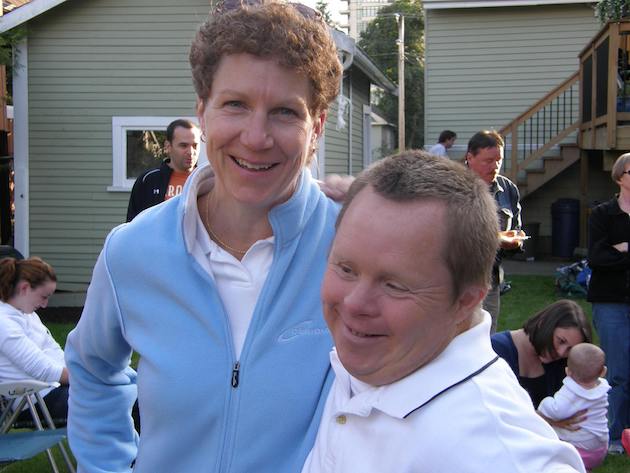 Ken developed Alzheimers at 48 years old, Frizell writes on her website.  This came with its fair share of challenges, many of which came out of ignorance.
Many health care workers didn't know what adults with Downs Syndrome looked like as they developed dementia. Frizell admits that she and her family didn't know either.
For 3 years, Ken struggled with Alzheimers before passing away at 51. Some assumed that the way he acted during this time was how he had always behaved, yet Frizell wanted to disspell this notion.
Frizell wrote a book about her brother and started a nonprofit in his honor.
I had the pleasure of meeting Diana Frizell of @KensPlaceFndn, author of the new book "Hello My Name Is Ken". A touching tribute and a powerful call to action. Ken's story is a bellwether for the needs of our aging Down syndrome population. #DownSyndrome #Alzheimers pic.twitter.com/lLz9LBULU3

— Wayne Leslie (@WayneRLeslie) March 23, 2018
After hearing all of the misconceptions about Ken and witnessing everything he went through, Frizell was compelled to write a book called "Hello, My Name is Ken," which told the story of his life.
Frizell also started a nonprofit group called Ken's Place Foundation dedicated to building awareness and support for aging adults with Down Syndrome.
"Hello, My Name is Ken" released in November 2017 with all proceeds going to Ken's Place Foundation. Since the book's release, life for Frizell and her family has changed completely.
"It's a new chapter for us as a family and we learn something new every day about the connection between Down syndrome and Alzheimer's disease," she said.
Frizell wants Ken's Place to include as many resources on Down Syndrome and dementia as possible. She hopes that they can eventually offer training programs for families and healthcare workers as well.
The love that Frizell has for her brother is truly astounding. She's honoring his caring nature in the best way possible!