According to the CDC, cerebral palsy affects 1.5 to 4 births out of 1,000. Though treatments are ongoing for this condition, many have to spend their whole lives with it. This in no way means they can't live a fulfilling life, though.
Take Lee Bondurant, for example. He has always lived with cerebral palsy, but not once has he let it slow him down from doing what he loves.

He graduated from high school, and has worked at the same grocery store for over 20 years.

"Lee is such a positive person," his mother told ABC News. "If anything, Lee lifts others up."
Even with his condition, Bondurant's never let it affect how he has treated others. At one point, he was even made an honorary member of the Marine Corp because of his life accomplishments.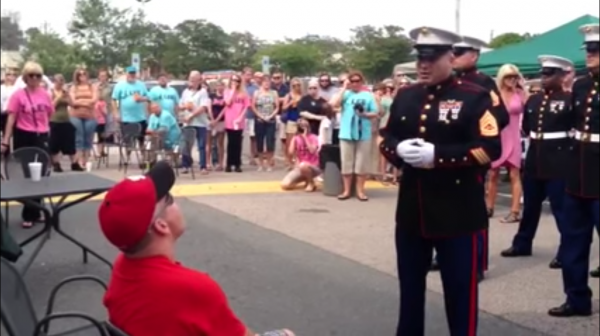 On Memorial Day 2016, Bondurant, then 51, went to lunch with his mother in Raleigh.
At this point, he was unable to use his hands due to his condition, which meant that his mother would have to help him with his meal. This was a lot for her to handle, given she was trying to eat her meal too.
And someone in the restaurant noticed this.
One of the waiters, a college student named Five, already had his hands full with multiple tables. In the midst of all this, he noticed Bondurant's mother was struggling to feed her son, so he went over to their table as soon as he could.
He initially asked Bondurant if he had tried the oysters. Then, he asked if he could feed some of them to him, to which the man obliged.
"It was smooth not to embarrass Lee," his mother said. "Just offering to share in the experience."
The waiter had handled it in a way that wasn't in any way demeaning to her son, as he just wanted to help him.

"I didn't want his food to get cold," Five told ABC 11. "I just wanted to help a fellow man out."
This made Bondurant's day, as he went straight to Facebook to tell everyone to go to that restaurant and ask for the waiter named Five.
Five claims that because of the original post going viral, he's had someone offer to pay for his gas, and has gotten letters from places as far as Australia.
And months later, Bondurant would go back to visit his favorite waiter, but this time, he didn't need help eating.
Bondurant had surgery at the end of 2016 that helped him regain movement in his hands.
He seemed happier than ever to get feeling in his hands, but will never forget what Five did for him.
"To find somebody that kind in a world like today, that is a hard thing to find," Bondurant said.

Bondurant would love for this story to help others understand we are all the same. His mother said her son hopes people treat those with special needs "with respect and kindness, not pity."
Five realized this, and made sure this man knew that his actions were purely out of the good of his heart.