For over 20 years the Harry Potter book series has done wonders, inspiring youth to read more and bringing people together, from fan conventions to parents reading to their kids at night.
But the books recently inspired an unlikely bond between two new friends no one could've imagined.
Back in March, a stray cat was found wandering the streets alone. He was brought to the Richmond SPCA animal shelter in Virginia.
The cat was blind, and the shelter fittingly dubbed him "Stevie Wonder," or Stevie for short. While he's in better hands at the shelter, it's taken some adjustment and he's still not totally comfortable with people.
"Despite being blind, Stevie is incredibly agile and confident in his surroundings … though he needs time to adjust to new people and areas," the SPCA wrote in April.

The cat remained startled and uneasy around people—until one volunteer came in and changed everything.
In May, Price McIntyre, a 19-year-old volunteer at the shelter, took an interest in Stevie and made it his mission to get the kitty to befriend him.
"The first time I met Stevie, he was really not too interested in interacting with me," McIntyre told The Dodo. "I kept visiting him until he started warming up to me, which took a few weeks."
So what did the trick? Turns out, all it took was a little magic.
McIntyre read the Harry Potter books to the cat every visit.

McIntyre was inspired by the Harry Potter decor already going on around the shelter.
"The SPCA has little Hogwarts decorations everywhere and I thought, 'OK, if I were to pick a series to read him, it'd be Harry Potter,'" he said.
They even sort the animals into Hogwarts Houses—and since Stevie is a Hufflepuff, McIntyre donned the house's wizarding robes for their reading sessions.

McIntyre read for hours each day, and like countless people around the world, Stevie got caught up in the saga of Harry's seven-year quest to defeat Voldemort while studying at Hogwarts.
Or maybe not, since he's a cat, but he apparently still hung on to every word as McIntyre read to him.
Everyone has noticed a change in Stevie since McIntyre started reading to him.
"Price has done wonders for Stevie Wonder in helping him become a little more outgoing," shelter communications director Tabitha Treloar said. "They've definitely formed a special bond."
"He's really learned to navigate his entire space," she added. "He jumps onto the raised platforms throughout the room, knows where his food is and finds the litter box with no problems. He's really comfortable."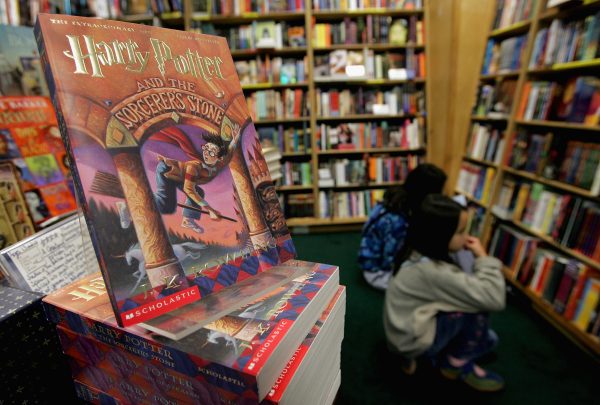 Just like how the boy wizard formed a bond with all kinds of magical animals, from his owl Hedwig to Buckbeak the hippogriff, McIntyre has formed a bond with a "Fantastic Beast" of his own.
"He lets me pet him now and kiss his head, and he's become such a sweetheart," McIntyre said. "It took a while, but it's worth it."
And hopefully, their literary bond will lead to something more, and give this cat a happy ending:
"As soon as I get the green light from my mother, I'm marching there and adopting him."