Sebastiaan de With was excited about his new purchase, a 1991 Land Rover Defender D90, white. The car is hard to find and this one was in good condition. De With happily drove it across the country to his home in San Francisco.
When he parked it in a garage on the Embarcadero, he had no idea he'd soon be participating in a wild goose chase to get it back. The car was stolen out of the garage, while he and his wife were buying a Christmas tree. He called the police and filed a police report.
Sebastian de With's new prized possession, a 1991 Land Rover D90, was stolen out of a parking garage in San Francisco.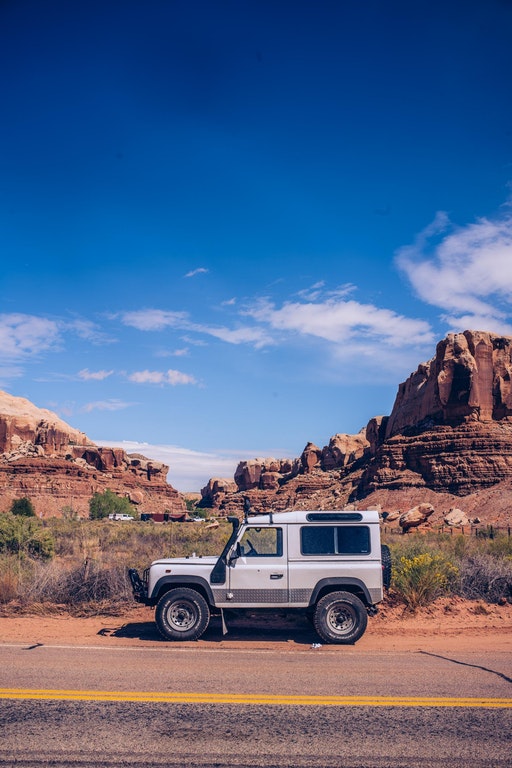 Most stolen vehicles in San Francisco are recovered by the police in time. The thieves usually use the car for a joyride, then ditch it when they get bored. But De With's car was valuable enough that there was a fear that it would be disassembled and sold for parts. The more time passed, the less likely he'd recover his car.
He decided to be proactive, and posted to his Twitter and Facebook page that his car had been stolen. He included a photo of the distinct-looking Rover, and asked that if anyone saw it around town to contact him immediately. Unfortunately, nobody did.
He decided to put up a similar post on reddit later that night. "I thought it'd be pointless to post it, but on the other hand, I really wanted to find my car," De With told the San Francisco Gate.
The day after putting up a post on Reddit that his car had been stolen, he received a response from someone who had seen it nearby.
BAY AREA: My beloved Land Rover Defender was stolen last week from a parking garage. Keep an eye out for a white Defender 90 and report sightings to me / SFPD. Thank you. pic.twitter.com/En84UAi6j2

— Sebastiaan de With (@sdw) November 27, 2017
A user named "Ableezus", whose real name is Pablo Delarosa, told him that he'd seen it near a local restaurant earlier that weekend. He said that the car caught his eye, and that it matched the description of the Rover De With reported as stolen in his original post.
The car still had the Texas license plate that De With drove the car to San Francisco with.
"You don't usually see them and I noticed that it had Texas plates, so it got my attention a little more since I'm from there," said former Houston resident Delarosa.
Support continued to pour in through reddit. Nick Ghirardelli spotted the car in town, and immediately recognized it from the post. He followed the car and called the police to report that he'd found the stolen vehicle. While he was waiting for the cops, he messaged De With with the good news.
When De With got a message that someone had recovered his car, he went straight there. Sure enough, it was his car.
FOUND. Thanks to eagle eyed Twitter and Reddit users the car was found and recovered. You're all wonderful! 💙 pic.twitter.com/ZbeGGkV4NL

— Sebastiaan de With (@sdw) November 28, 2017
"My heart suddenly started beating in my throat," said De With. "I jumped on the bike and roared down there and met him. Sure enough, that was it."
De With waited for the police to arrive, then had the car towed to a mechanic. The car wasn't in pristine condition, but wasn't damaged beyond repair either.
"Well, there's some stuff in it; a suitcase, some other random belongings," De With wrote on Reddit. "Looks like they split the steering column and trashed the ignition and hot-wired it. Might have been abandoned after the rear drum brake seal blew, which I was about to replace."
Thanks to an empathetic community that took the time to help a stranger, De With has his car back and will be back on the road in no time.
"I would have thought it would have been sitting on a container ship somewhere," Delarosa said. "The power of social media is crazy."