Art Shaul, from St. Petersburg, Florida, is no stranger to helping dogs—he's made it his mission in life to save as many as he can.
But one recent rescue mission turned into an adventure he never expected.
Shaul has made an effort to save dogs his entire life, a passion spurred by a traumatic childhood incident.
"When I was a little kid, I had a dog die in my arms after it got hit by a car," Shaul told WFTS. "That's what got me going." 

It was a part-time effort throughout Shaul's career—he worked for decades as a salesman. But after retiring, he made saving dogs his full-time commitment.
He has worked tirelessly to save dogs from being euthanized in overcrowded shelters, making an effort to find them homes.
But one animal's story recently caught his attention—and he knew he had to act.
A pregnant, malnourished dog named Coralina had been pushed out of a car on a freeway.

Coralina was apparently left for dead by her cruel owner. She survived—but when the 8–10-year-old dog was brought to the shelter, it seemed she would be euthanized.
So Shaul grabbed his friend, packed up his van, and headed to rescue her, making the trek from Florida to Kentucky.
The trip was a success: he had Coralina in the backseat as he headed home … But there was one problem:
The dog went into labor—right as they were driving down the interstate.
Shaul noticed after the first puppy had already been born.
"I-75, baby! Seventy-five miles per hour!" he said. "And there's puppies being born in the backseat."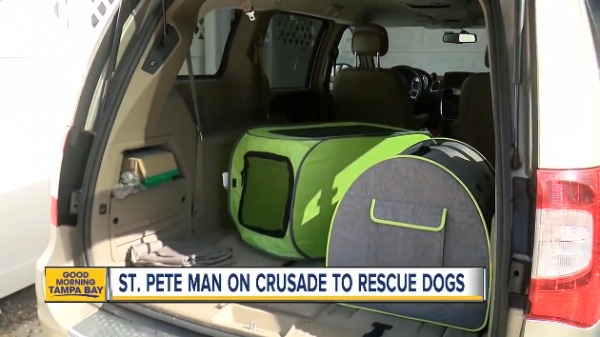 The rescuers had just passed over the Georgia–Florida border line and were still a ways from home. Shaul had to act fast—and help the dog make the delivery right there in the van.
"I was a little shocked. I was scared and thrilled at the same time," Shaul recalled to WFTS. "We had a knife and had to use that to cut the umbilical cords."
But amazingly, all six puppies were born safe and sound.

… and Shaul found homes for all of them, including the mother.
It'd been a rough few weeks for Coralina, between getting pushed out of one moving van on the interstate, then having to give birth in a different van on the interstate, but at least she got a very unlikely happy ending.

"Coralina will be spoiled rotten," said Shaul.
"And after what happened to her, she deserves it."