When it comes to dating nowadays, a lot of people have a hard time knowing what they're worth.
It seems that Andy Terry from England—who shares five children in a blended family with his wife—knows this, and he didn't want his stepdaughter to feel that way one day.

His stepdaughter Sophie is just 6 years old—but in the back of his head, he had always wanted to show her how special she really is. So when Sophie was feeling down one day in June, her stepfather seized the opportunity to make her feel better.
Andy had a "date night" to cheer her up, and show her how to be treated in the future.
A video taken by Sophie's mother and Andy's wife, Hayley, captured the moment where the young girl's night began.
Andy appeared at the front door, giving Sophie a bouquet of flowers and complimenting her looks.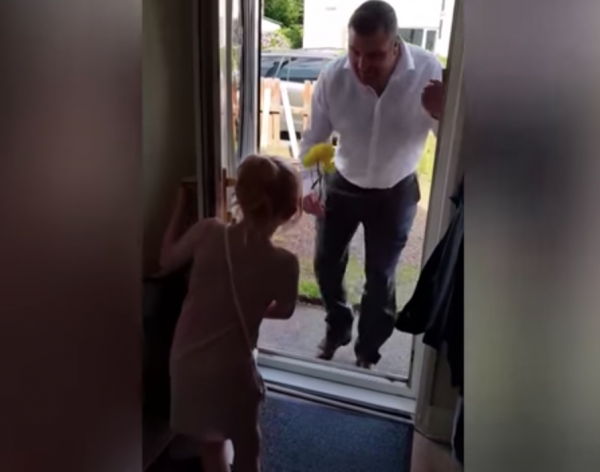 And Sophie looked like she was elated at the sight of the flowers.
"I think they surprised her a bit," Andy told Daily Mail.
Sophie also suffers from albinism, which means she usually needs to wear sleeves for protection from the sun. But for this date, she was able to wear a dress with short sleeves, making her even happier.
Andy claimed that his stepdaughter even got compliments on her outfit from others in public. The two went out to an Italian dinner, where Sophie looked like she got exactly the type of food she wanted.

On top of this, Sophie even asked her stepdad to get Hayley some flowers and chocolate so that she didn't feel left out—pretty much everyone won on this day.
Judging by Sophie's wide smile in every picture, it looked like date night was a success.

"It was really good bonding time for us," Andy claimed.
Not only was Andy able to cheer Sophie up, but he also taught her an invaluable lesson on how she should be treated when it comes to dating in the future.
And Hayley loved it as well.
"I will never forget the smile she had on her face," she said regarding seeing her daughter come back that night.
"I think every woman has regrets and times where she settled for less than she deserves," Hayley also said. "Hopefully if Sophie learns from a young age that she is worth more than that then she'll never have those."
Compliments, flowers, and nice gestures are all things that should involved in healthy relationships. And hopefully, Sophie can retain this information as she grows up.
If she does need more advice, Andy has already said that this wouldn't be the last time he takes Sophie out like this. And if anything, Andy now has a back-up plan to cheer Sophie up whenever she gets sad in the future.