It's great to have a good neighbor you can depend on, whether it's to borrow a cup of sugar—or a real emergency situation.
Residents in a Yukon, Oklahoma, neighborhood learned this recently when their home was nearly destroyed, but was spared thanks to a considerate neighbor's quick thinking.
Ryan Burke was heading out of the neighborhood with his wife when he passed his neighbor's house—and was the first to notice a concerning sight:
"We noticed black smoke coming out of the yard here."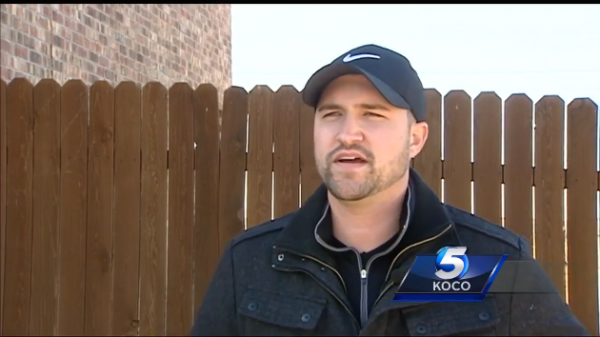 Burke sensed that the property owners weren't home—so he took things into his own hands, and jumped the fence into their back yard.
It confirmed his suspicion: the yard was engulfed in flames.
Worse, the fire was spreading—and threatened to reach the home.

Burke knew he had to step up and handle the fire himself.
His first instinct, naturally, was to grab the hose in the yard. It seemed like an easy solution—but things would be more difficult than they seemed.
"The hose didn't work," he told KOCO.  "The water never came on."
"Tried another hose in the backyard and noticed it was in the fire, so that didn't work either."

But Burke was undeterred—and looked around the yard for another solution.
Then, he found one: a shovel.
Burke began shoveling dirt onto the fire, desperately and unceasingly trying to keep the flames at bay.
"The quicker you work, the quicker it gets out."

Burke continued working to keep the fire from spreading to the house.
But then, he heard a noise in the background—and knew help was finally on the way.
"I could hear the fire truck in the background," he recalled to KOCO.
"I just tried to contain it as best I could until they got here."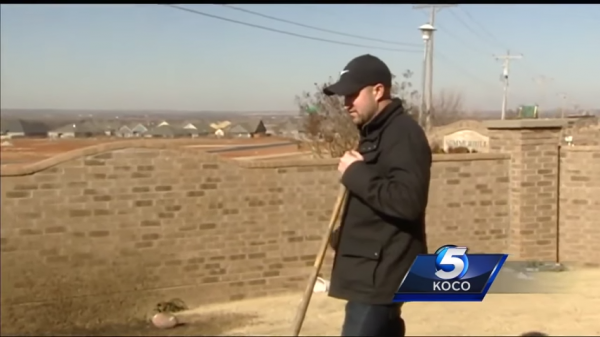 The fire department arrived and took things from there, successfully putting out the remaining fire.
But it's thanks to Burke, for stepping in and finding a clever solution, that the flames didn't spread further than they did—if they had reached the house, it could've been devastating.
But Burke doesn't see himself as heroic—he was just doing what anyone would've done in the same situation.
"Just a neighbor helping out a neighbor."