81-year-old Karl Dingledine was at home in Petersburg, Virginia, last week when his phone rang, and his elderly neighbor breathlessly called out to him for help.
"The lady next door said 'Fire! Fire! Fire!'" Dingledine explained to CBS 6.
But instead of calling 911, Dingledine grabbed his fire extinguisher and rushed to help save his next-door neighbor.
"The kitchen was completely engulfed—on the stove—with flames," Dingledine said.
The flames were too large for the small fire extinguisher.

Unfortunately, the flames were out of control. Dingledine noticed that his neighbor had tried to put the flames out with towels, but because it was likely a grease fire, the fire got worse.
"All of a sudden, [there was] a big boom, and it moved from the stove over to the wall and over to the dining room and the living room," he said.
It quickly went from operation fight the fire, to operation save the neighbor.

Dingledine's Plan A with his fire extinguisher did not work, so Plan B was in full effect. His neighbor did not want to leave the house, but Dingledine made sure he left the fiery house with his neighbor.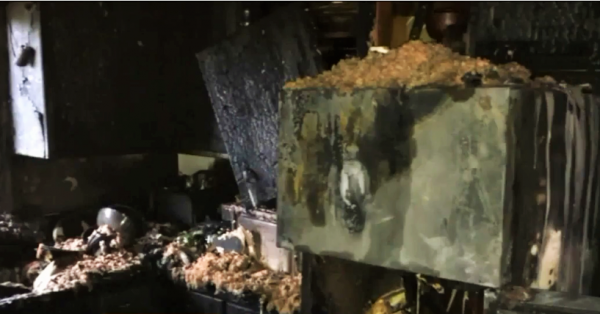 "She didn't want to come out, but I finally got her and got her out," he said.
While Dingledine was inside the house being a hero, firefighters arrived.

"[It was] extremely dangerous. The lady was very lucky she had a neighbor close by," Reid said.
"It was extremely heroic."