A herd of migrating elk were in desperate need of help recently when the ice beneath them suddenly cracked. About a dozen of the large mammals plummeted into the frigid water in Alpine, Wyoming.
Luckily, a number of good Samaritans saw the animals in distress and stepped up in a big way.
A handful of people got to work on rescuing the trapped elk.
Dusty Jones was on his way to work when he noticed a number of cars pulled off on the side of the road.
"I looked off to the left and saw a couple of guys beating on the ice with a herd of elk right there in front of them," Jones told EastIdahoNews.com.
He wasted no time and contacted a friend to bring a chainsaw.
Reportedly over two dozen people helped free the elk.
Getting the last 2 elk out….what an amazing start to this day! All elk survived. Great to see the community come together and help these animals😁

Posted by Dusty Jones on Friday, December 29, 2017
Those who stopped to help had to work quickly. The temperature hovered near freezing and the water in which the elk were trapped was between 8 and 10 feet deep.
"We began cutting a little path toward the shore so the animals could walk out but they were so cold they couldn't move," Jones, who estimated 30 to 40 people stopped to help, said. "That's when we just started grabbing them and pulling them out."
Since each elk weighed several hundred pounds, the rescuers also had to be very careful so no one, animal or human, got injured.
The rescuers used anything they could to help the elk get to drier ground.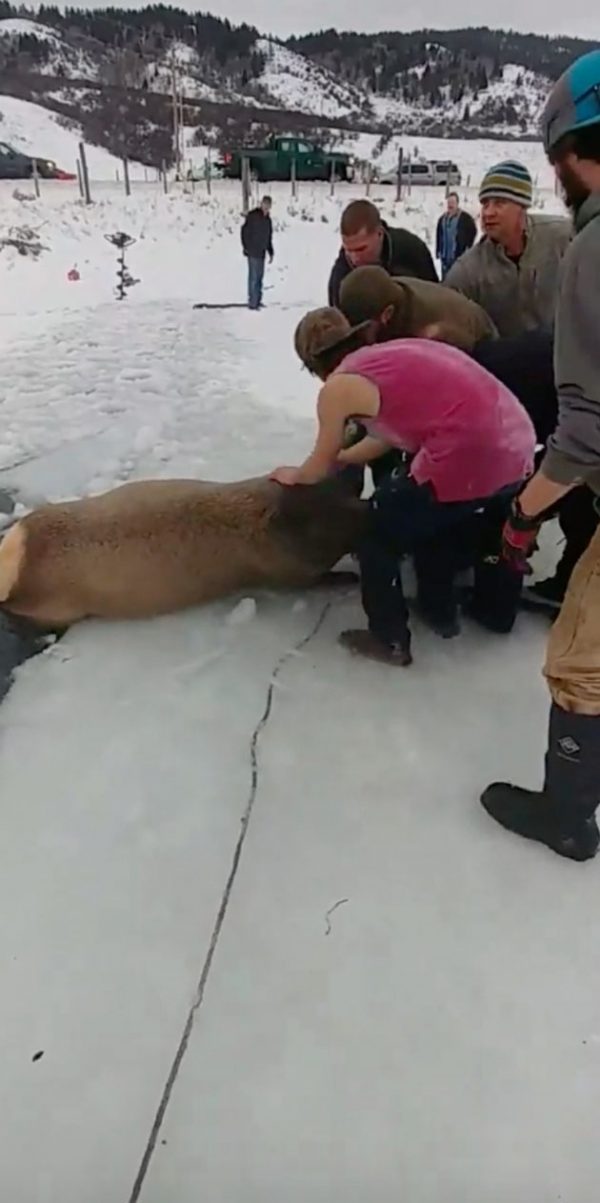 In addition to people passing by who stopped to help, officials from the Wyoming Fish & Game Department were on hand.
Everyone worked together to save the 13 elk who became trapped in the freezing water.
Luckily there was no injuries or deaths.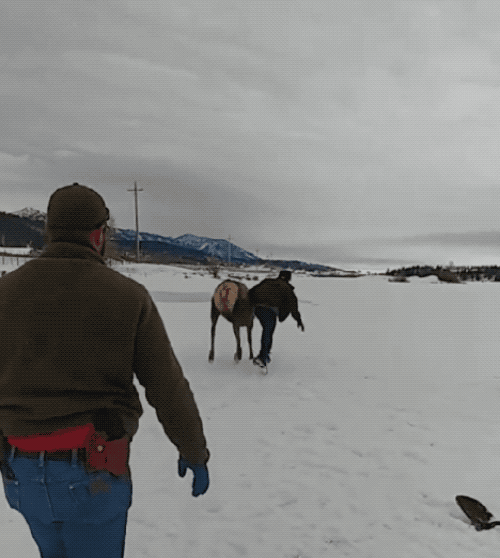 According to Jones typically there is no water where the elk had become trapped, but due to a significant amount of snow the area received the previous winter, the runoff from the lake caused the reservoir to remain full throughout the year.
"There's no way the Game and Fish Department alone could have made this work with the number of elk that were in the ice," Gary Fralick, a biologist with the Wyoming Fish & Game Department told SVI News. "It was totally impressive to watch. I applaud the community support in this effort."