Saying you'd risk your life to save someone else's is one thing—wouldn't we all like be called a hero? But actually putting your life at risk for a complete stranger, now that takes a certain kind of person.
On June 27, when Mike Hale witnessed what appeared to be a runaway bus, he called 911, but he didn't stop there.
"I could tell there was a problem because I followed him for a mile," the Pinellas County, Florida, resident told WFTS.
Hale noticed the problematic bus around 10:30 a.m. on a Wednesday morning.

Hale watched as a local public bus drove over curbs and swerved through the city of Treasure Island. He attempted to get the bus driver's attention by honking his car's horn and yelling, "Are you OK?"
"He was talking, but didn't make any sense," Hale said.
He called the police and then continued to follow the bus on its crash course through town.
The bus showed no signs of stopping as it made its way down the street.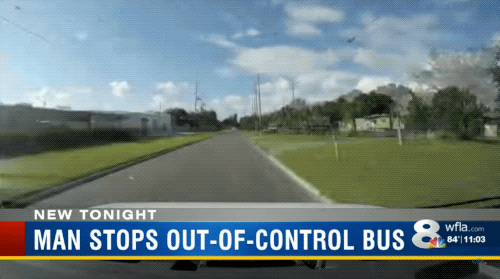 When it became clear that the bus driver was suffering from a medical emergency, Hale parked his car and, when the bus slowed, he jumped on board the bus.
"There was no keys, no red stop button! I had not been on a bus in 40 years!" he said.
Hale attempted to remove the driver's leg from the accelerator, but was unsuccessful.
"It wasn't happening, so I grabbed the steering wheel," he told WFLA.
No passengers were on the bus as the time.

As Hale struggled to regain control, the bus driver remained unresponsive.
The bus crossed the median multiple times, missing a palm tree before slamming into a concrete pole. But even after the bus leveled the pole, it continued to move, so Hale had to think quickly before the vehicle ran into cross-traffic or pedestrians.
He used his hand to apply the brakes.
"We were moving, I thought I was going to be dead," he said.
Hale was able to prevent the bus from hitting other cars or people.

Thanks to Hale's quick-thinking and willingness to risk his life for the sake of others, he was able to bring the bus to a stop so medical personnel could board the vehicle and assist the driver.
Hale suffered sore ribs and a sprained thumb from the ordeal, while the driver was transported to the hospital. WFTS reported that the driver's family requested privacy and his condition was unavailable.