"Wadeling" of Rogues and Roleplayers recently had the opportunity to meet the legendary Tim Curry, best known for his role in The Rocky Horror Picture Show. Curry suffered a major stroke in 2012, and has been wheelchair-bound ever since. Although he has been less active as a result, he still makes a serious effort to greet his fans.
Wadeling was so impressed by Curry's determination despite his debilitating condition, that he wrote a Facebook post to pay tribute to The Wild Thornberrys star. His friend, Imgur user 0nCominstrm, shared the post, and it went absolutely viral.
However, 0nCominstrm ended up deleting the original post, because he felt like enough people had seen it and had questions about it that he thought it necessary to upload a new version with additional details.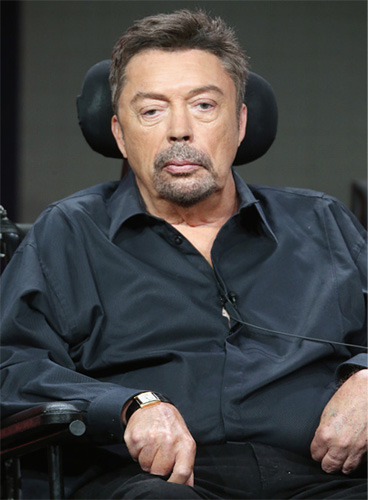 The original post started out: "A friend of mine recently went to an Expo in Dallas. While he was there he got to meet the iconic Tim Curry. His experience with this lovely man was something I thought would share with the good folks of Imgur (sharing with his permission of course)."
The updated post is available here and you can scroll through the images by clicking "next" at the bottom:
Here is a brief summary of Wadeling's main points:
A volunteer told him that Curry had been in the photo room for 5 hours straight but refused to take a break.
Curry would often space out or fall asleep during the shoot and, when he had to be woken up, he would turn to his assistant as if to say, "I'm sorry."
When he told Curry, "Thank you. It's been an honor to meet you," Curry responded with, "No, the honor's all mine. Back at you!" When they pose for a photo, Curry leans in to do a funny face. Wade doesn't know whether to laugh or cry.
This was all something that Curry wanted to do, not something that he had to do. He could be taking it easy after his stroke but, despite the difficulty of speaking and moving, he greets each fan with grace and humility.
Wadeling posted his own video, responding to the viral success of his friend's original Imgur post. In it, he clarifies that Curry could speak and move the whole time, but he could tell it was a challenge for him.
Wade explains, "[Curry]'s been here for five hours. Y'know, the camera clicking every two seconds and he's not wanting to do any breaks. He just keeps going. And I was just like, 'I couldn't do that! I don't know anybody that could do that!' And what the man did and still does for his fans is just absolutely incredible."
It's obvious that Wade looks up to Curry not just as an actor but as a seemingly decent human being. He may have played the antagonist in a few of his movies, but Tim Curry is most definitely a hero to him in real life.